Dartmouth has a conference title within its grasp and only a Cornell team that's a 28-point underdog stand in their way of a potential perfect season and an Ivy League crown. Meanwhile, all three service academies square off with Notre Dame going up against Navy's unstoppable running game.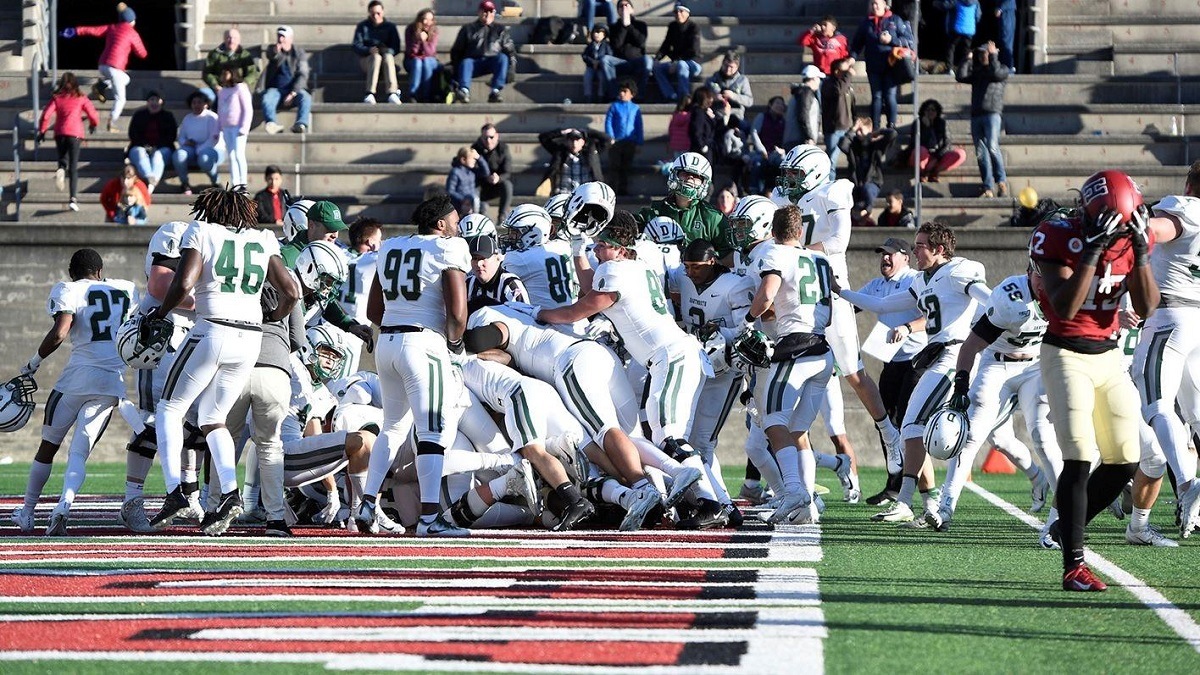 Princeton lost to Dartmouth last week to ruin their perfect season. Dartmouth took a step closer to a perfect season of their own along with an Ivy League title. The Green Wave of Dartmouth control their own destiny.
Two bad teams square off in a bum fight between Northwestern and UMASS, who are a combined 2-17. New Mexico State is trying to avoid starting the season 0-10, while Incarnate Word hopes to fade a potential embarrassing loss to one of the worst college football teams in the nation.
Navy, Air Force, and Army all see action. VMI visits Army, while Navy has a pretty big game scheduled against Notre Dame in South Bend, Indiana.
WEEKEND WARRIOR COLLEGE FOOTBALL LINEUP:
Yale (7-1) at Princeton (7-1)
Cornell (2-6) at Dartmouth (8-0)
VMI (4-6) at Army (4-6)
Incarnate Word (5-5) at New Mexico State (0-9)
UMASS (1-9) at Northwestern (1-8)
Air Force (7-2) at Colorado State (4-5)
#23 Navy (7-1) at #16 Notre Dame (7-2)
Weber State (8-2) at Montana (8-2)
South Dakota (4-6) at North Dakota State (10-0)
USC (6-4) at Cal (5-4)
Meanwhile, there's a couple of good matchups out West with Big Sky and Missouri Valley Conference action. Weber State and Montana are fighting for first place in the Big Sky. North Dakota State has a perfect season on the line as they seek their 11th win of the season.
And do not forget this Saturday's version of the Gotta Get Unstuck Game of the Day featuring a Pac-12 After Dark contest between USC and Cal.
Military Academies
VMI Keydets (4-6) at Army Black Knights (4-6)... VMI is struggling in the Southland Conference, but they have a non-conference game against good old Army. The Keydets dropped three games in a row and lost five out of their last seven games. Army is 15-1 llifetime against VMI and they do not have a shot here as a +34.5 under dog. Meanwhile, it's senior day at West Point. This might be the last chance for some seniors to get one last game in before they start their careers as officers. Army finally snapped a five-game losing streak with a shellacking over UMASS. VMI's run D will have their hands full trying to thwart Army's ground attack. Army averages 273.5 rushing yards per game, which is ranked #7 in the nation.
Air Force Falcons (7-2) at Colorado State Rams (4-5)… Intrastate rivalry. Air Force, fresh off a 17-13 victory over Army, heads north to Fort Collins to take on Colorado State. The Rams are a +10 home dog. Colorado State is 6-3 ATS this season, including a 3-1 clip at home. The under is 4-1 in Colorado State's previous five games. Air Force is 4-1 ATS in their last five games.
#23 Navy Midshipmen (7-1) at #16 Notre Dame Fighting Irish (7-2)… Notre Dame is a 7.5 favorite against Navy. Notre Dame won two straight since their 45-14 butt kicking against Michigan. This is the first time since 1978 that these two schools meet as ranked teams. That was back when Joe Montana quarterbacked the Irish. Ian Book is no Joe Montana, but he's been playing well this season (25 touchdowns, 6 interceptions) aside from the Michigan game. Navy leads the nation with 357.9 rushing yards per game. Notre Dame's run D only allows 155 yards per game on the ground, but they don't often face teams that run on every down. Should be a challenging match up. The total over/under is 54. Notre Dame's home game sell out streak will end at 273 games.
Dartmouth Ivy League Title Implications
Cornell Big Red (2-6) at Dartmouth Big Green (8-0)… If Dartmouth beats Cornell, then they clinch an Ivy League title. Fairly simple. The bookies did not give the Big Red much hope as a +26 dog. Dartmouth won back-to-back key games including a Hail Mary victory against Harvard two weeks ago and a blowout against Princeton last week at Yankee Stadium. Dartmouth hosts this game at Memorial Field in Hanover, New Hampshire.
🚨 HAIL MARY ALERT 🚨@DartFootball shocks Harvard, 9-6, on a 43-yard touchdown pass to end the game and remain undefeated. 🌿🏈 pic.twitter.com/pblyhfRxxE

— The Ivy League (@IvyLeague) November 2, 2019
Yale (7-1) at Princeton (7-1)… The winner of this game has a backdoor chance at an Ivy title, but they will need a huge miracle including two Dartmouth loses to Cornell (2-6, 1-4) this week and Brown (1-7, 0-5) next week.
Bad Football Teams
Incarnate Word Cardinals (5-5) at New Mexico State Aggies (0-9)… The Cardinals hit the skids with a three-game losing streak after losing three very close games. They have a slump buster against the winless Aggies, who are in the running for the worst college football team in America.
UMASS Minutemen (1-9) at Northwestern Wildcats (1-8)… The Northwestern Wildcats opened as a 40-point favorite, which was an immediate red flag. Northwestern is the worst team in the Big Ten and it's not even close due to their inept offense. The Minutemen are a 40-point dog against a bad Northwestern team and it makes you wonder how bad do they suck?
Going Out West
Weber State Wildcats (8-2) at Montana Grizzlies (8-2)… Battle for first place in the Big Sky. Weber State won seven straight game. The Wildcats are undefeated in the conference (6-0) and Montana (5-1) is tied for second. The Wildcats won seven straight. The Grizzlies have yet to lose a home game this year. One of Montana's two losses came at the hands of Oregon (ranked #15 at the time). QB Dalton Sneed, who missed a couple games with a sprained ankle, came off the bench last week to secure a win over Idaho.
South Dakota Coyotes (4-6) at North Dakota State Bison (10-0)… North Dakota State has a perfect season on the line. They've yet to lose at home, but South Dakota would love to play the role of spoiler as a 27-point dog. These border state rivalries out west can get fierce and it's easy to confuse North Dakota and South Dakota along with North Dakota State and South Dakota State. If you're going to take a flier on a Missouri Valley Conference game, then double check to make sure you're betting on the right squad. You'd be surprised how many punters make this common error.
USC Trojans (6-4) at Cal Bears (5-4)… With Hawaii playing a road game this week, the USC and Cal game becomes the Gotta Get Unstuck Game of the Day with an 8pm PT kickoff. The visiting Trojans are a 6.5-point favorite and USC won three out of their last four games. USC is fighting for first place in the Pac-12 South division. Cal beat Wazzu last week to end a 4-game skid. Cal is 1-4 ATS as a home team. The under hit in 7 out of 9 games for Cal.