A pair of unbeaten college football teams face off when the Dartmouth Big Green (7-0) visit the Princeton Tigers (7-0) in a game with Ivy League title implications on the line. Princeton is riding high on a 17-game winning streak, dating back to the start of the 2018 season. The last loss for the Tigers occurred at the end of the 2017 season at the hands of Dartmouth.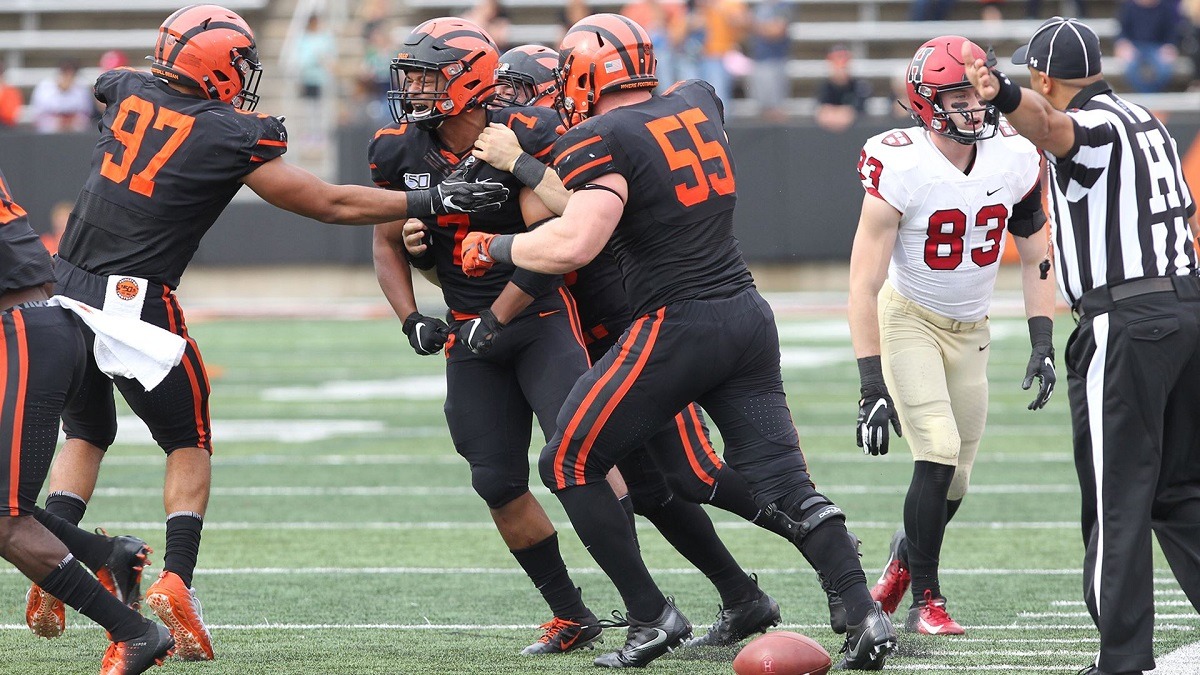 The Harvard vs. Yale annual meeting is typically the Game of the Year in Ivy League football, however, the real 2019 Game of the Year will be the highly anticipated Princeton and Dartmouth tussle this Saturday.
Once again, the under-the-radar Princeton Tigers are chasing back-to-back perfect seasons, and consecutive Ivy League titles. The Tigers went an undefeated 10-0 last season, with a 7-0 record in Ivy League conference play.
According to Stats FCS Top 25, both #10 Princeton and #13 Dartmouth are ranked in the Top 13 in the FCS.
Dartmouth Big Green (7-0) at Princeton Tigers (7-0)
Kickoff: 12:30pm PT
Location: Yankee Stadium, Bronx, NY
Point Spread: Dartmouth -4
Over/Under: 41.5
Money Line: Princeton +140 / Dartmouth -180
While the mainstream sports media focuses on a rematch of the Game of the Century between #1 LSU at #2 Alabama, a bunch of smart kids will beat the crap out of each other in the middle of the Bronx without much coverage.
Princeton is technically the home team, but this game will be played at Yankee Stadium in the Bronx to commemorate the 150th anniversary of college football. Princeton, New Jersey is only 62 miles away from New York City. The Tigers come in as a 4-point home dog.
Undefeated Ivy and College Football History
Princeton is participating in a special presentation celebrating 150 years of collegiate football. Princeton and Rutgers met November 6, 1869 even though the first incarnation of American college football in the late 1860s resembled something more like full-contact and tackle soccer. Yankee Stadium offered to host this special anniversary event. Little did anyone know that the game would be one of the biggest of the season and, potentially, determine the outcome of the Ivy League.
Ivy Leaguers can appreciate both math and history. The Princeton and Dartmouth joust marks only the seventh time in Ivy League football history that two undefeated teams will meet this late into the season.
Princeton and Dartmouth met last year under similar circumstances, with both undefeated teams playing a game of high-stakes chicken. The Tigers were a 7.5-point favorite over Dartmouth in 2018. Princeton came away with the 14-9 victory, but they did not cover. After the Dartmouth win, they ran the table to secure the 2018 Ivy League title.
Dartmouth leads the overall series with a 49-45-4 record over Princeton.
Perfect Tigers
Princeton has the #6 ranked offense in the FCS, averaging 38.6 points per game. The Tigers won all three of their non-conference games, with wins over Butler, Bucknell, and Lafayette.
The well-disciplined Tigers coughed up only four turnovers all season. Just as impressive is that they've only been flagged for 25 penalties in seven games.
Since the start of the Ivy League football season, Princeton allowed 63 points or 15.75 points per game to conference opponents. Princeton has one of the best run defenses in the Ivy League, allowing only 96.1 yards per game.
Quarterback Kevin Davidson boasts a 70.3 completion percentage, along with 2,040 passing yards, 19 touchdowns and only three interceptions. The Tigers have a pair of solid running backs, with Collin Eaddy (9 TD) and Ryan Quigley (5 TD).
Despite their perfect record, Princeton is only 2-5 ATS this season. They are 1-4 ATS in their last five games.
Big Green, Big O and Sick D
Dartmouth is 7-0 overall, and 3-0 in non-conference games with easy victories over Jacksonville, Colgate, and Marist. In those non-con games, Dartmouth outscored their opponents, 132-16.
Since the start of Ivy League football action, Dartmouth is 4-0, and outscored their fellow Ivy Leaguers, 138-55.
Dartmouth and their high-octane offense averages 38.5 points per game. Big Green faced their toughest defense against Harvard last week, and won a close shave with a 9-6 victory in Boston to remain undefeated.
Dartmouth edged out Harvard without their starting quarterback, Jared Gerbino, who left the game with a leg injury. The Big Green scored a 43-yard touchdown on the final play to defeat Harvard on a Hail Mary. Backup QB, Derek Kyler, found Masaki Aerts in the end zone after Aerts hauled in a tipped ball for the game-winning touchdown.
Dartmouth's defense, ranked #1 in FCS, allows only 10.1 points per game. Aside from 24 points they allowed Columbia in garbage time during a 59-24 blowout, other Ivy League opponents averaged 10.3 points per game against Dartmouth.
"Dartmouth is awesome," said Princeton head coach, Bob Surace. "They have a great team, so what we have to do is focus on putting out our best. Dartmouth do not give up a lot of big plays. They force teams to have to drive the field, which is challenging against a team that's that good."
The Big Green are 4-3 ATS this season.
If you dig Ivy League football, then check out this wild story about the rogues in the Columbia University Marching Band.