In this week's installment of the Mountain West After Dark, Air Force (4-2) flies down to Hawaii to battle the Rainbow Warriors (4-2) with an 8 p.m. Pacific kickoff time. Air Force, the second-best running team in college football, will take the triple option to Hawaii and face QB Cole McDonald one of the best passing teams in the country.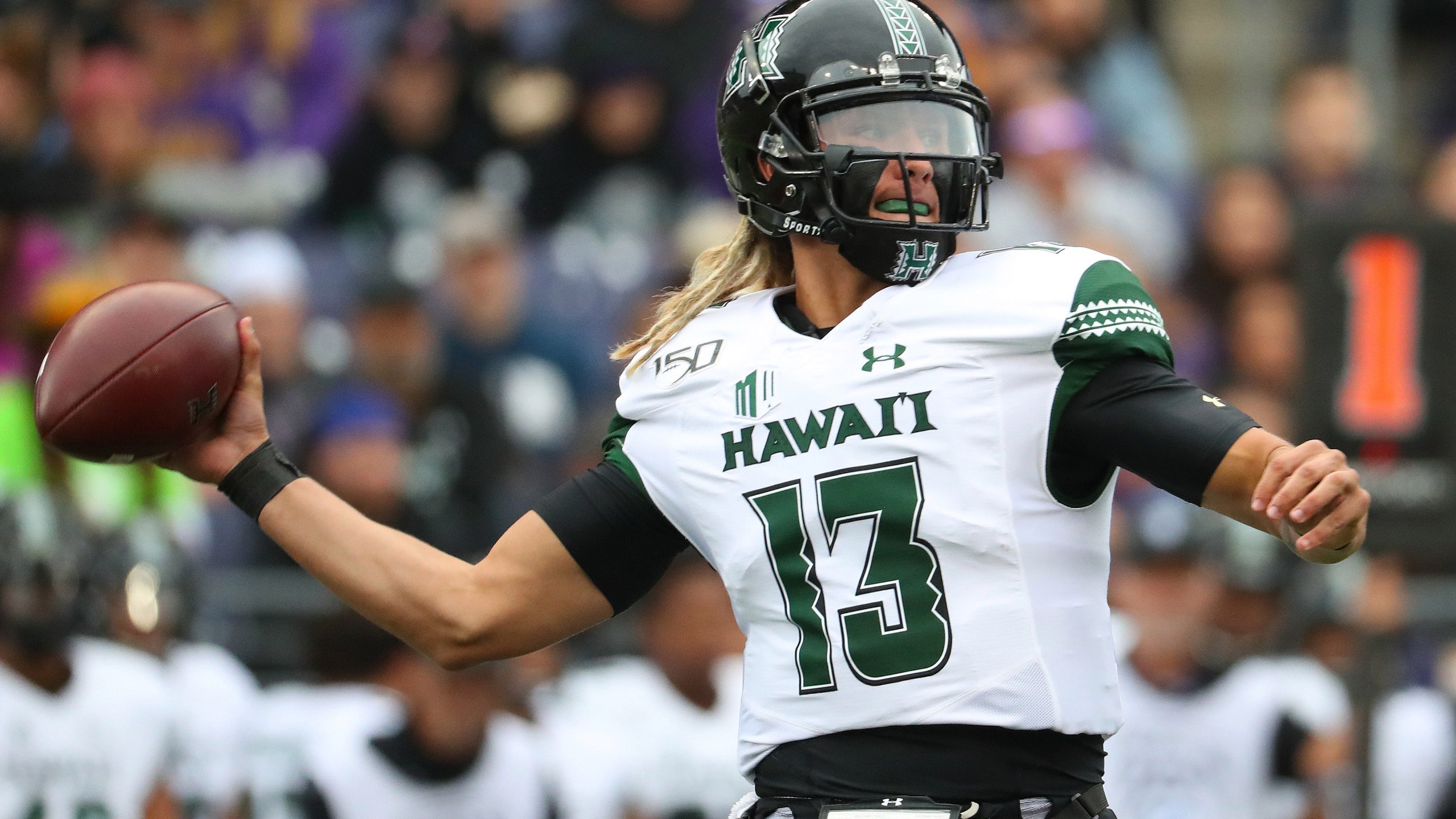 The Mountain West has their teams spread out between the Mountain and Pacific times zones plus Hawaii. Whenever Hawaii plays a home game, it gives bettors one last chance for college football action late on Saturday night. The last game on the schedule is a godsend because it provides an opportunity to press winnings, or a chance to get unstuck after a rough day.
Air Force Falcons (4-2) at Hawaii Rainbow Warriors (4-2)
Kickoff: 8pm PT
Location: Aloha Stadium, Honolulu, HI
Point Spread: Air Force -3
Over/Under: 66.5
Money Line: AF -150 / HI + 130
A pair of 4-2 teams square off in a Mountain West conference game. Hawaii is tied for second place in the West division with a 1-1 conference record. Air Force,currently in third place in the Mountain division, went 2-1 in conference play thus far.
Air Force comes into the Hawaii game as a favorite, which means the Rainbow Warriors are a home dog. Hawaii is undefeated (3-0) at home this season. The Rainbow Warriors are 1-2 on the road with both losses at the hands of ranked opponents (#14 Boise State and #22 Washington). Hawaii's sole road win happened with a victory in Reno against Nevada.
Both of Air Force losses occurred on the road this season where they have a 1-2 away record. The thin air in Colorado Springs is a legitimate advantage for the Falcons for teams visiting the Air Force Academy. In this week's action, Air Force hits the road to face the Rainbow Warriors at sea level. The Falcons departed Colorado Springs, Colorado on Thursday for the Saturday game in Honolulu.
Air Force Triple Run Threat
Air Force lost their only game against a ranked opponent. Undefeated Boise State was ranked #20 at the time when they met. Two weeks ago, Air Force only lost by 11 points in Boise 30-19.
Air Force also lost a huge game against Navy at Annapolis. Navy were home dogs and held off the invading Air Force 34-25. Air Force bounced back with a 43-24 win over Fresno State last weekend.
You'd think Air Force would boast a passing attack, especially playing in the Mountain West. Air Force is all about running the ball, and only one other team in college football does it better (and that's Navy). Air Force is ranked #2 in the NCAA averaging 296.5 yards per game on the ground.
QB Donald Hammond II spearheads the triple-option attack. He's tossed 5 touchdowns and rushed for 8. Hammond averages 4.8 yards per carry. Taven Birdow (4.6 yards per carry, 4 TD) and Kadin Remsberg (5.6 yards per carry, 3 TD) are the other big running threats for the Falcons.
The defense has been spotty for Air Force. In their last five games, they allowed 23 or more points. Both times they allowed 30 or more points, Air Force lost.
Pakalolo Run-n-Shoot
Hawaii's run-and-shoot offense is the opposite of Air Force. They have a weak running game, but love to air it out. Why wouldn't you when you have a good arm with junior QB Cole McDonald? McDonald is the Mountain West's top passer averaging 313.3 yards per game with 20 touchdowns.
"There's a freedom to a point within the run-and-shoot that allows a guy to excel in his own way," said head coach Nick Rolovich. "It allows them to do more of what they like off of it than a real robotic offense."
Hawaii started out college football season with two big wins over Pac-12 teams. And that's at a time when five or six teams in the Pac-12 were in the Top 25. After beating Arizona and Oregon State, Hawaii were crushed by Washington (ranked #22 at the time). This season, Hawaii is 0-2 against ranked teams including Boise State last week.
Defense will be the key for Hawaii. If their D shows up, they'll secure a big win.
Hawaii coughed up 59 points in a loss to Boise State, including 28 points in the second half.
"We gave up some really big plays, which is uncharacteristic for us," said coach Rolovich.
Cole McDonald threw three touchdowns in the loss to BSU. Overall this season, McDonald threw 20 touchdowns but 9 interceptions. He's been pick-happy this season, much to his detriment. Last season, McDonald threw 38 touchdowns and only 10 interceptions.
If McDonald can limit his turnovers and protect the football, then Hawaii will be in a good spot to hold off Air Force. McDonald is facing the third best passing defense in the Mountain West that allows only 202.8 air yards per game.