Miesha Tate's road to the UFC women's bantamweight title grew a bit longer on Saturday when Ketlen Vieira scored a unanimous decision victory over the former champion.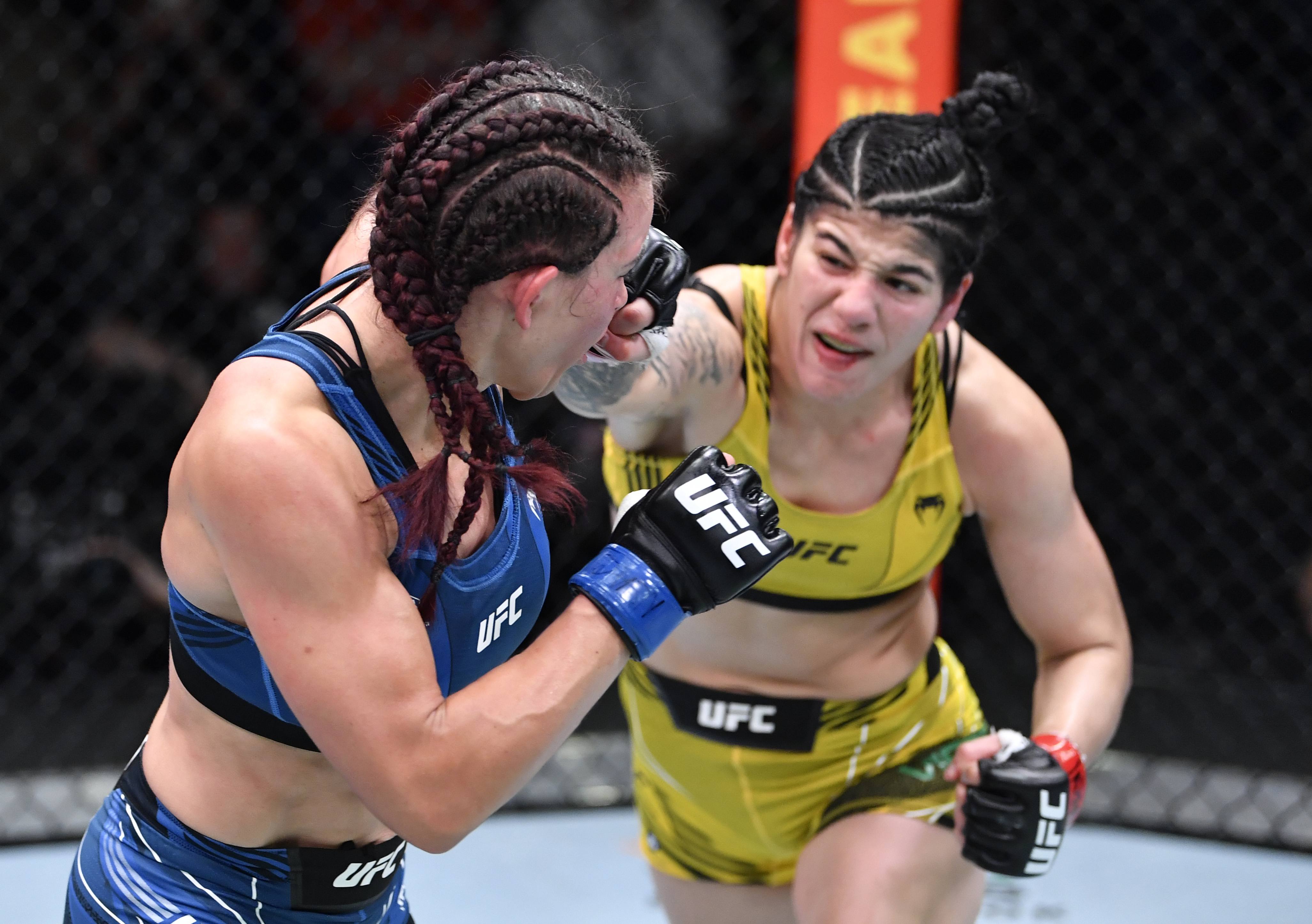 Tate (19-8) returned from a five-year retirement earlier this year, winning her first fight in July.
Vieira lives dream with win over 'legend' Tate
Vieira (12-2) represented a significant step up in competition for Tate, who scored her first comeback victory over Marion Reneau. Tate dreamed of getting another title fight against Amanda Nunes by beating – and hopefully finishing – Vieira.
The fight started well for Tate. But Vieira stayed in the fight with counterpunching, then took over starting in the second round. In the end, the three judges gave Vieira the fight by a 48-47, 48-47, 49-46 score.
"I've always dreamed about being in a main event against a legend," Vieira said after her win. "To be able to live that moment and get a victory, I don't have words to express."
Tate spent time in a local hospital for CT scans after the fight, the UFC said. There was no immediate word on Tate's future plans.
Vieira will move up in the UFC's bantamweight rankings, where she sat at No. 7 heading into the bout. The 30-year-old is trying to move back into the title picture after losing two of her three previous fights.
Manager: Everyone wants to sign Harrison
Undefeated Kayla Harrison has won the Professional Fighters League twice and is looking for a new challenge. Manager Ali Abdelaziz says there's no shortage of suitors for her talents, from MMA promotions to professional wrestling.
"Everybody [is] trying to sign Kayla. Even Walmart try to sign Kayla," Abdelaziz told TMZ Sports. "The WWE been calling too, but we're interested in real fighting. She's focusing on fighting right now."
Ultimately, Abdelaziz says the decision will come down to money.
"Number one thing for Kayla is really the money, she has to be happy," Abdelaziz said. "I think she's happy at PFL. But listen. I got great relationships with UFC, Bellator, but I have to show a little loyalty to PFL."
Harrison told MMA Fighting that it's up to her to convince the UFC she's worth signing.
"If I want to fight in the UFC someday, if I want to fight at featherweight for the UFC someday, then it's my job to prove to [UFC president Dana White] that I'm worth the investment, and I'm worth the risk," Harrison said. "All I can do is continue to go out there and be so dominant and continue to be so good that you can't ignore me."
McGregor eying another title shot
Conor McGregor is still recovering from surgery after the leg injury he suffered against Dustin Poirier in July. But the former two-division champion has made it very clear what his ambitions are when he returns.
McGregor responded to an ESPN article speculating on his next steps with a very clear message on Twitter.
Hi lads, here goes.. clicks and the like. Your boss and what not. The Mac.
Santy Claus.
I'm facing whoever the fuck has that LW title next. Deal with it.
Take off your goggles and mark the trilogy "unfinished". Deal with that too.
The rest mentioned, after this.
Deal. With. It

— Conor McGregor (@TheNotoriousMMA) November 22, 2021
"I'm facing whoever the f*** has that [lightweight] title next. Deal with it," McGregor wrote. "Take off your goggles and mark the trilogy 'unfinished'. Deal with that too. The rest mentioned, after this."