Miesha Tate returned to the UFC after a five-year layoff with a dominant TKO victory over Marion Reneau earlier this year. The former bantamweight champion will face a tougher test on Saturday, when she battles No. 7 contender Ketlen Vieira in the main event of UFC Fight Night 198 in Las Vegas.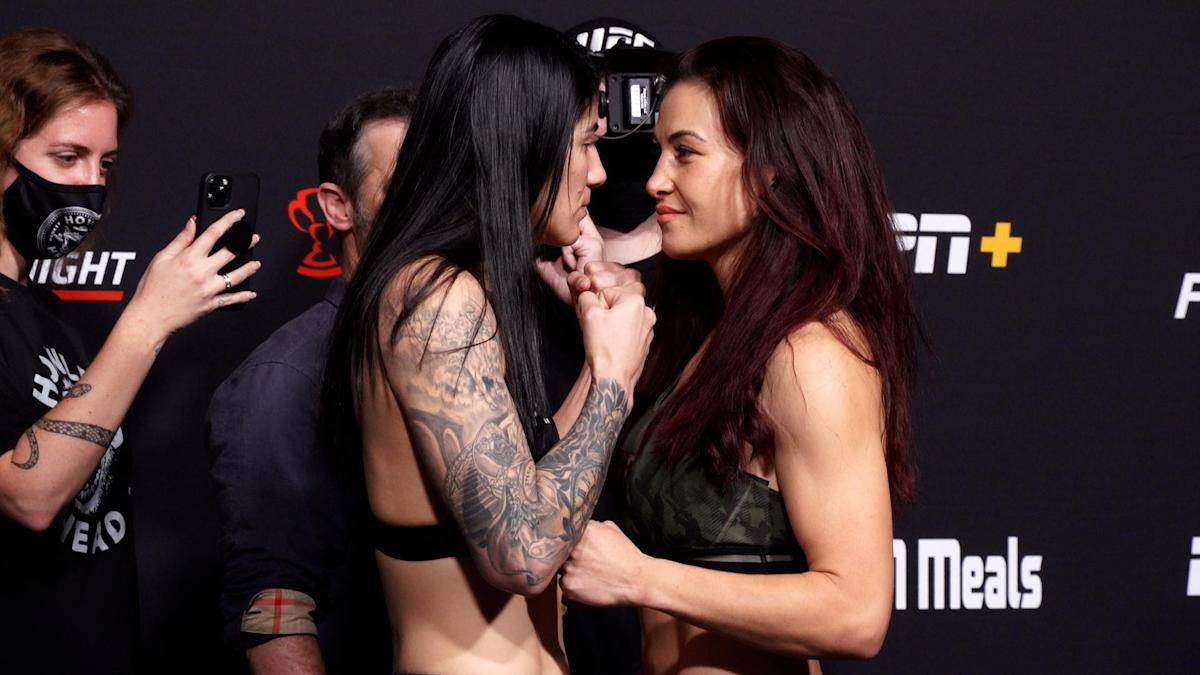 Vieira (11-2) has bounced around the fringes of championship contention, but two losses in her last three fights have pushed her back in the bantamweight division.
Tate looking for finish to jumpstart title run
She last fought in February, dropping a unanimous decision to Yana Kunitskaya. Still, Vieira represents a huge step up in competition for Tate in her comeback effort. Vieira recognizes just how important this fight is for both women.
"This is the most difficult fight of my career because it's also the best fight that I can have," Vieira told reporters via a translator. "I'm very grateful, especially because I'm doing my first main event here in Las Vegas against a former champion, so I'm very grateful."
Tate (19-7) retired from MMA in 2016 after back-to-back losses to Amanda Nunes – who took Tate's bantamweight championship – and Raquel Pennington. But the 35-year-old Tate came back to the sport this year, and she is aiming to put herself back in the title picture as soon as possible. That starts with getting an impressive win over a capable opponent in Vieira.
"I really want to get a finish," Tate said, via MMA Junkie. "I know ever fight, people will say they want to finish, and that's true. You want to finish every fight. But I feel like it's really imperative this fight, because that's what will put me in title talks, right?"
Oddsmakers see tight battle in main event
Either woman would earn a significant victory with a win on Saturday night. FanDuel Sportsbook rates Vieira as the slightest of favorites, posting her at -116 while Tate rates as a -102 pick.
Vieira boasts excellent power for a bantamweight, which could give her a way to damage Tate. Both women also have strong clinch and wrestling games, which could result in a lot of jockeying for position while Vieira looks to land one big shot that could turn the fight.
---
Tate vs. Vieira Odds (via FanDuel Sportsbook)
Miesha Tate: -102
Ketlen Vieira: -116
Method of Victory
Tate by KO/TKO: +750
Vieira by KO/TKO: +600
Tate by Submission: +750
Vieira by Submission: +500
Tate by Decision: +195
Vieira by Decision: +240
Draw: +5000
---
Overall, however, Tate says that sort of style works to her advantage, and should produce an entertaining fight.
"She's not elusive," Tate said. "She'll stand right there in the middle with you and throw, and I like that. Everybody knows I like that kind of a fight. It's my favorite because it brings out the very best in me when somebody is willing to engage with me."
In the end, Tate is willing to take whatever the fight gives her, as long as it results in a win.
"Fights don't have to be perfect: they just have to be won," Take said. "I don't expect to win every second of this fight, but I do expect to get a finish."