Glover Teixeira became the oldest first-time champion in UFC history on Saturday, as the 42-year-old submitted Jan Blachowicz in the second round of the main event to win the promotion's light heavyweight title.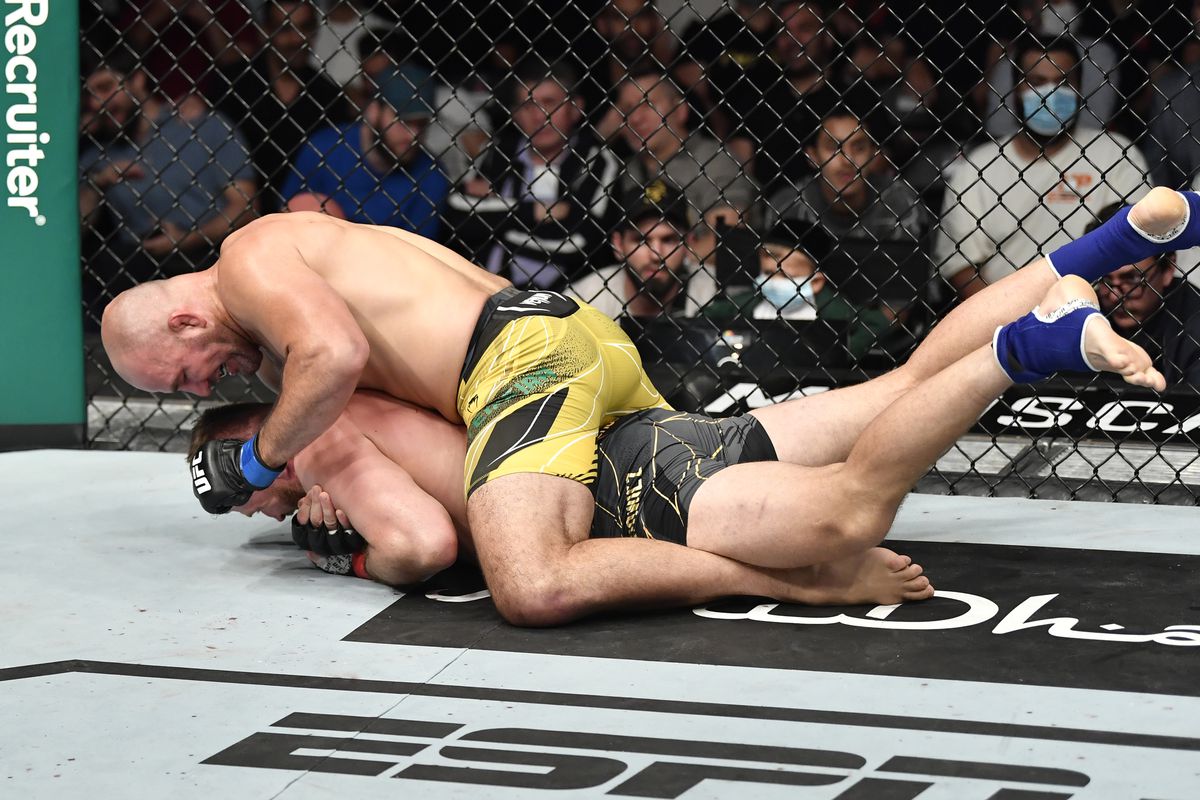 Teixeira (33-7) entered the fight as a +240 underdog and a +700 pick to win via submission, according to DraftKings Sportsbook.
Teixeira: 'Never give up on your dreams'
Going into the fight, the conventional wisdom held that Blachowicz (28-9) held the advantage in nearly every area except grappling. Teixeira managed to play to his strengths, taking down Blachowicz early in the first round and keeping the fight on the mat.
While Blachowicz was able to land some heavy blows in standup to start the second round, Teixeira fought back, scoring another takedown. He advanced to mount and landed a rear naked choke to get the biggest win of his career.
"Never give up on your dreams," Teixeira said after the victory. "No matter what people say, don't listen to them. They're gonna put you down. Don't listen to those negative people. Believe in yourself."
Petr Yan takes interim bantamweight crown
Petr Yan reasserted himself as the man to beat in the UFC bantamweight division at UFC 267 on Saturday, beating Cory Sandhagen by unanimous decision to win the interim bantamweight title.
Yan (16-2) held the bantamweight championship, but lost it to Aljamain Sterling in March when he threw an illegal knee in the fourth round of their fight, earning himself a disqualification. A planned rematch fell apart when Sterling withdrew due to injury.
All three judges awarded Yan the win by a 49-46 margin.
"Everyone knows I am the real champion," Yan said after the fight. "I'm ready to fight anyone. Either [TJ] Dillashaw or the clown, Aljamain Sterling."
UFC removes referee after failure to stop fight
The UFC immediately removed referee Vyacheslav Kiselev from the remainder of its UFC 267 card, after he failed to stop a welterweight bout between Eilzeu Zaleski dos Santos and Benoit Saint-Denis in the second round.
Honestly the worst performance I have seen from a referee in my life. Honestly a hard job but man unreal. Makes you respect the good ones like @JasonHerzogMMA @JohnMcCarthyMMA @HerbDeanMMA and many more. I hated watching that I hope Benoit is heading to hospital right now !

— Daniel Cormier (@dc_mma) October 30, 2021
During that round, Zaleksi dos Santos pummeled Saint-Denis with a long series of unanswered strikes. The crowd and commentators were calling for the fight to stop, but Kiselev allowed the action to continue. Saint-Denis survived the round, but eventually lost 29-26 on all cards.
Harrison wins second PFL lightweight title
Kayla Harrison continued her dominance of the PFL lightweight division, beating Taylor Guardado in Wednesday's final via second-round armbar submission.
Harrison (12-0) has won two-straight PFL championships, winning $1 million in prize money each time. She's now a free agent, and should receive interest from UFC, Bellator, and other promotions.
"I'm already thinking about what's next," Harrison said after the win. "I have a lot to think about. I have a family now. Of course, I still want to be the best in the world…but I have two mouths to feed now and a family to take care of."
Harrison would likely need to move down to featherweight to fight in the UFC, as the promotion does not carry a 155-pound division for women.