Glover Teixeira has done just about everything in his 19-year MMA career, other than winning a UFC title. The veteran will get his second – and probably last – opportunity at the gold on Saturday, when he faces Jan Blachowicz for the light heavyweight championship in the main event of UFC 267 at Etihad Arena in Abu Dhabi.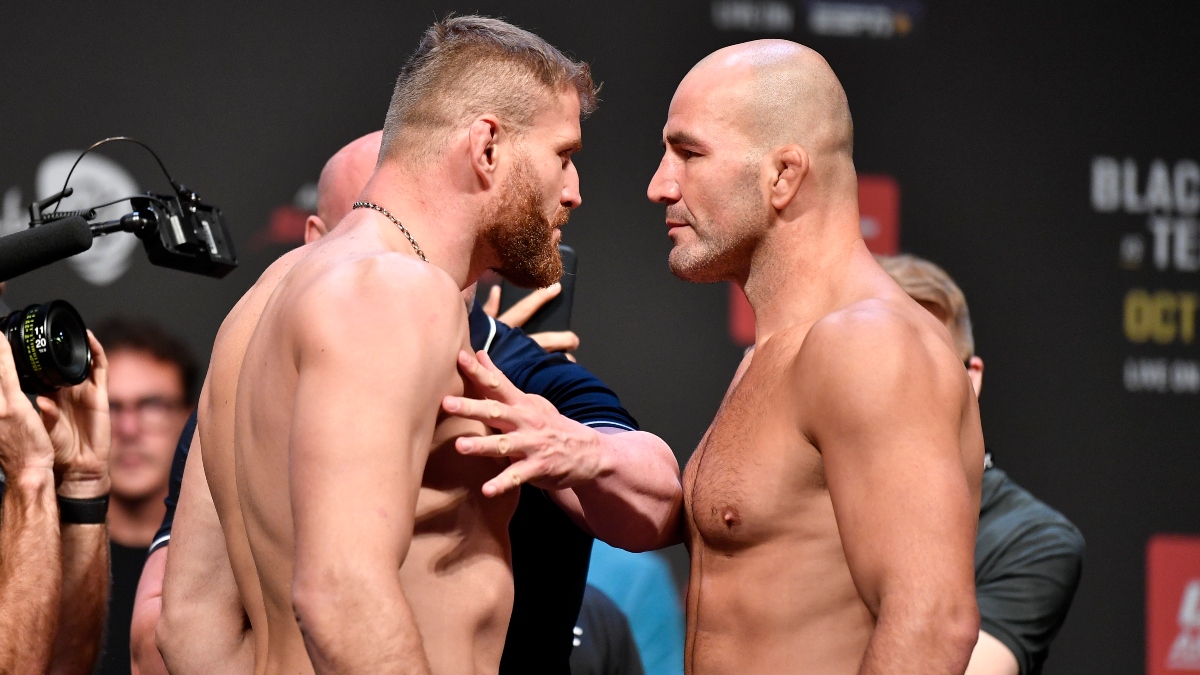 The 42-year-old Teixeira has one previous appearance in a title fight, losing to Jon Jones at UFC 172 back in 2014.
Teixeira wins five straight to earn title shot
Following that loss, Teixeira (32-7) traded wins and losses for a few years. That was enough to keep him around as a ranked contender, but it appeared that he had lost his chance of winning a championship.
But Teixeira is now riding a five-fight winning streak, most recently beating Thiago Santos by submission last November. Finally, the Brazilian – who lives in Connecticut – has earned one more moment in the spotlight.
"Lately, [I've been] more disciplined about it and more focused on what I have to do to become a champion," Teixeira said at Wednesday's media day. "I said, 'I am losing time over here, what do I have to do?' I was looking for more knowledge from the [UFC Performance Institute] and my coaches and my discipline. It was like, 'How much do I want this?'"
Blachowicz (28-8) is a veteran himself at 38 years old. The Polish star comfortably defeated Israel Adesanya at UFC 259 in March to stop "The Last Stylebender" from becoming a two-division champion. Now, Blachowicz wants to solidify his position as a true UFC champion. He's wary of the threat that the experienced Teixeira represents.
"You cannot be too fast because he is a smart guy, an old fox," Blachowicz told reporters. "He knows how to survive. He can grab you in his game, so you need to wait a little bit. Like [Alexander] Gustafsson, Gustafsson waited until the fifth round to knock him out. This is also something that I want to do. If I hit him hard, if I see that he will go down I will wait…he will not catch me in his game."
Sportsbooks anticipating knockout finish
Blachowicz enters the fight as a clear favorite. DraftKings Sportsbook sees the champion as the -305 pick over Teixeira (+240). In particular, Blachowicz is likely to win by a knockout or TKO, with DraftKings offering only even money (+100) on that outcome.
Normally, Teixeira's best path to victory would be to outlast his opponent, but that seems unlikely against the durable Blachowicz, who has never been short on stamina. Blachowicz appears to have advantages nearly across the board, provided that he can keep the fight standing.
---
Blachowicz vs. Teixeira Odds (via DraftKings Sportsbook)
Jan Blachowicz: -305
Glover Teixeira: +240
Method of Victory
Blachowicz by KO/TKO: +100
Teixeira by KO/TKO: +650
Blachowicz by Submission: +1200
Teixeira by Submission: +700
Blachowicz by Decision: +225
Teixeira by Decision: +900
Draw: +5000
---
Still, a Teixeira win would be one of the best stories in MMA this year, and the challengers says he knows what a victory would mean.
"I love when people overcome situations and break the rules doing something that not many people have done," Teixeira told reporters. "If I win this title right now, who did that before? Only one guy in the UFC: Randy Couture. It's a hard thing to do, and I'm glad I'm here and I'm going to get it Saturday night."