Glover Teixeira showed that he may have one more run at a UFC title in him on Saturday night after scoring a third-round submission victory over Thiago Santos at UFC Fight Night in Las Vegas.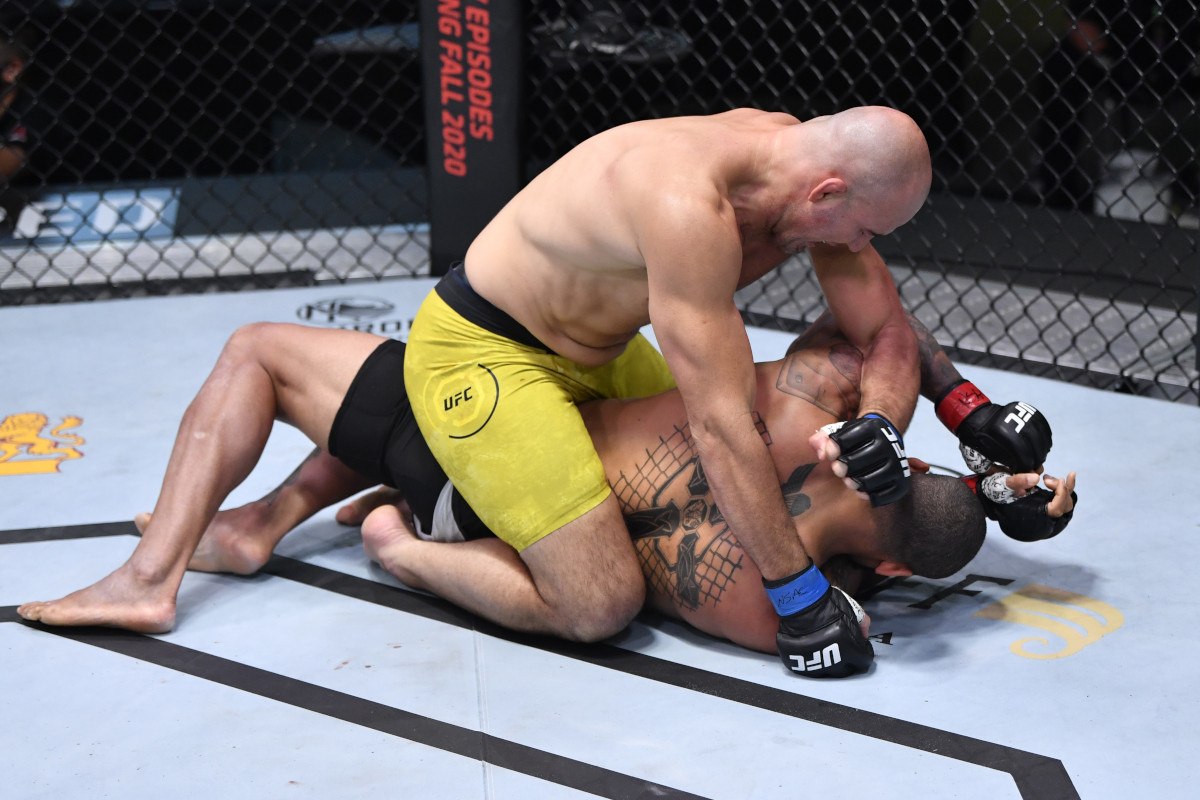 Teixeira landed a rear-naked choke at 1:49 of the third round to put an end to what had been a wild back-and-forth affair.
Teixeira Survives Big Shots, Dominates Grappling to Win
Santos nearly ended the fight in the opening minutes, rocking Teixeira with a series of big punch combinations. Teixeira survived, then dominated the second round on the mat, nearly choking out Santos before the round came to a close.
The 41-year-old Teixeira (32-7) tried to repeat that game plan in the third round. Santos (21-8) initially punished Teixeira as he came in for a takedown, dropping Teixeira and getting to top position where he tried to end the fight with ground-and-pound.
But Teixeira managed to get back to his feet, scored a takedown, and got into position to force the submission.
After the win, Teixeira pleaded with UFC president Dana White to give him one more shot at the light heavyweight title, currently held by Jan Blachowicz (27-8).
"Come on, man. I'm an old man. I'm here. You've gotta give me a shot," Teixeira said, addressing White. "It's not easy. Give me that title shot, man. Either way, I'm so happy to be here."
UFC Pushes Nunes vs. Anderson to 2021
Amanda Nunes has withdrawn from the main event of UFC 256, where she would have defended her women's featherweight title against Megan Anderson.
ESPN reported that Nunes (20-4) dropped out for "undisclosed reasons," according to sources. Anderson (11-4) tweeted about the cancellation, wishing Nunes "a speedy recovery" and saying the UFC would reschedule the bout for sometime early next year.
Wishing Amanda a speedy recovery 🙏🏻UFC are rescheduling the bout for a date early next year.

The goal remains the same 👊🏻 We'll be ready.. https://t.co/APZt4zUkS0

— Megan Anderson (@MeganA_mma) November 9, 2020
"All I was told was she has a 'serious medical issue' and that they're working on rescheduling the bout currently," Anderson said in a statement. "Obviously, it sucks because we've been working so hard for this, but I hope she has a speedy recovery and the goal remains the same."
Nunes currently holds both the UFC's women's bantamweight and featherweight titles, and most regard her as the greatest women's MMA fighter of all time.
Adesanya: I'm A-Side vs. Jones
UFC middleweight champion Israel Adesanya (20-0) plans to be the next man to challenge Blachowicz for the light heavyweight title. He's also looking forward to the potential for even bigger fights, such as a matchup with the legendary Jon Jones (26-1). Adesanya says he's not only ready to fight Jones, but that he is the favorite and bigger draw between the two.
"I'm already the A-side," Adesanya said on MMA Junkie Radio. "I'm the guy that's actually active. I'm the guy that's actually fighting."
Jones recently relinquished the light heavyweight championship to move up to the heavyweight ranks. Pundits may overuse the term super-fight, but a battle between Adesanya and Jones would live up to that billing. It's for that reason that the middleweight champion thinks it should wait until fans can be in attendance.
"I like fighting with no audience, but that fight in particular, I want there to be an audience," Adesanya said. "I just feel it'll be glorious in a packed stadium with 75,000 people."