UFC No. 1 light heavyweight contender Thiago Santos will take on No. 3 contender Glover Teixeira in the main event of UFC Fight Night 182 on Saturday in Las Vegas.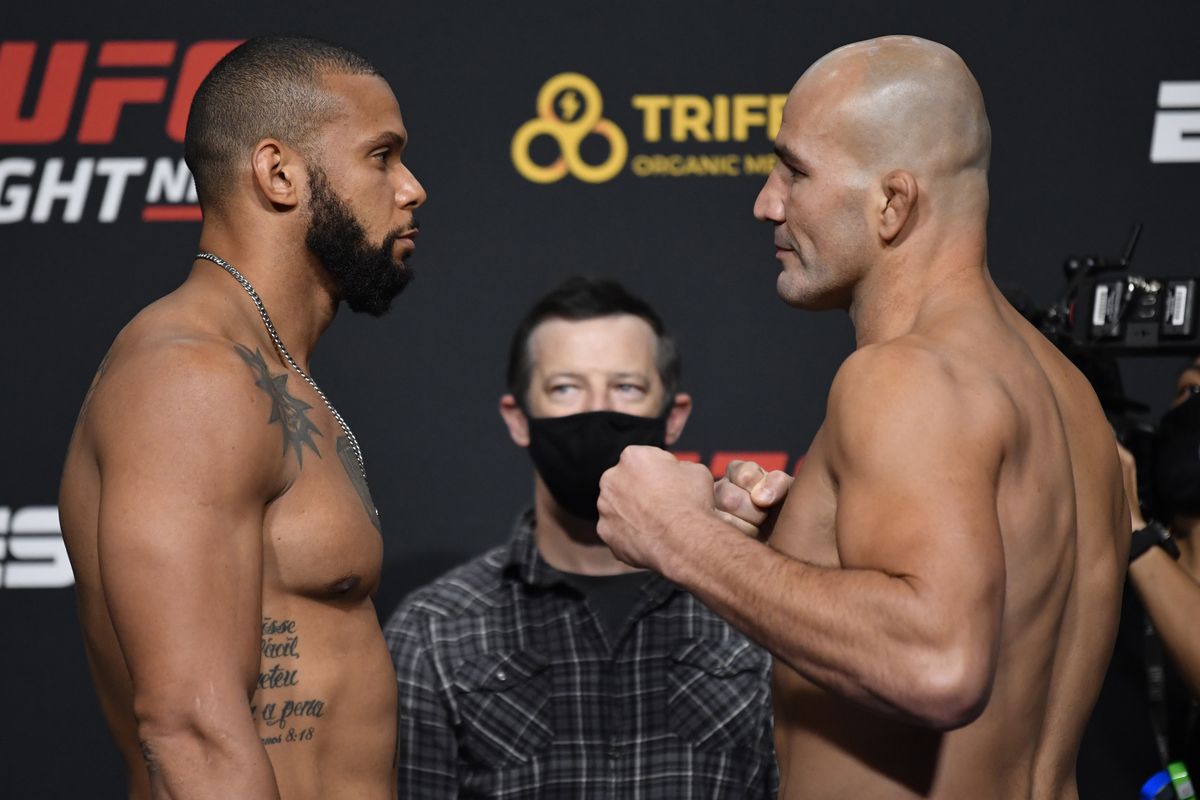 Both Santos and Teixeira want to score emphatic wins in order to make their case as the next challenger to Jan Blachowicz's light heavyweight title.
The Race to Challenge Blachowicz
They'll have some stiff competition in the form of undefeated middleweight champion Israel Adesanya, who may or may not look to become a double champion by moving up to take on Blachowicz himself. With Jon Jones out of the light heavyweight picture, the division is wide open, and these two are among the men who believe they deserve a shot at the 205-pound crown.
For the 41-year-old Teixeira (31-7), the first order of business is to take care of Santos. Only then will he worry about whether he can stay ahead of Adesanya in the line for a title opportunity.
"I'm focused on things that I can control," Teixeira told reporters. "We'll see after this fight – we go over there and make some noise. I never really talk too much shit, but if I have to do a little bit to promote this fight and take Adesanya out of there to get the title fight, that's what I'm going to do. Get him back in the 185 division."
Santos (21-7) expressed similar feelings, vowing to take care of Teixeira before worrying about what else might be on the horizon.
"First, I need to win [against] Glover Teixeira. I need to do my best," Santos said on media day. "We are going to see what's going to happen after my fight. I believe who wins the fight deserves to go to the title shot."
Santos Predicts Entertaining Scrap with Teixeira
Santos comes into the fight as a solid -250 favorite over Teixeira (+205), according to FanDuel Sportsbook. He last fought in July 2019, when he lost a controversial split decision to Jon Jones.
Even in a loss, Santos saw his stock rise, and the experience against one of the all-time greats of MMA should help him moving forward in the light heavyweight division. However, the only thing he's willing to guarantee about Saturday's bout is that fans will get a show.
---
UFC Fight Night 182 Odds (via FanDuel Sportsbook)
Thiago Santos: -250
Glover Teixeira: +205
Andrei Arlovski: +240
Tanner Boser: -295
Raoni Barcelos: -350
Khalid Taha: +280
Ian Heinisch: -108
Brendan Allen: -108
Claudia Gadelha: +134
Yan Xiaonan: -158
---
"Glover is a complete fighter that looks for the knockout or submission all the time," Teixeira told Sherdog.com. "I would bet that this fight is not going to reach the fifth round. The only assurance I have is that fans will have a lot of fun in our fight."
True to his word, Santos will likely try to end the fight quickly, while Teixeira will try to withstand the early pressure and take over once his opponent fades. Whether or not that strategy can work against Santos is an open question, but it should lead to a competitive fight that can end at any moment.
Elsewhere on the card, heavyweight prospect Tanner Boser (-295) takes on 41-year-old veteran Andrei Arlovski (+240), while Raoni Barcelos (-350) fights Khalid Taha (+280) in a bantamweight match.