Thiago Santos battled for five hard rounds against UFC light heavyweight champion Jon Jones before eventually losing in a split decision on Saturday night at UFC 239. On Monday, it was revealed that most of that performance came while he was almost entirely standing on one leg.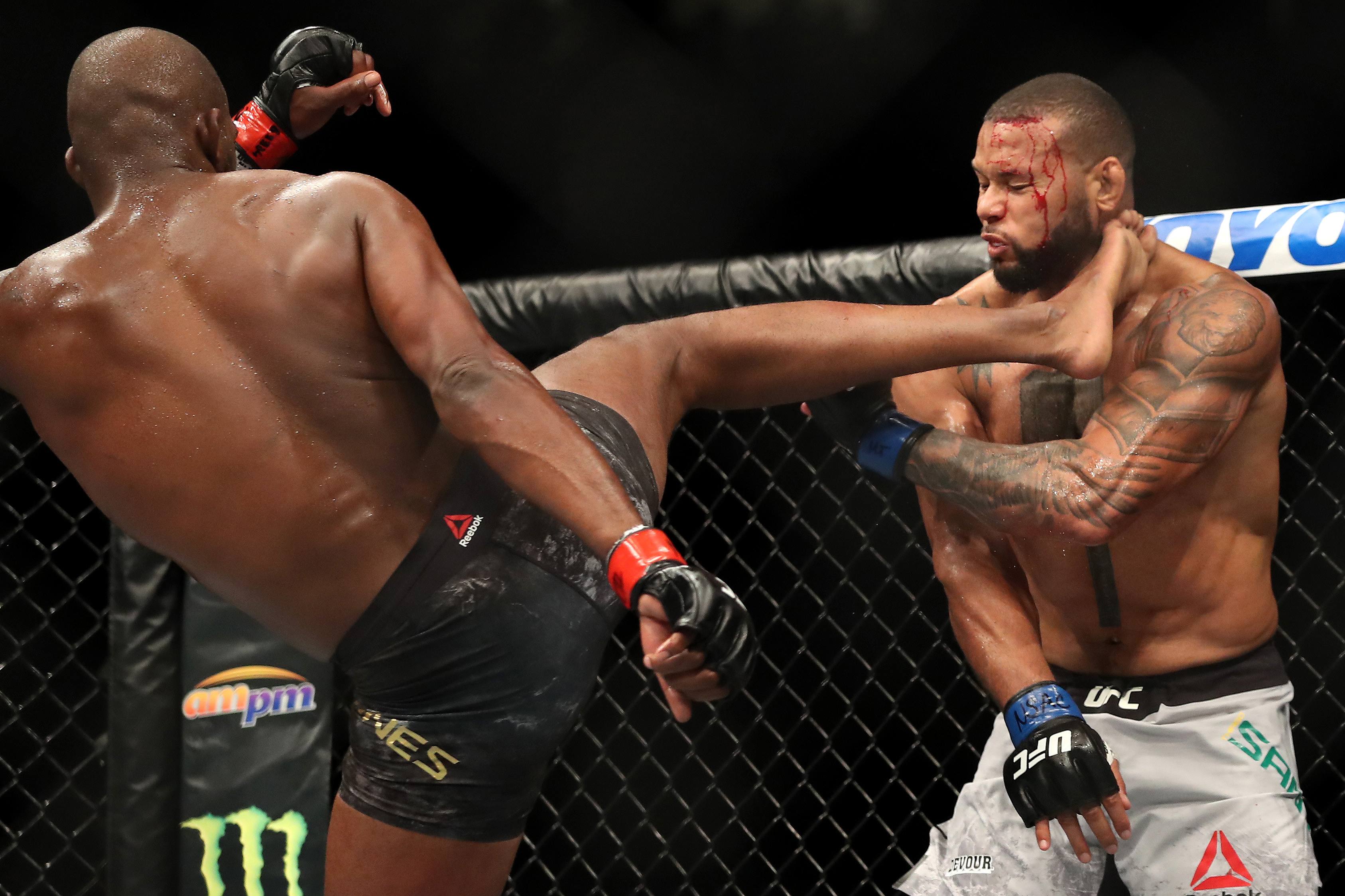 Several media outlets have confirmed that Santos tore the ACL, PCL, MCL, and meniscus of his left knee, in an injury that appeared to occur in the first round of the five-round fight.
Santos Nearly Wins Despite Bum Knee
In a press conference after the fight, Santos (21-7) told reporters that he had felt something wrong with his knee at end of the first round. As the fight wore on, he was clearly favoring his left leg, though he was still able to effectively battle with Jones (25-1).
"I left everything in there even after injuring my knee in the first round," Santos said through an interpreter. "I fought four rounds on a southpaw stance, unable to move like I usually move, unable to throw the strikes I usually throw. I didn't shock the world because of those circumstances, but I did what I could do in those conditions and I'm satisfied."
Santos' coach Phillip Lima told ESPN Brazil that the fighter also has a partial ligament tear in his right knee.
Jones ultimately got the win, though the judges had the fight scored extremely close. Two judges gave the champion the 48-47 decision, while the other had it 48-47 for Santos. It was the first time Jones had ever lost on any judge's scorecard in a fight that went the distance.
"Boy, was he tough," Jones said after the fight. "He was technically a lot more sound than I thought. Thiago Santos is a black belt in Muay Thai. I'm proud of myself, because I stood with a guy who's been kickboxing way longer than me."
The Nevada Athletic Commission will likely hit Santos with a six-month injury suspension due to the nature of the damage to his knee. However, the 35-year-old is expected to be out for at least eight months following his surgery, which will take place later this week in Los Angeles.
Askren 'Fine' Despite Flying Knee KO
Santos wasn't the only fighter who had to answer injury questions in the aftermath of UFC 239. Ben Askren suffered the fastest knockout loss in UFC history after Jorge Masvidal landed a running knee to his head, stopping the fight after just five seconds.
OH. MY. GOD.

what a NASTY KO by Masvidal!! 😳 #UFC239 pic.twitter.com/cHsT5VvlPR

— TeeBeeDee (@YoungBuck_21) July 7, 2019
Askren immediately went down unconscious after the knockout, and he struggled to get back to his feet even after the fight had been stopped. He had trouble leaving the arena, and says he remembers nothing until he was at the hospital.
But other than the loss of memory, Askren says that he actually feels fine days after the vicious knockout.
"When everything clicked, it was like my head didn't hurt, my face didn't hurt. Nothing hurt. I felt perfectly fine," Askren told Ariel Helwani on Monday. "They said their test didn't show anything, obviously. But the fact that I went unconscious, I believe that's defined as a concussion."