UFC 253 crowned a new light heavyweight champion in Jan Blachowicz and solidified Israel Adesanya at the top of the middleweight division, but it didn't take long for new beefs to spring up after the show.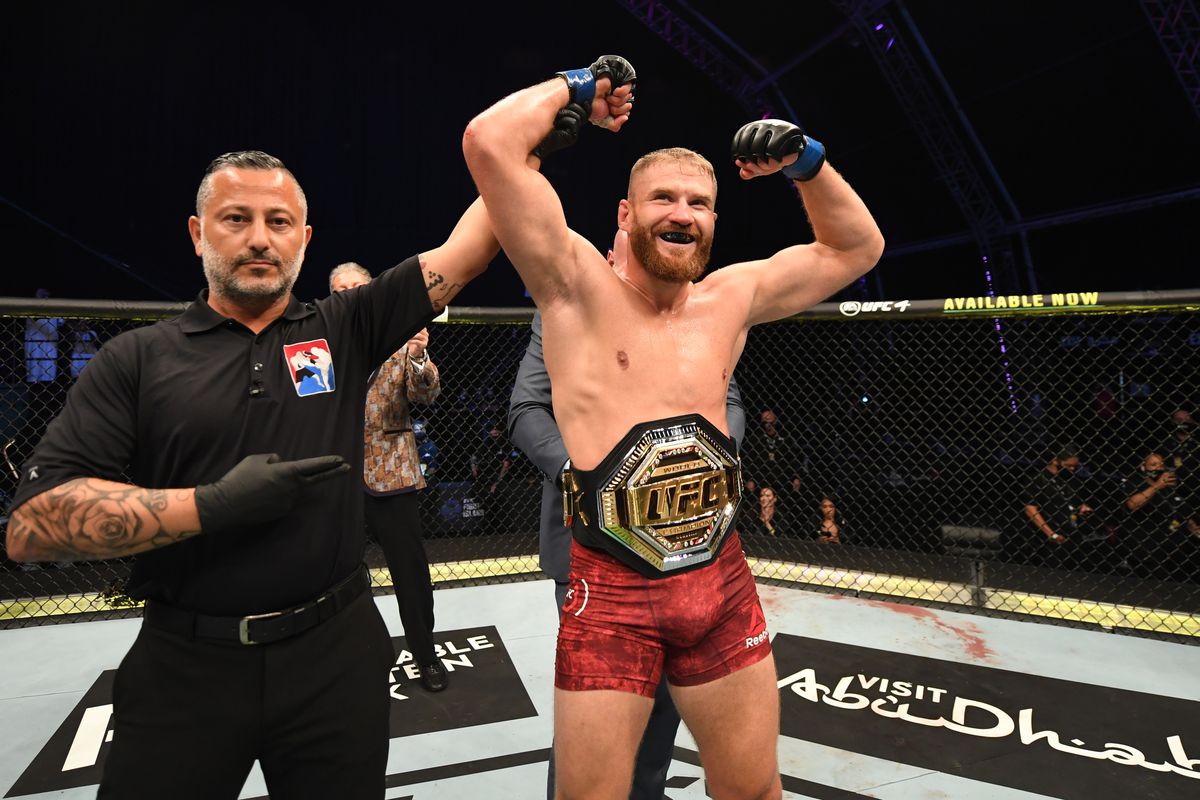 Blachowicz (27-8) scored a second-round TKO over Dominick Reyes (12-2) to win the light heavyweight crown, which Jon Jones left vacant after leaving for the heavyweight division.
Blachowicz, Cormier Feud for a Few Hours
The 37-year-old Blachowicz came in as the underdog, but overwhelmed Reyes with powerful kicks and punches to dominate the fight.
Afterward, Blachowicz called out Jon Jones in an apparent attempt to get a match with the former champion. Instead, Blachowicz found himself in a very short-lived beef with former light heavyweight and heavyweight champion Daniel Cormier.
On Monday's episode of ESPN's "DC and Helwani," Cormier suggested that the new champion would have little chance against Jones.
"Jones beats Blachowicz. Too slow," Cormier said. "The thing about Jones people don't realize, he's got a good chin. You can hit him. I hit him. A lot of us hit him. He can take punches, man. If Jan Blachowicz is out there, and he's too slow, Jones would pick him apart."
Blachowicz responded on Twitter by challenging Cormier.
"Hey @dc_mma! If you have so much to say about me, get your fat ass off the couch and come to the Octagon," Blachowicz tweeted. "I'll teach you some respect."
But Cormier responded by congratulating Blachowicz, simply saying "No chance champ." That led to a quick resolution to the potential feud.
Okey, that's nice. An Internet war is over :). #ChampsRespect

— Jan Blachowicz (@JanBlachowicz) September 29, 2020
"[Okay], that's nice," Blachowicz wrote. "An Internet war is over."
Costa Blasts Adesanya's Post-Fight Antics
In the UFC 253 main event, middleweight champion Israel Adesanya (20-0) finished challenger Paulo Costa (13-1) in the second round to retain both his title and his undefeated record. Adesanya impressed yet again with a dominant performance, using leg kicks to slow Costa before finishing him with punches.
When it was all said and done, @stylebender made it look easy 😏 #UFC253 pic.twitter.com/zeggYmdTXM

— ESPN MMA (@espnmma) September 27, 2020
After the fight, Adesanya made a number of vulgar gestures toward Costa and his camp, including dry-humping Costa while he laid on the mat. Costa fired back at the champion on Instagram on Monday.
"I come here to talk about the actions that the human trash did after our fight," Costa wrote. "I didn't see when I was there in the cage, but I saw now. I disapprove 100 percent. To me, this is mortal now. Nobody will stop me. Nobody can stop me. I want my rematch."
McGregor Challenges Poirier to Charity Fight
In lighter news, Conor McGregor challenged former rival Dustin Poirier to a charity exhibition fight on Twitter. McGregor proposed a pay-per-view event to benefit Poirier's The Good Fight Foundation and charities of the Irishman's choosing.
Poirier tweeted back to say "I'm in!" McGregor then said the discussion would be taken offline to see if progress could be made toward the fight. The UFC would have to approve the contest, as both men are still under contract with the promotion.
Ansaroff, Nunes Welcome First Child
Two-division UFC champion Amanda Nunes and her fiancée, fellow UFC fighter Nina Ansaroff, celebrated the birth of their first child on Friday. Ansaroff gave birth to the couple's daughter, Raegan Ann Nunes.
The announcement makes Nunes the first UFC champion to also be a mother.
"Will forever be my favorite day," Ansaroff wrote on Instagram after giving birth. "You are a dream come true. Happy Daughters Day my beautiful girl."