With no Medina Spirit, Hall of Fame jockey John Velazquez will take Rombauer's reins for the June 5 Belmont Stakes.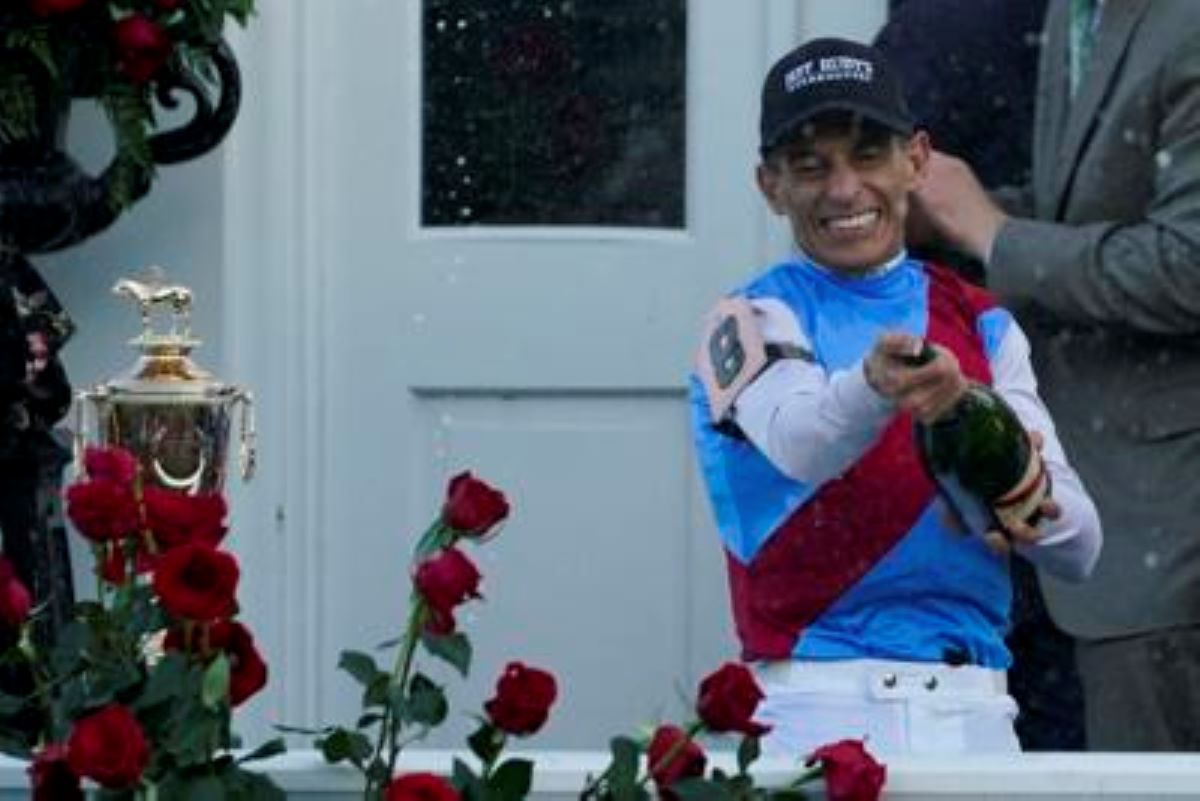 The Daily Racing Form reported that trainer Mike McCarthy grabbed Velazquez's services for the Belmont. He'll take the reins from Flavien Prat, who returned to the horse he rode in the Kentucky Derby, Hot Rod Charlie. Call this a lateral move, since McCarthy is basically replacing one sizzling rider with another. Velazquez won the Derby aboard Medina Spirit one day after he won the Kentucky Oaks aboard Malathaat.
Prat sent Rombauer to a memorable 11/1 upset victory in the Preakness Stakes. He took Rombauer's reins after Hot Rod Charlie passed up the Preakness. Both horses are West Coast-based, as is Prat. He's winning 28% of his races this year, and is breezing toward his 12th Southern California riding title.
You can't leave Velazquez without a mount for long
Prat returns to the horse he piloted to a third-place Derby finish. He took Hot Rod Charlie's reins after Joel Rosario took Rock Your World's tack. Rosario rode Hot Rod Charlie to his Louisiana Derby victory. As for Velazquez, no Medina Spirit and no Malathaat left him a free agent in search of his third Belmont Stakes victory. He won the 2007 Belmont Stakes aboard filly Rags to Riches and the 2012 Belmont with Union Rags.
Velazquez rode Medina Spirit to third in the Preakness as the 2/1 favorite. He exited the Triple Crown trail after trainer Bob Baffert was banned from all New York Racing Association tracks. The ban came after Medina Spirit became Baffert's fifth positive medication violation in a year after his Derby victory.
Malathaat's connections had initial designs on a Belmont start, but last week, they decided to train her up to July's Grade 1 American Oaks at Saratoga.
No horse will compete in all three Triple Crown races
In other Belmont Stakes news, Midnight Bourbon and Keepmeinmind will both opt out of the final Triple Crown jewel. Midnight Bourbon, the Preakness runner-up and sixth-place Derby finisher, is likely headed to the July 17 Haskell Invitational at Monmouth Park. If not that Grade 1, he'll run the Grade 2 Jim Dandy at Saratoga on July 30.
"He came out of the Preakness great, but he may have put the groundskeepers out of a job, he was eating so much grass" David Fiske, the racing and bloodstock advisor for owner Winchell Thoroughbreds, told NYRA. "He shipped back to Churchill and has been jogging great. There aren't any big target races after the Belmont prior to the Jim Dandy or Haskell, so we'll focus on those races for now."
According to the DRF, Keepmeinmind's likely next start is the June 27 Grade 3 Ohio Derby at Thistledown. He finished seventh in the Derby and fourth in the Preakness. Along with Medina Spirit's defection, the decision means no horse will compete in all three 2021 Triple Crown races.