In a case that's flipping what-have-you-done-for-me-lately on its ear, jockey Joel Rosario will replace Umberto Rispoli aboard Rock Your World for next week's Kentucky Derby.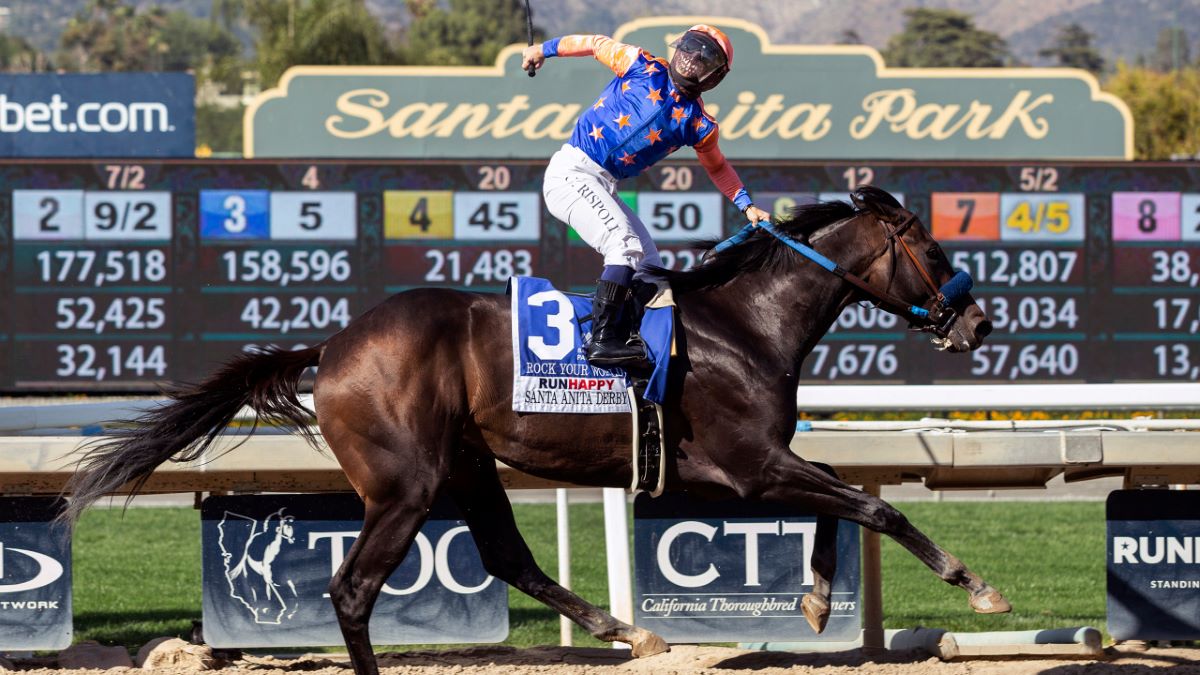 Rock Your World's trainer, John Sadler, discussed the decision on the Thoroughbred Los Angeles radio show on Sunday morning. He took full responsibility for the rider change, which was originally reported by the Daily Racing Form.
"You know, these are agonizing decisions and not easy," Sadler told radio host Mike Willman. "I want to be very clear, I think the world of Rispoli and I think the world of his riding. He's a terrific rider on our circuit and he's been a great addition to California, and [he] will continue to be. But I had to make a call and this is the call I made … History will tell whether I'm right or wrong. Things could go back, you know, overnight in this game. But this is the decision we made for this race, so you know, we have to live with it and go forward."
The move came after Rispoli piloted undefeated Rock Your World to decisive victories in April 3's Santa Anita Derby and in the Pasadena Stakes on Feb. 27. Rosario had the reins for Rock Your World's maiden-breaking debut on New Year's Day. That came in a six-furlong maiden special weight.
Rispoli did nothing but Rock Your World on the track
Both that debut and the one-mile Pasadena came on turf. Rispoli rode 5/1 Rock Your World to a gate-to-wire win in the Santa Anita Derby – his first dirt start. That came with a 100 Beyer Speed Figure, which is the best Beyer of any horse in the Derby field.
Through a strange twist of circumstances, that virtuosity didn't save Rispoli's Derby ride. The jockey dominoes fell after Bob Baffert announced this his star colt, Concert Tour, won't run the Derby. That orphaned Rosario, Concert Tour's jockey, who rode the colt to a Rebel Stakes victory and that disappointing third in the Arkansas Derby. That race prompted Baffert and Concert Tour's connections to pull him from the Derby and wait for the May 15 Preakness Stakes.
"Let's be very clear here. I was rooting for Concert Tour to win the Arkansas Derby and (then) this is all a non-conversation," Sadler said on Thoroughbred Los Angeles. "We decided to wait until after the Concert Tour race to see what was going to happen and nobody could've predicted that (third-place finish), really. I mean he was 1/5 or whatever and then he didn't run on."
You can't keep a good rider out of the Derby
Concert Tour was 1/5, but Rosario is too talented of a rider to remain orphaned for long. He's currently enjoying a career year, winning 23% of his races (54-for-222), hitting the board 54% of the time, and averaging a career-best $34,106 per start. Originally, he had his pick of two front-line Derby prospects, Concert Tour and Hot Rod Charlie. Rosario rode the latter to victory in the Louisiana Derby.
Hot Rod Charlie's majority owner, Greg Helm of Roadrunner Racing, told OG News last month that Rosario and Hot Rod Charlie "communicate as a unit on the track."
But last week, Hot Rod Charlie's trainer, Doug O'Neill, took no chances. He enlisted Santa Anita's leading rider, Flavien Prat, to pilot Hot Rod Charlie in the Derby.
Rock Your World latest chapter in Rosario-Sadler history
On top of Rosario's talent, he and Sadler share a long and fruitful history. Rosario rode Sadler's Accelerate to the 2018 Breeders' Cup Classic title. According to the Daily Racing Form, the Rosario-Sadler partnership produced 242 winners over the last 15 years. This year, they're 6-for-28 (21.4%).
"We think with (Joel's) experience over the track … and just my relationship with him and these owners (longtime client Hronis Racing, along with Talla Racing) … this gives us our strongest position. So this is what we're going to do," Sadler said.
Rosario's experience over Churchill Downs produced a 1-for-9 Derby record. That one came aboard Orb in 2013, the first year of the Derby points system.
Rispoli not exactly a warm body here
According to the DRF, Rispoli is a stellar 8-for-21 (38%) with Sadler at Santa Anita during this meet. They won the Mizdirection Stakes with Constantia on Saturday.
As of now, Rispoli doesn't have a Derby ride, a significant financial impact to him and his veteran agent, Scotty McClellan. Jockeys typically get 10% of a horse's purse, with the agent getting 15% of that.