USC's already slim chances to contend for a spot in the College Football Playoff grew a lot dimmer Thanksgiving evening as their Saturday game against Colorado was canceled.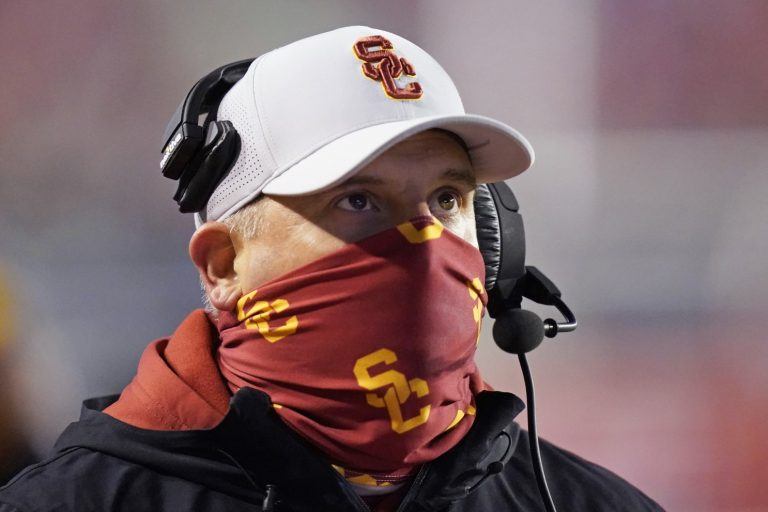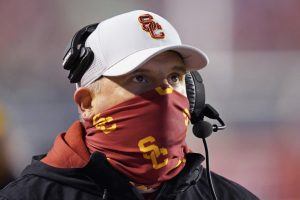 It's been a war of COVID attrition in the Pac-12. Even with the shortened, six-game conference-only schedule that didn't kick off until November, the Trojans were one of two remaining Pac-12 teams to thread the needle and not experience an outbreak.
USC Had First Positive Test on Monday, Then it Got Worse
That streak ended this week as a player tested positive on Monday, followed by another on Tuesday. By Thursday, three Trojans were presenting symptoms and had tested positive.
In observance of the Thanksgiving holiday, Trojans head coach Clay Helton and team officials didn't do media following the announcement.
No. 18 USC is 3-0 and alone on top of the Pac-12 South. This is division rival Colorado's (2-0) second canceled game of the season.
Pac-12 Releases Statement Late on Thanksgiving
According to a Pac-12 statement, Saturday's USC home game vs. Colorado was canceled because the Trojans did not have the minimum number of players available in a specific position group due to contact tracing protocols.
"While all of us want to see our football student-athletes on the field competing, our number one priority must continue to be the health and safety of all those connected to Pac-12 football programs," the statement read.
Statement regarding Saturday's Colorado at USC #Pac12FB game: pic.twitter.com/Ng4J6SDHjn

— Pac-12 Conference (@pac12) November 27, 2020
Oregon is now the last program in the Pac-12 to not be touched by the pandemic. The Ducks (-13.5) will kick off 4:30 p.m. PST on Friday at in-state rival, Oregon State. Oregon is currently at -550; Oregon State at +400.