The #11 Syracuse Orange once again provided headaches for opposing offenses in March Madness, because every coach pulls out their hair trying to figure out how to beat Jim Boeheim and his stifling zone. The coach's son, Buddy Boeheim, put on a shooting clinic in the first two rounds, which is another reason why Syracuse secured a spot in the Sweet 16 as a #11 seed.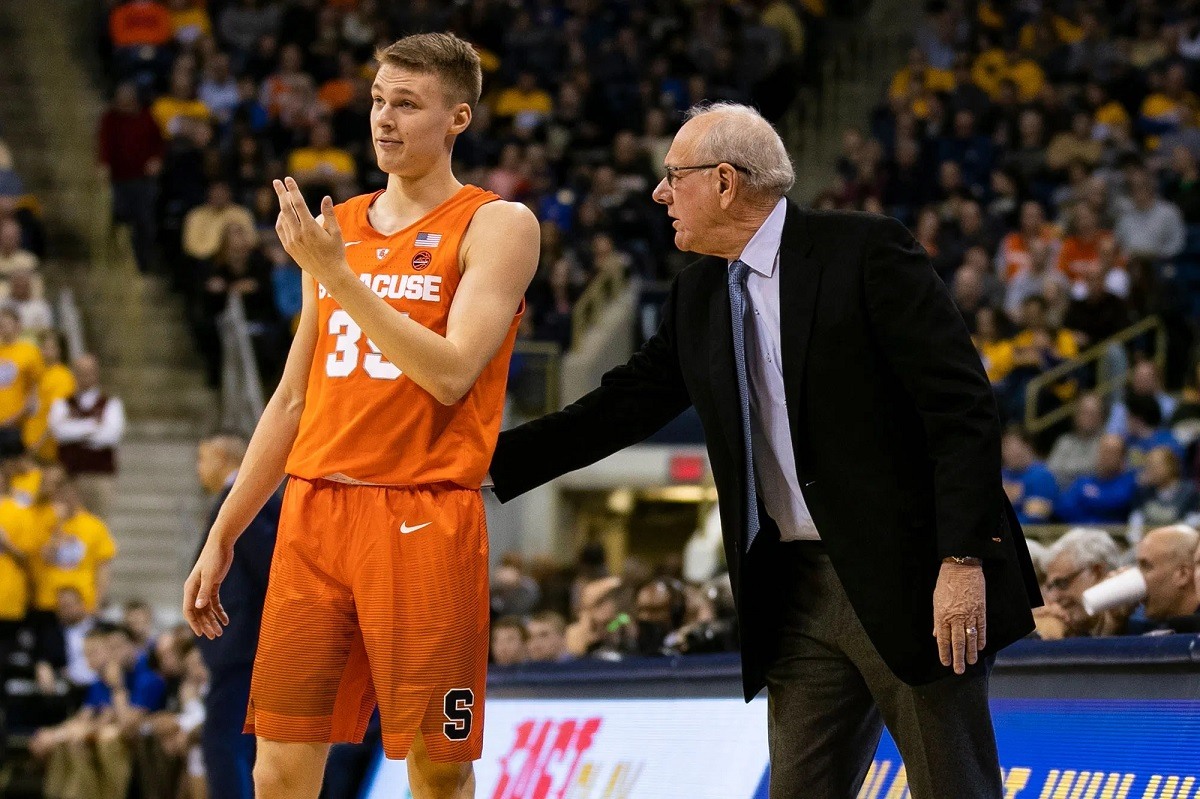 Boeheim, a 6-foot-6 junior, averaged 27.5 ppg in March Madness including 30 points in an upset victory over #6 San Diego State in the first round. In the second round, Boeheim tallied 25 points in an upset over #3 West Virginia. Boeheim shot 13-for-23 from 3-point range in March Madness so far with a 56.5% success rate. He lit up SDSU with seven treys, then knocked down six against West Virginia, despite a slow start.
Boeheim began his heater during the ACC tournament. He averaged 29 ppg in two games in including 31 points against Virginia. He shot 11-for-21 from 3-point range in the tourney for a 52.3% clip.
Overall this season, Boeheim averaged 18 ppg and shot 39.6% from 3-point range.
Buddy, Chip Off the Ole Boeheim
Usually when you grow up as the son of a famous college basketball coach, you'll end up following in your father's footsteps and coach in the collegiate ranks as well. For examples, check out Richard Pitino (son of Rick), Sean Sutton (son of Eddie), Scott and Bryce Drew (sons of Homer).
If Buddy wants to follow his father, Jim, into the coaching realm, he's got his foot in the door thanks to the Boeheim family name. After an astounding performance in March Madness, pro scouts took note of Boeheim's long-range sniping skills.
"It also reflects Buddy's growing confidence and his ability to put a team on his back on the biggest of stages and win," said one NBA executive. "He's not just a spot-up threat, either. Can attack the close out, put it on the deck and make contested shots, all of which he hadn't shown much of in the past."
There were numerous instances when he took "logo shots", or shots at the edge of the half-court logo, in both the ACC tournament and March Madness. In the modern NBA, 3-point shooters are a premium, especially players demonstrating range from 30-feet and beyond.
When you watch Boeheim pull up on a 3-pointer from several feet beyond the NBA line, he's knocking down shots that only the elite shooters in the NBA can achieve. It's a small, yet select group of long-range bombers that included Damian Lillard, Steph Curry, and Trae Young.
Feast of Famine for BB
When you're a gunslinger without a conscience, much like Boeheim, you run into cold streaks. A great shooter keeps on firing with the notion that the next bucket will snap you out of your cold spell. However, on nights when the shot is not falling, it can get ugly.
Boeheim experienced both hot and cold streaks this season. He connected on five or more 3-pointers seven times this season. All seven instances occurred in the previous nine games dating back to late February when Boeheim lit up Notre Dame with six treys and 29 points. Boeheim got hot at the optimal time.
Boeheim had seven nights in which he'd like to have back. He either connected on zero or just one trey in those games. He posted a donut from 3-point land three times, and knocked down a single trey four times. In those cold streaks, he shot a combined 4-for-36 for an ugly 11.1% rate.
Syracuse posted a 4-3 record in when Boeheim has a bloody awful shooting night. If you count the nights he knocked down only two 3-pointers (2-for-10, 2-for-7, 2-for-10), then Syracuse went 5-5 this season.
Syracuse went 11-3 this season in games which Boeheim connected on three or more 3-pointers. It doesn't take a NASA rocket scientist, or a Wall Street analyst to understand that one of the keys to beating Syracuse is to contain Boeheim from beyond the arc.
The Buddy System
Kelvin Sampson and the Houston Cougars will implement a simple game plan: shutdown Buddy Boeheim. However, as easy as it sounds, the strategy has been a pain in the ass to execute. Just ask West Virginia and San Diego State.
Between papa Boeheim's zone and Buddy's sharpshooting, Syracuse has been a difficult matchup for tournament teams not accustomed to playing against a zone. Houston boasts a high-octane offense, so the Cougars will try to run and gun their way to a victory.
Let's see how Houston's perimeter defenders try to keep Boeheim in check. Houston's DeJon Jarreau injured his hip in the first round against Cleveland State, but re-aggravated the injury in the second round against Rutgers.
#11 Syracuse comes into the Sweet 16 as a +6.5 underdog against #2 Houston. Syracuse and Houston play in the night cap on Saturday evening as the fourth Sweet 16 game on the March Madness schedule.
Syracuse is a long shot at +5000 odds to win 2021 March Madness, according to the Westgate SuperBook in Las Vegas.