Heading into the Sweet 16 of the 2021 March Madness men's basketball tournament, four teams are double-digits seeds and have long-shot odds, including the #11 Syracuse Orange, #11 UCLA Bruins, the smoking-hot #12 Oregon State Beavers, and #15 Oral Roberts Golden Eagles, who've taken on this year's role of Cinderella. And don't overlook  #8 Loyola Chicago, who come into the Sweet 16 at +1800 odds to win March Madness.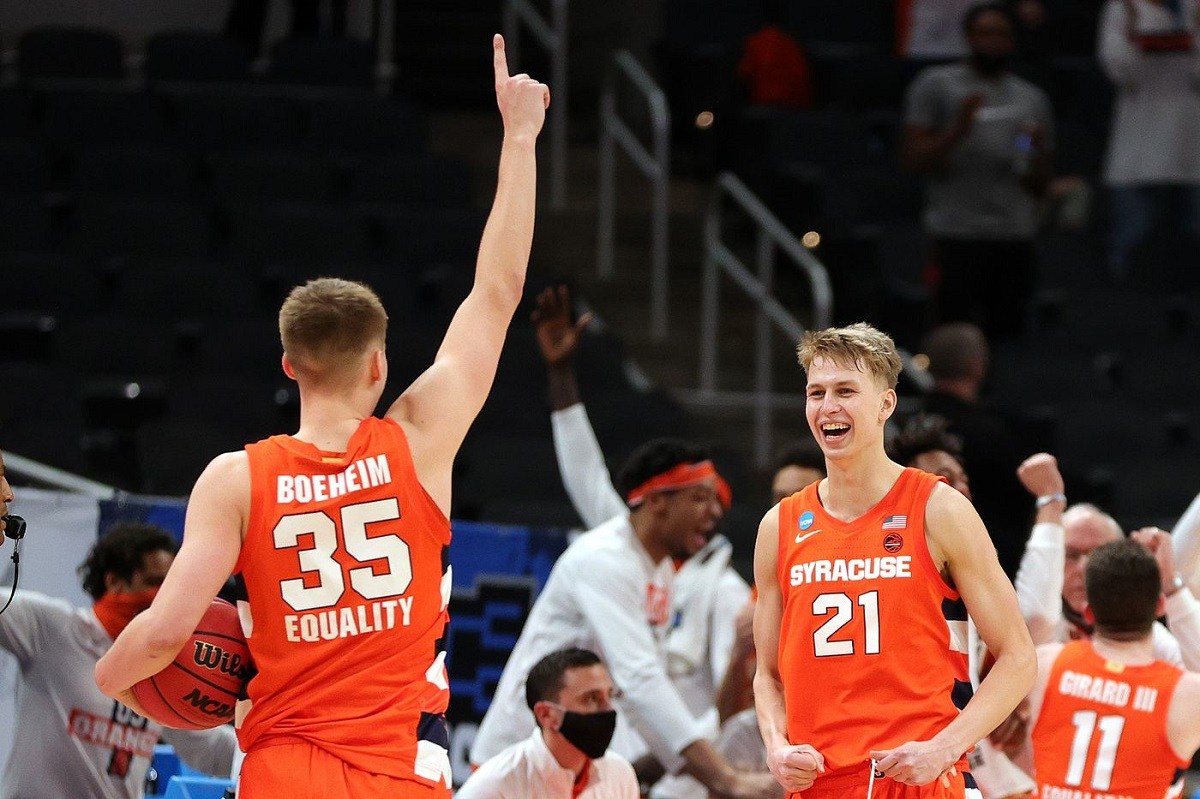 Oral Roberts is an astronomical moon shot to win March Madness at +50000 odds heading into the Sweet 16, according to a recent update by the Westgate SuperBook in Las Vegas. A #15 seed has never advanced to the Elite 8 or beyond. In fact, only one other #15 seed ever won a second-round game when Florida Gulf Coast pulled off their version of a Cinderella run back in 2013.
In a weird twist of fate, Florida Gulf Coast's head coach at the time was Andy Enfield, who currently coaches USC, which is still alive with the #6 seed.
---
March Madness Long-Shot Odds
Loyola Chicago +1800
Arkansas +2000
Florida State +2500
USC +3000
Villanova +4000
Creighton +5000
Oregon +5000
Syracuse +5000
UCLA +6000
Oregon State +8000
Oral Roberts +50000
---
The Oregon State Beavers are the lone #12 seed to advance past the first round. Oregon State also won their second-round game against a #4 seed to secure a spot in the Sweet 16 as one of four Pac-12 teams remaining in March Madness.
Loyola Chicago, ACC, or Big East Hopefuls
If you like underdogs, then keep on rooting for the Loyola Chicago Ramblers. Senior big man Cameron Krutwig was a freshman on the 2018 squad that advanced to the Final Four. Can he replicate another Final Four run? Loyola Chicago saw their odds improve to +1800 after they upset #1 Illinois, but they face the hottest team in the tournament right now with a Sweet 16 battle against #12 Oregon State.
If you're a fan of power conferences, then Florida State reps the ACC, while Villanova and Creighton carry the torch for the Big East. As a #5 seed, Villanova survived a first-round upset scare over #12 Winthrop. In the Round of 32, Villanova destroyed #14 North Texas and ended the Mean Green's run. Nova is +4000 odds to win March Madness.
Creighton is another #5 seed that avoided a first-round upset by a #12 seed when they knocked out the UC-Santa Barbara Gauchos. Creighton also thwarted #13 Ohio's attempt at becoming this year's Cinderella. After playing double-digit seeds, Creighton has to rumble with the big dogs with a Sweet 16 battle against #1 Gonzaga. Creighton has an uphill battle against the Zags, but they're +5000 odds to win the championship.
Pac-12 Long Shots
Four teams from the Pac-12 are still alive, including #6 USC, #7 Oregon, #11 UCLA, and #12 Oregon State. USC and super-frosh Evan Mobley offer the best odds at +3000 to win March Madness. Oregon advanced in the first round when VCU had to withdraw due to COVID-19 positive tests. In the second round, the Ducks knocked out #2 Iowa with a 95-80 thrashing. The final score didn't truly indicate the lopsided blowout, because the Ducks manhandled Iowa.
UCLA had to win a play-in game, so they've already won three March Madness games. The Bruins are peaking at the right moment, but +6000 odds as a long shot to win March Madness.
Don't turn your back on the Oregon State Beavers. They ran the table in the Pac-12 conference tournament to earn an automatic bid to March Madness. The eager Beavers were the lone #12 seed to upset a #5 seed this year when they upended Tennessee. In the Round of 32, Oregon State kept Cade Cunningham in check and ended #4 Oklahoma State's run while advancing to the Sweet 16.
In the Sweet 16, Oregon State and Loyola Chicago will face each other in probably the most exciting matchup of the next round. If you want to back a hot Cinderella, then take a flier on Oregon State at +8000 odds to win March Madness.
About That Annoying Syracuse Zone
Syracuse is another team peaking at the optimal time and they advanced to their third-straight Sweet 16. As a #11 seed, Syracuse picked off #6 San Diego State by 16 points in the first round. In the second round, Syracuse survived a nail-biter with a 3-point victory over #3 West Virginia.
ACC teams don't freak out when they face Syracuse's stifling zone defense because they're used to seeing it. In tournaments, teams often struggle to beat Syracuse's zone, which makes them a difficult matchup in March Madness. Plus, shooter Buddy Boeheim has been sizzling hot. The son of head coach Jim Boeheim slings deep 3-pointers from way beyond NBA range.
Boeheim averages six made treys per game in the tournament. He's 18-for-31 overall in March Madness and shooting a blistering 58% from beyond the arc. He lit up San Diego State for 30 points with seven treys on 7-for-10 shooting from downtown.
Syracuse is a long shot at +5000 odds to win March Madness, but you need a hot player to make a deep run, which Syracuse has with Boeheim. So long as Buddy stays hot, Syracuse can upset #2 Houston in the Sweet 16.