Cinderella upsets by Ohio and Abilene Christian were the big news on a somewhat boring second day of first-round action in March Madness. The #13 Ohio Bobcats pulled off a heady upset when they picked off the defending champion #4 Virginia Cavaliers. In the Saturday night cap, #14 Abilene Christian stunned #3 Texas thanks to clutch free-throw shooting from Joe Pleasant.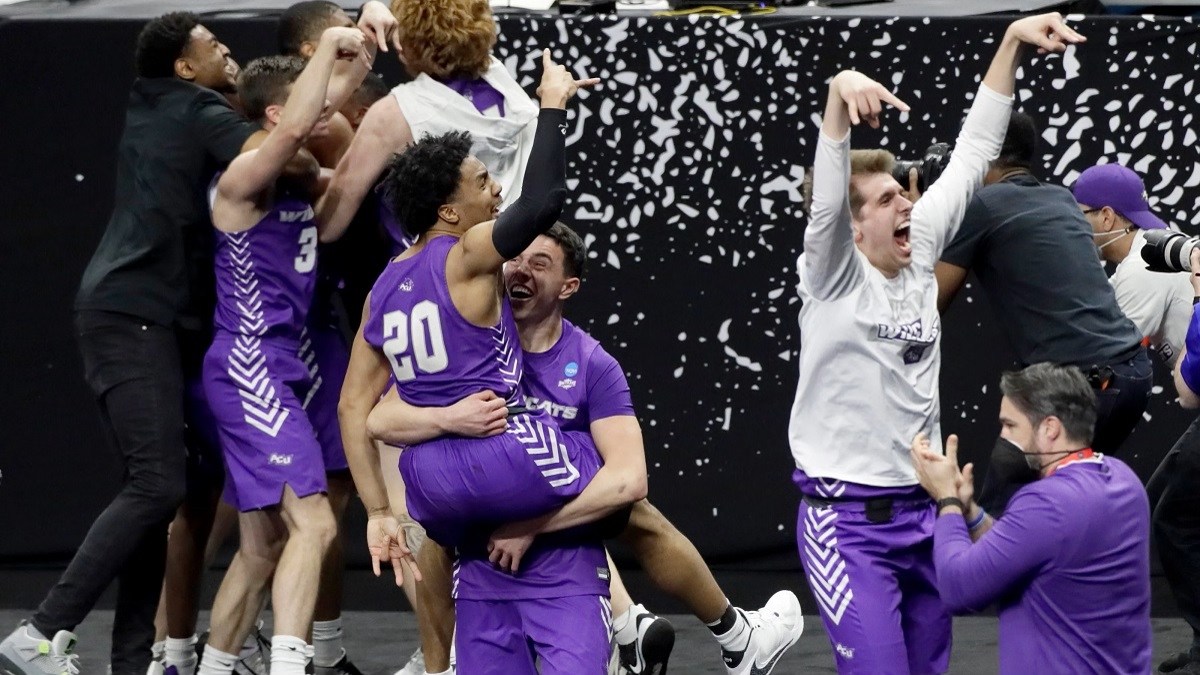 This year's tournament faced its first COVID-19-related outcome on day two. #7 Oregon advanced to the Round of 32 over #10 VCU due to multiple positive tests from VCU players.
In a low-key second day of action, both #1 seeds, Michigan and Gonzaga, advanced with little resistance.
The #2 seeds, Iowa and Alabama, didn't exactly crush their opponents, but they avoided the embarrassment of a loss to a #15 seed, like what happened with Oral Roberts and Ohio State yesterday.
UCLA became the second #11 seed to defeat a #6 seed after they sent BYU home early.
Both #12 seeds – Georgetown and UCSB –  failed to advance on Saturday. The Oregon State Beavers, the only #12 seed to win this year, picked off #5 Tennessee on Friday.
Abilene Christian became the lone #14 seed with an upset win in March Madness the year. Coming into this year, #14 seeds won 15% of the time.
With the exception of upsets by Abilene Christian, Ohio and UCLA, the other outcomes on Saturday were somewhat predictable.
Favorites won 11-4 straight up on Saturday, yet they went 4-11 ATS. However, betting underdogs early in the tournament were a profitable venture with an 11-4 ATS clip on Saturday. Overall, underdogs are 18-13 ATS at March Madness this year.
Morning: Colorado Crushing, Backdoors for UNCG and EWU
#5 Colorado 96, #12 Georgetown 73… The Colorado Buffs jumped out to a huge lead at halftime 47-23 and outgunned Georgetown with 11 3-pointers vs just one for the Hoyas. Freshman Jabari Walker (son of ex-NBA player Samaki Walker) came off the bench to score 14 points including 4-for-4 treys. Colorado opened up a 30-point lead in the second half and buried Patrick Ewing's Hoyas. Walker finished with 24 points on 9-for-10 shooting. McKinley Wright dished 13 assists for the Buffs.
#4 Florida State 64, #13 UNC Greensboro 54… A slow start for UNCG meant they chased FSU the rest of first half, but closed the gap and trailed by only three at halftime. FSU pulled away in the second half despite not hitting any treys. Isiah Miller scored 17 points for UNCG and kept it close enough to cover as a +11 underdog.
#3 Kansas 93 #14 Eastern Washington 84… Hot start for EWU thanks to the Groves brothers, who combined for 32 points. Kansas trailed by 8 at halftime, but stormed back in second half. No one on EWU could score aside from the Groves brothers. Tanner Groves scored career-high 35 points, while Jacob Groves added 23 point in the loss. EWU at +10.5 backdoored a cover on a meaningless layup as time expired.
#8 LSU 76, #9 St. Bonaventure 61… Started out as a low-scoring affair, before both teams finally woke up. The Bonnies shot blanks from downtown (0-for-10) in the first half and finished the game 15.8% overall. The Bonnies could not stop LSU's super frosh Cameron Thomas. CT led LSU with 27 points.
Noon: Creighton Nail-Biter
#1 Michigan 82, #22 Texas Southern 66… Top-seeded Michigan dominated Texas Southern from the opening tip and led by almost 20 points at halftime. Texas Southern crawled back to make the final score respectable and beat the spread for anyone what backed Michigan -25.
#5 Creighton 63, #12 UC Santa Barbara 62… Fun battle between Creighton's Marcus Zegarowski and UCSB's JaQuori McLaughlin. UCSB took early lead, before Zegarowski and Creighton's big run to seize the lead heading into halftime. This nail biter came down to crunch time free throws by Christian Bishop. Creighton advances, but failed to cover.
#2 Alabama 68, #15 Iona 55… Pitino and Iona kept the game close in the first half and trailed by a single point at halftime, thanks to Isaiah Ross. The Gaels seized the lead for a hot second in the second half and gave Bama a heck of a sweat, before Bama went on a 10-0 run and slammed the door on Pitino's Cinderella hopeful. Iona beat the spread though as a +17 underdog.
#6 USC 72, #11 Drake 56… Monstrous first-half from Joseph Yesufu with 18 points kept Drake in the game. USC pulled away in the second half to win and cover. Super frosh Evan Mobley led the Trojans with 17 points, 11 rebounds, and 3 blocks. His older brother Isaiah added 15 points.
Afternoon: Virginia Dunzo, Ohio Cinderella Story
#2 Iowa 86, #15 Grand Canyon 74… Grand Canyon chased Iowa the entire game, yet backdoored the cover as a +14 underdog. The Antelopes missed too many 3-pointers, while the Buckeyes outgunned them 46% to 27% from beyond the arc. All American Luka Garza led all scorers with 24 points.
#13 Ohio 62, #4 Virginia 58… Virginia's clampdown defense shut down Ohio's offense for big stretches of the game, including Jason Preston. Ohio continued to plug away. With eight minutes to go, Ben Vander Plas caught a hot hand and Ohio went on a 16-2 run. Ohio struggled to put away Virginia in the final minute, but held on to the win and toppled the defending champs. UVA played even though they were forced to pull out of the ACC tournament last week.
#10 Maryland 63, #7 UConn 54… UConn struggled on offense and fell behind by double digits early. The Huskies couldn't buy a bucket; they shot 32% from the floor and 41% from the free-throw line. Maryland drilled 50% of their 3-pointers. Maryland's Eric Ayala and Aaron Wiggins combined for 7-for-11 from downtown in the victory.
#8 Oklahoma 72, #9 Missouri 68… This #8 and #9 coinflip game was a tight game from start-to-finish. Dru Smith knocked down six treys, but it wasn't good enough for Mizzou. Austin Reaves led all scorers with 23 points and drilled several big free throws down the stretch to push Oklahoma over the top.
Evening: Abilene Christian Alligator Blood
#7 Oregon vs #10 VCU… A few players on VCU tested positive for COVID-19, so the game was called a "no contest" due to health and safety protocols. The Commodores became the first COVID-19 casualty in their year's March Madness. Oregon advanced to the Round of 32 without even stepping onto the court.
#1 Gonzaga 98, #16 Norfolk State 55…. Gonzaga scored 40 points before Norfolk State scored 20 points, if that puts this mismatch into perspective. The Zags were up nearly 40 points before they emptied the bench. Corey Kispert scored 23 points on shot 6-for-9 from 3-point land. Gonzaga just missed the century mark and covered the -33 point spread by 11 points.
#11 UCLA 73, #6 BYU 62… UCLA's Jaime Jaquez and Juzang combined for 27 points in the first half, which is exactly what BYU scored as a team. BYU failed to launch a successful comeback in the second half, and UCLA cruised to a victory. Juzang finished with 27 points.
#14 Abilene Christian 53, #3 Texas 52… Texas committed too many early turnovers and Abilene Christian hung tough in the first half. Texas led by as many as seven points at the start of the second half before their shooters went cold, like Arctic blast cold. Despite atrocious perimeter shooting all game, Abilene Christian unleashed a 13-2 run and took over the lead from a stunned Texas team. Texas took a one-point lead late in the game, but AC's Joe Pleasant knocked down two free throws to win the game for #14 Abilene Christian. The Wildcats pulled off the biggest upset on day two of March Madness