The opening day of 2021 March Madness included three overtime games and two Big Ten teams were knocked out by Cinderella stories. Oral Roberts, with a #15 seed, pulled off a rare upset win over #2 Ohio State in overtime. Javion Hamlet scored 24 points and led the #13 North Texas Mean Green to a true March Madness upset over #4 Purdue in overtime.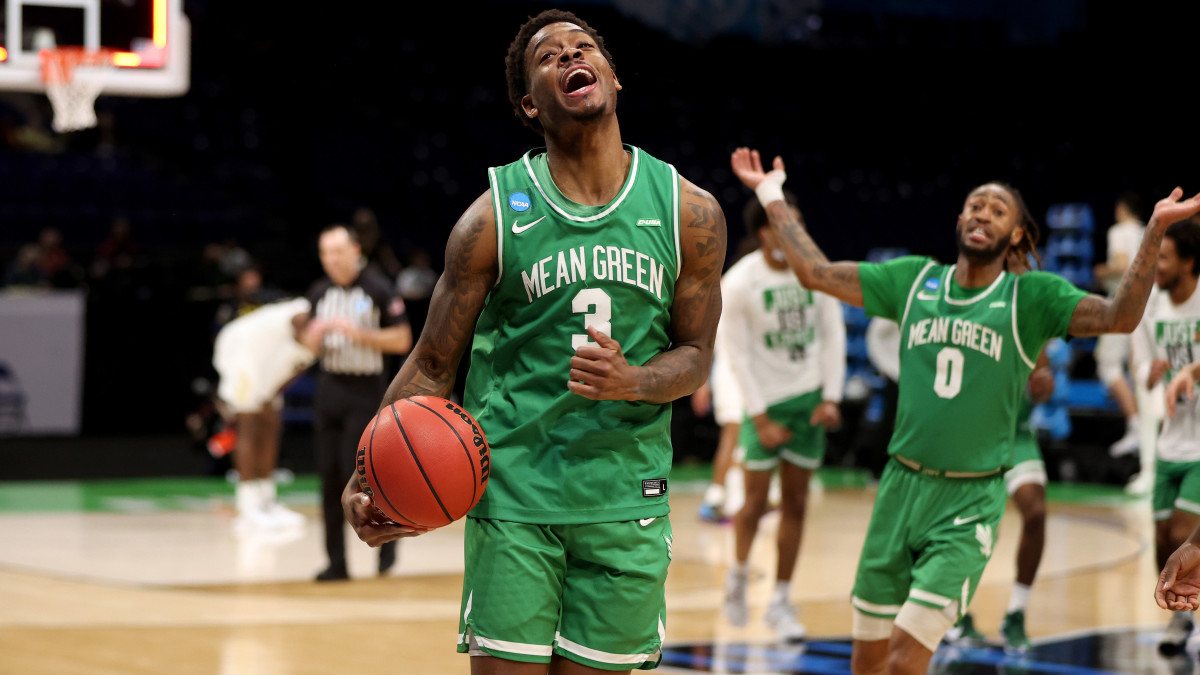 March Madness's first full of day of action began on Friday this year, instead of Thursday, in accordance with health and safety protocols.
Both #1 seeds advanced. Illinois and Baylor won easy games, except Baylor let #16 Hartford sneak in the backdoor with a garbage-time cover.
Only one out of two #2 seeds advanced. Houston blew out Cleveland State by 31 points, but Ohio State hit the road when they were stunned by #15 Oral Roberts.
Only one #12 seed in March Madness advanced, when #12 Oregon State upset #5 Tennessee. Despite the injuries, #5 Villanova fended off #12 Winthrop.
Syracuse advanced as a #11 seed against #6 San Diego State. The Aztecs could not solve Syracuse's zone and on the other end of the court, Buddy Boeheim torched them for 30 points.
Overall, favorites covered with a 9-7 record on the first day.
Morning: Illinois Blow Out, VaTech/Florida OT
#7 Florida 75, #10 Virginia Tech 70 (OT)… First overtime game of March Madness. Naheim Alleyne stepped up and scored 28 points in a losing effort for the Hokies. Florida big man Colin Castleton scored 19 points and hauled down 15 rebounds for the Gators, who edged out VaTech in OT.
#6 Texas Tech 65, #11 Utah State 53… Utah State blew a first-half lead. Texas Tech stormed back in the second half. Utah State shot themselves in the face with 22 turnovers and a miserable 21% from 3-point range.
#3 Arkansas 85, #14 Colgate 68… Cinderella hopeful Colgate had Arkansas on the ropes in the first half, but the Raiders lived and died by the 3-point shot. Colgate got crushed in the second half when their sharpshooters went cold. Arkansas pulled away, but more importantly, the Razorbacks covered.
#1 Illinois 78, #16 Drexel 49… First big blowout of the tournament. Illinois almost won by 30 and easily covered, yet hit only two 3-point shots. Ayo Dosunmu scored 17 points and added 11 rebounds and 6 assists in the cake walk.
Noon: Oral Roberts KO's OSU in OT
#15 Oral Roberts 75, #2 Ohio State 72 (OT)… Second OT game of the day and tournament. Kevin OBanor and Max Abmas put on a two-man shooting show scoring 59 of Oral Roberts' 75 points. Obanor hit four clutch free throws down the stretch to send game into OT. Oral Roberts held off Ohio State in overtime to pull off the first "bracket buster" upset in the tournament.
#8 Loyola Chicago 71, #9 Georgia Tech 60… Sister Jean, Loyola Chicago's good luck charm, made an in-person cameo at the first-round game against Georgia Tech. Without Moses Wright (COVID-19), Tech made a first-round exit against the Loyola Chicago Ramblers.
#12 Oregon State 70, #5 Tennessee 56… Oregon State became the first #12 seed to advance this year. The Beavers jumped out to early lead when Tennessee couldn't hit the side of the barn and scored a mere 11 points in first 16 minutes of action. The Vols never recovered from their anemic start. The Beavers buried them on 10-for-21 from 3-point range or 47.6%.
#1 Baylor 79, #16 Hartford 55… Baylor pulled ahead early and Hartford never had a chance. Baylor's MaCaio Teague led all scorers with 22 points. Hartford backdoored the +25.5 point spread and covered in garbage time.
Afternoon: Cunningham Rough Day, North Texas Upset
#4 Oklahoma State 69, #13 Liberty 60… Liberty's defenders held Cade Cunningham, the future #1 pick on the 2021 NBA Draft, to just one point in the first half. Avery Anderson III picked up the scoring slack for Oklahoma State with 19 points, until Cunningham finally woke up from his slumber. He scored 14 points in the second half and led Oklahoma State to a comeback victory. Oh, and the Cowboys covered too.
#13 North Texas 76, #4 Purdue 69 (OT)… The North Texas Mean Green struck first blood and took the lead halftime. Purdue's Jaden Ivey kept the Boilermakers in the game. North Texas blew an 8-point lead and Purdue forced overtime. Purdue could not slow down Javion Hamlet in OT. Ivey and Purdue went cold and failed to score until 27 seconds remaining. North Texas pulled off a triumphant March Madness upset and another Big Ten team busted.
#9 Wisconsin 85, #8 North Carolina 62… Wisconsin won the Big Ten vs ACC battle. Wisconsin's backcourt dominated UNC. D'Mitrik Trice and Brad Davison average 23 points combined this season, yet they lit up UNC for 50 total points. Davison tripled his scoring average with a season-high 29 points. UNC's Roy Williams was perfect in the first round with a 29-0 record, until Wisconsin handed him his first-ever, first-round knock out.
#2 Houston 87, #15 Cleveland State 56… The Vikings kept the game close in the first half, but Houston obliterated Cleveland State the second half. Cougs' superstar Quentin Grimes led all scorers with 18 points in the victory.
Evening: SDSU Can't Crack Cuse's Zone
#10 Rutgers 60, #7 Clemson 56… Low-scoring affair. Rutgers' Ron Harper, Jr. had an awful shooting night 3-for-14 and he missed six treys, but still scored 10 points in the victory over Clemson. Rutgers won their first March Madness game since 1983. Another ACC team said, "See ya!"
#11 Syracuse 78, #6 San Diego State 62… SDSU struggled to adapt to Syracuse's impenetrable zone defense and scored just 18 points by halftime. Buddy Boeheim, son of head coach Jim Boeheim, almost outscored SDSU by himself with 16 points in the first half. Syracuse coasted to a blowout as a #11 seed. Boeheim finished with 30 points on 7-for-10 from 3-point land.
#5 Villanova 73, #12 Winthrop 63… Tight first half. Villanova pulled away in the second half when Winthrop hit a scoring drought in crunch time. Jeremiah Robinson-Earl scored a game-high 28 points for Nova, who avoided an upset from a #12 seed and covered outright.
#3 West Virginia 84, #14 Morehead State 67… West Virginia led by seven points at halftime, thanks to timely 3-point shooting. In the second half, Morehead State could not slow down Miles McBride (30 points) and WV padded their lead. Morehead State were scratching on the backdoor, but West Virginia held them off and covered.