Only five games into the first round of 2021 March Madness, and we witnessed the first bracket buster of the tournament. #15 Oral Roberts Golden Eagles upset the #2 Ohio State Buckeyes in an overtime thriller.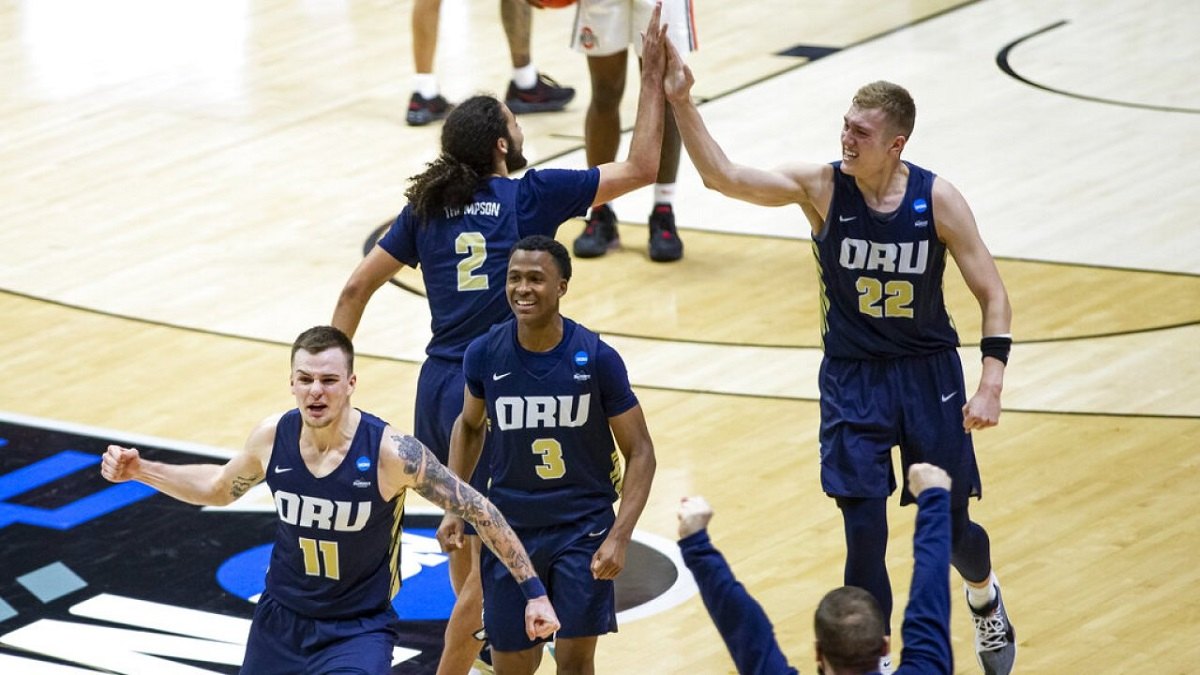 Oral Roberts became only the ninth #15 seed to upset a #2 seed in March Madness history.
Oral Roberts came into the first round as a +15 underdog. You had to lay -1200 on the Ohio State money line to win back $100. If you bet Oral Roberts on the money line, the upset paid out +1100.
ESPN's David Berman tweeted that 95.2% of the brackets in ESPN's March Madness tournament challenge picked Ohio State. Less than 5% of all brackets correctly predicted the upset.
This year's field of March Madness hopefuls included several potential Cinderella teams, but no one expected Oral Roberts could pull off the unthinkable as a #15 seed, especially against a power conference school like Ohio State.
The Westgate SuperBook in Las Vegas listed Ohio State at +2500 odds to win 2021 March Madness. The Buckeyes were eighth-highest team on the men's college basketball futures board. The SuperBook listed Oral Roberts as a long shot at 5000/1 odds or +500000. Yes, if anyone had the cojones to fire away a $100 at Oral Roberts to win the championship, they'd better win back a half million bucks!
13,992,289 brackets picked the @OhioStateHoops to win – 95.2% of all brackets.

No. 2 Iowa and No. 1s Gonzaga, Illinois, Baylor and Michigan were the only teams picked more than OSU to win it all.

272,122 brackets (1.9%) have No. 15 Oral Roberts going to the S16. #MarchMadness

— David Bearman ESPN (@DBearmanESPN) March 19, 2021
#15 Seed Cinderella
Ohio State (21-10) stumbled out of the gate. Oral Roberts (17-10) jumped out to a 7-0 lead, but Ohio State flexed right back with a 10-0 run to pull ahead. Ohio State opened up an eight point lead midway through the first half before they went cold. The Golden Eagles' dynamic duo – Kevin Obanor and Max Abmas – caught fire and unleashed a 17-6 run. By halftime, Oral Roberts led by three and Abmas buried five 3-pointers.
Ohio State fell behind by seven points midway through the second half. The Buckeyes chipped away and took the lead on a Duane Washington, Jr. jump shot with seven minutes to go.
Oral Roberts trailed by four points with 1:07 remaining. Obanor hit four free throws in the last minute to tie the game. Washington bricked a potential game-winning shot that fell short and the game headed into overtime.
Obanor scored seven out of the Golden Eagles' 11 points in overtime to seal the victory.
Obanor led all scorers with 30 points and Abmas added 29. They combined for 10-for-22 from 3-point land, while rest of Oral Roberts shot a combined 1-for-10 from downtown.
EJ Liddell led Ohio State with 23 points and 13 rebounds in a losing effort.
Ohio State shot an abysmal 5-for-23 from 3-point range for 21.7%. They also shot 50% from the free-throw line.
On Deck: # 7 Florida Gators
Oral Roberts will meet #7 Florida on Saturday. Florida and #10 Virginia Tech, the first game to tip off on Friday, was the first game to head into overtime. Florida edged out Virginia Tech 75-70 to advance tot he Round of 32.
The Golden Eagles opened as a consensus +7.5 underdog against Florida.
Only 1.9% of the brackets on ESPN's March Madness tournament challenge picked Oral Roberts advancing to the Sweet 16.