De'Andre Hunter scored 27 points and led Virginia (34-3) to an 85-77 overtime victory over Texas Tech (31-6) to win the 2019 men's college basketball championship.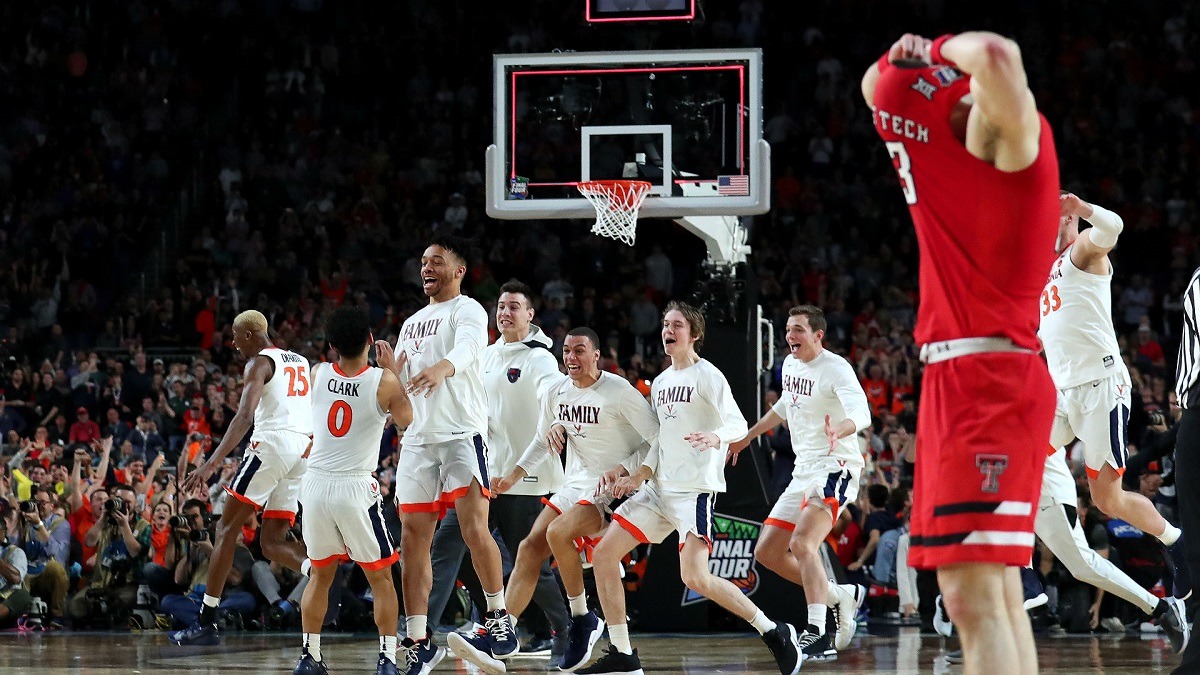 Last season, Virginia suffered a humiliating defeat when they became the first #1 seed in NCAA March Madness history to lose to a #16 seed. UMBC crushed #1 Virginia last year for an early exit. This year, the selection committee awarded Virginia with the #1 seed in the South regional. Tony Bennet's squad avoided an early-round upset and secured the school's first Final Four berth since 1984. The Cavaliers did not squander this opportunity to go the distance and win the 2019 men's college basketball championship.
This year's March Madness finale came down to the wire for the first overtime championship game since 2008. Texas Tech rallied from a 10-point deficit to take the lead in the closing minute. Last-second heroics by De'Andre Hunter sent the game into overtime. Virginia pulled away in overtime with a perfect performance from the free throw line to secure the school's first-ever basketball title.
Chris Beard led #3 Texas Tech to the Elite 8 last season. He took the Raiders to the school's first Final Four this season. They defeated #2 Michigan, #1 Gonzaga, and #2 Michigan State for the right to play in the title game. However, Texas Tech came up short.
Slow Start
Virginia jumped out to 10-point lead on a 11-2 run to start the game. Tech came out cold and scored just one basket in the first ten minutes. Tech finally got their sea legs and stormed back to tie it at 19-19.
The last five minutes of the first half saw back and forth action. Tech seized the lead and got ahead by as much as four points before Virginia closed the gap. Virginia led 32-29 at halftime with Kyle Guy leading all scorers with 10 points. Ty Jerome added 8 points and 5 rebounds. DeAndre Hunter had a rough first half with 5 points on 1-for-8 from the floor.
Jarrett Culver scored only 3 points for Tech in the first half. He missed all six of his shots. Culver and Mooney went 1-for-10 in the first half for five combined points.
Second Half of Reckoning
Virginia came out fired up and outscored Tech 10-6 in the first five minutes of the second half. De'Andre Hunter drilled consecutive three-pointers, while Jarrett Culver finally scored his first basket of the night with consecutive layups.
With 10:22 to go, Guy knocked down a corner trey to put UVA ahead by ten points. That's as big as a lead as they'd have the remainder of the night. With five minutes remaining, Tech chipped away at the lead and trimmed it to six points thanks to clutch shooting from Brandone Francis off the bench.
Texas Tech tied it at 59-59 with 3:38 remaining. Guy and Hunter scored buckets to put UVA up four, but Moretti drilled a trey to pull within one. With a sweet spin move, Culver scored a layup with 35 seconds remaining to put Tech up by one point. It was Tech's first lead of the second half. Norense Odiase made a pair of free throws to put Texas Tech ahead 68-65.
Hunter hit a wide-open corner three to send the game into overtime.
TIE GAME!!!! @UVAMensHoops | #NationalChampionship pic.twitter.com/p1o0lxNYSa

— NCAA March Madness (@marchmadness) April 9, 2019
Free Basketball
This year's title game was the first overtime finale since Kansas and Memphis needed an extra session to determine a champion in 2008.
Texas Tech struck first blood in overtime, but De'Andre Hunter hit another big three-pointer to put UVA ahead by two points with 2:10 to go in OT. Tech ran out of gas and Virginia sealed the victory at the charity stripe. Virginia went 20-for-23 from the free throw line, including a perfect 11-for-11 in overtime.
Hunter finished with 27 points and 22 of them in the second half and overtime. Guy added 24 points. Jerome scored 16 points with 8 assists and 6 rebounds.
Francis led Texas Tech in scoring with 17 points. Culver finished with only 15 points. Virginia's defenders swarmed him all night, which is why he shot only 5-for-22 from the floor, including 0-for-6 from three-point range.
March Madness Champs: UVA
For most of the season, Duke was the runaway favorite to win the championship. Even when they had tumbled out of the #1 spot in the AP Poll, the Blue Devils were still the favorite to win
Heading into the Final Four, Tom Izzo was the only coach with previous experience. Tony Bennett and Chris Beard were coaching in their first championship game.
Since 2004, UCONN and North Carolina won three titles. Villanova, Duke, and Florida won twice in that span.
NCAA Men's Basketball Champions (Since 2004):
2019 Virginia
2018 Villanova
2017 North Carolina
2016 Villanova
2015 Duke
2014 UCONN
2013 Louisville
2012 Kentucky
2011 UCONN
2010 Duke
2009 North Carolina
2008 Kansas
2007 Florida
2006 Florida
2005 North Carolina
2004 UCONN
Coming into the season, Texas Tech was 100/1 odds to win the title. At the start of the tournament, Virginia was 6/1 odds to win March Madness and Texas Tech were 18/1. At the start of the Sweet 16, Virginia was in a group that was 7/2 odds to win along with North Carolina and Gonzaga. With 16 remaining, oddsmakers put Texas Tech at 30/1 odds to win the championship. Heading into the Final Four, the bookmakers in Las Vegas set Virginia as the favorite at +140, with Texas Tech at 7/2.
According to the Westgate SuperBook in Las Vegas, Virginia is current favorite to win 2020 March Madness. They set the line at 7/1 for UVA. The Westgate also listed Kentucky as co-favorites with 7/1 odds to win the title next season.