It was the best of times and it was the worst of times for #1 seeds in the second round of March Madness on Sunday. Illinois became the first #1 seed eliminated after they were ambushed by Sister Jean and #8 Loyola Chicago in the Midwest Regional. Meanwhile, in the South Regional, Matthew Mayer came off the bench and led #1 Baylor to an easy victory over #8 Wisconsin.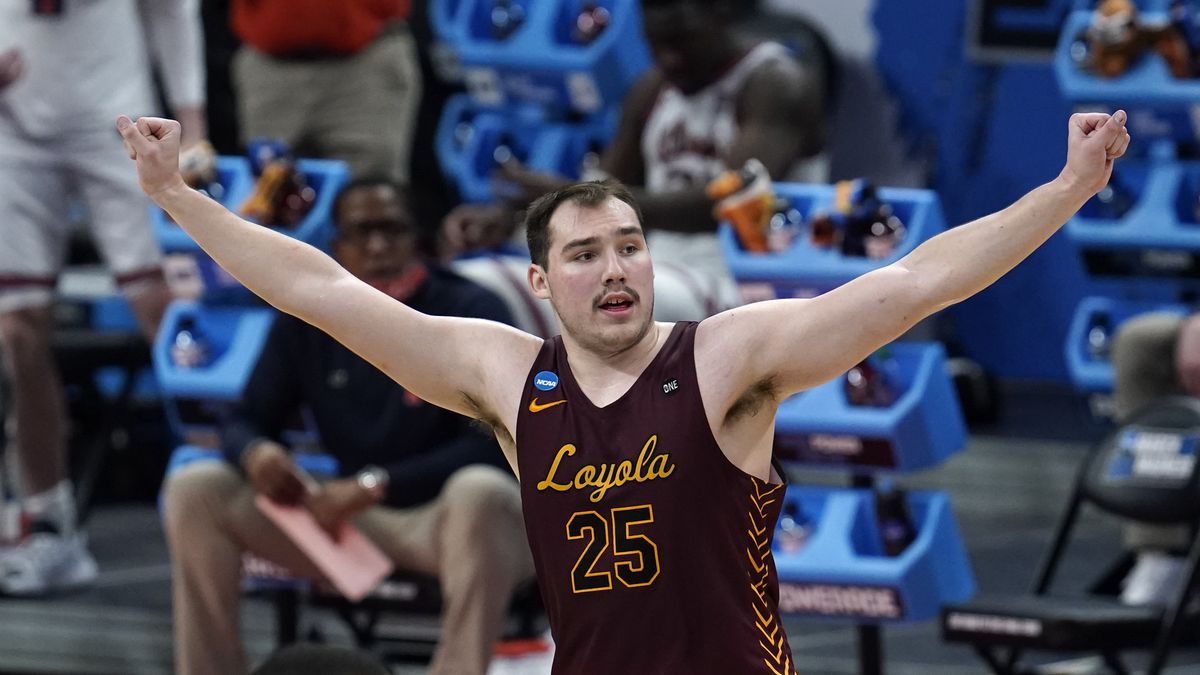 Loyola Chicago and Baylor were the first two teams to earn spots in the Sweet 16, which begins next Friday.
Once again, Loyola Chicago is busting brackets after their big upset over Illinois. In 2018, Loyola Chicago undertook the role of Cinderella and embarked on a magical journey to the Final Four. That's when Sister Jean, the Ramblers' former team chaplain, became a household name. Sister Jean, now 101-years young, attended both of Loyola Chicago's March Madness games.
Baylor, ranked #3 in the last AP Top 25 Poll, became the first #1 seed to lock up a spot in the Sweet 16. Head coach Scott Drew led Baylor to their fifth Sweet 16 appearances since 2010.
Nun and Dunzo for Illinois
Loyola Chicago, out of the Missouri Valley Conference, toppled the best team in the Big Ten and the #2 ranked team in the nation when they rocked Illinois in the second round.
Loyola Chicago jumped out to an early lead thanks to Cameron Krutwig's blue-collar work ethic around the basket. Krutwig was a freshman on the 2018 Loyola Chicago squad that made a run to the Final Four. The current team relies on Krutwig as their leader and top scorer. He didn't let them down with 19 points, 12 rebounds, and five assists in the win.
Illinois dug themselves a hole early into the game after they committed many turnovers and were plagued by poor shooting. They quickly fell behind by double digits.
"We just executed, played our game and controlled the game from the start," said Krutwig. "Nobody was really doing anything out of body or out of mind. We just stuck to the game plan."
Loyola Chicago controlled the pace in the second half and opened up a 13-point lead with five minutes to go. Illinois panicked in crunch time. Future NBA lottery pick Ayo Dosunmu disappeared and scored just nine points. Illinois committed 17 turnovers, including several gaffes down the stretch against Loyola Chicago.
"We tried everything in the bag," said Illinois coach Brad Underwood. "Everything that's made us one of the most efficient offensive teams, today, just for whatever reason, didn't work."
Loyola's reserves outscored Illinois' bench players 22-13 thanks to 14 points from sophomore guard Marquise Kennedy. Loyola Chicago outshot Illinois 40% to 28.6% from 3-point range.
Loyola Chicago also beat the spread as a +7 underdog. The Ramblers improved to 5-0 ATS since the start of the MVC conference tournament.
Baylor Advances, Thanks to Mullet Guy
Baylor jumped out to an early lead and capitalized on early turnovers from Wisconsin. Baylor's bench stepped up, led by Matt Mayer's eight points, and the Bears outscored Wisconsin's reserves 13-5 in the first half.
Wisconsin's guards were outplayed by Baylor's triple-guard rotation and tallied zero points through the first 14 minutes of game time. Baylor took advantage of nine Wisconsin turnovers and extended their lead to 13 points courtesy of a buzzer-beater 3-pointer heading into halftime. Baylor's Jared Butler led all scorers with 9 points in the first half.
Baylor opened up an 18-point lead in the second half before Wisconsin finally made a run. The Badgers chipped away with clutch outside shooting. D'Mitrik Trice finally woke up after a quiet first half and knocked down a huge 3-pointer to get within seven points midway through the second half. However, that's the closest they'd get. Whenever the Badgers were on the verge of making another run down the stretch, the Bears shut them down.
Mayer, rocking a sick mullet, led Baylor with 17 points and more than doubled his season average (8 ppg). He made up for an off-night by MaCaio Teague. Davion Mitchell scored 16 points and dished eight assists in the win for the Bears. Butler finished with 16 points as well.
Baylor had been 2-8 ATS in their last 10 games, but the Bears covered the -6.5 spread.