Loyola-Chicago (15-9) took March Madness by storm last year and became the Cinderella story of the 2018 college basketball tournament, but this season the Ramblers got off to a slow 7-6 start.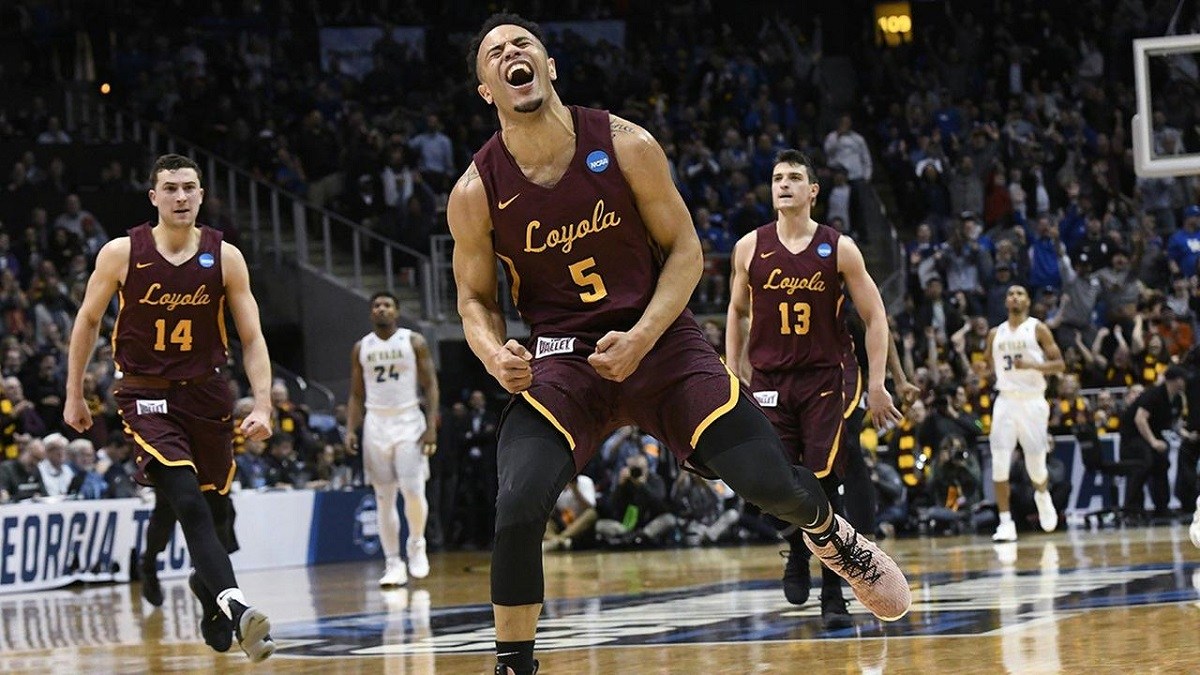 Loyola-Chicago has won 8 of their last 11 games to move into first place in the Missouri Valley Conference. This year's team is not as dominant as last year's 35-6 squad, but the Ramblers are heating up at the appropriate time.
Last season, the Catholic school based out of Chicago secured an automatic berth into the March Madness college basketball tournament. Loyola-Chicago parlayed an #11 seed into a surprising appearance in the Final Four. The Ramblers won four-consecutive nail-bitters to advance to the Final Four.
Sister Jean, a 98-year old Catholic nun and the team's chaplain, became an overnight celebrity during March Madness. She prayed with the team before each game and garnered significant media attention as the team went deeper into the tournament.
Coach Porter to the Final Four
Head coach Porter Moser is 131-116 in seven seasons with Loyola-Chicago. Three of his first four seasons with Loyola were losing seasons.
Last season, Moser guided Loyola-Chicago to first place in the Missouri Valley with a 15-3 conference record. They won the conference tournament with three wins in three days against Northern Iowa, Bradley, and Illinois State.
Loyola-Chicago clinched a #11 seed in March Madness. They upset #6 Miami (ranked #22 overall) in the first round with a two-point victory. Two days later, Loyola-Chicago upset #3 Tennessee (ranked #13 overall) with thrilling one-point victory.
Typically, Cinderella teams fade out when they read the Sweet 16. Not Loyola-Chicago. They picked off #7 Nevada (ranked #24 at the time) by a single point to advance to the Elite 8. They defeated #9 Kansas State to lock up a spot in the Final Four. Loyola-Chicago squeaked by with a pair of one-point victories. They won all four games by a total of eight points.
In the 2018 Final Four, #3 Michigan (ranked #7 overall) ended Loyola-Chicago's magical run. They lost by 12 points, but kept the game close until the second half. The clock struck midnight for the Cinderella squad from Chicago.
No Love for the MVC
The Missouri Valley Conference does not get a lot of love when it comes to the NCAA selection committee. In the past, only the tournament winner head to March Madness with an automatic bid.
The Missouri Valley is rather weak this season. Loyola-Chicago and Drake are the only school with at least 15 wins. Six schools are .500 or below.
According to Ken Pomeroy's advanced metrics, Loyola-Chicago is ranked #123 in overall efficiency. When adjusted for strength of schedule, they are ranked #195 in the country.
But that's the beauty of a Cinderella story in March Madness. Despite the lack of schedule strength and a weak conference, a team often rises to the occasion. Loyola might not be as strong as last season, but they'll head into the tournament with experience. Moser knows how to win games in March Madness, especially close ones where he's 4-0.
Great D with Upperclassmen
The Ramblers boast the ninth best defense in the country. They hold opponents to 61.2 points per game. They held opponents under 60 points nine times this season.
Seniors Marques Townes and Clayton Custer, plus sophomore Cameron Krutwug make up 62 percent of Loyola-Chicago's offense.
Townes, a 6-foot-4 guard from New Jersey, leads Loyola-Chicago in scoring with 15.3 points per game. He recently set a career-high with 32 points against Drake.
Cameron Krutwig is a 6-foot-9 undersized center from the Chicago suburbs, but he's second in scoring for the Ramblers. He averaged 10 points as a freshman during last season's epic run. This season, Krutwig is pulling down 14.5 points and 7.4 rebounds per game.
Guard Clayton Custer from Kansas City led the team in scoring last season, but he's third this season with 12.1 points per game. Custer is not having as good of a shooting year as last season. His three-point shooting is down from 45.1 percent to 39.8 percent. His overall shooting is down from 52.8 percent last season to 45.1 percent.
On Deck for Loyola-Chicago
With March Madness around the corner, Loyola-Chicago is one of several small schools to keep an eye on. Buffalo and Nevada are also two schools that might be overlooked by the March Madness selection committee. Buffalo recently slipped to #23, while Eric Musselman's squad at Nevada is currently #6.
Loyola-Chicago has two away games on the schedule. They face Valparaiso Crusaders (13-11) this weekend. Next week, they square off against Bradley (12-12).