Oral Roberts, with the #15 seed, continued their Cinderella story with an 81-78 comeback victory, upsetting #7 Florida in the second round of March Madness. With upset wins over #2 Ohio State and Florida, Oral Roberts became only the second #15 seed in NCAA history to advance to the Sweet 16.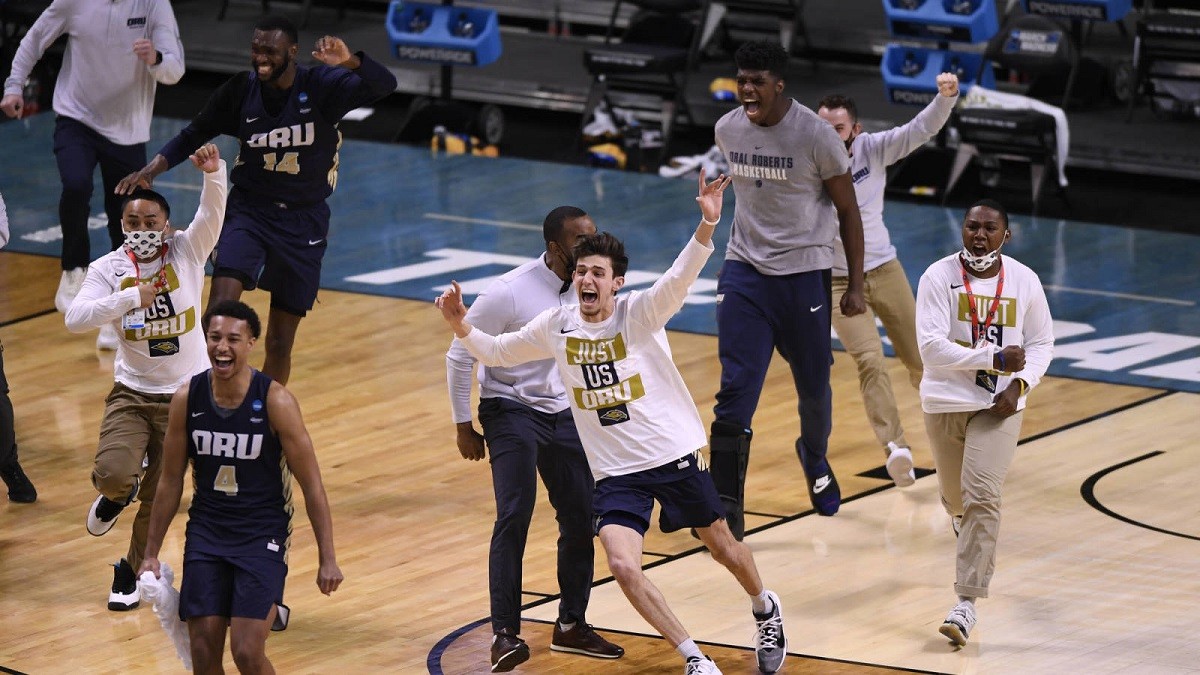 Only nine teams in March Madness history knocked out a #2 seed since the tournament expanded to a bracket of 64 teams. In 2013, Florida Gulf Coast won two games and advanced to the Sweet 16 as the only #15 seed in history.
Coming into this season, the #15 seed defeated a #2 seed only 5% of the time.
---
March Madness Winners From #15 Seed

| | | |
| --- | --- | --- |
| | #15 Seed | #2 Seed |
| 2021 | Oral Roberts | Ohio State |
| 2016 | Middle Tennessee State | Michigan State |
| 2013 | Florida Gulf Coast | Georgetown |
| 2012 | Norfolk State | Missouri |
| 2012 | Lehigh | Duke |
| 2001 | Hampton | Iowa State |
| 1997 | Coppin State | South Carolina |
| 1993 | Santa Clara | Arizona |
| 1991 | Richmond | Syracuse |
---
In the 1990s, only three #15 seeds pulled off an opening-round upset, including Coppin State, Santa Clara, and Richmond. In 1991, Richmond became the first #15 seed to win a game in the tournament. Santa Clara was led by a kid from Canada named Steve Nash, who helped them upset #2 Arizona.
Since 2001, six #15 seeds were victorious in the opening round. In 2012, a pair of #15 seeds upended #2 seeds, with Lehigh and Hampton knocking off top-10 teams Duke and Iowa State.
Oral Roberts Chomps the Florida Gators
Florida led 67-56 and by 11 points midway through the second half, but Oral Roberts took advantage of 20 turnovers from the sloppy Gators to get back into contention. Oral Roberts went on a 25-11 run to close out the game and complete the comeback.
Kevin Obanor and Max Abmas demonstrated once again why they're one of the premier power duos in the tournament. You've probably never heard of them because they play in obscurity at Oral Roberts. Obanor and Abmas combined for 54 points. Obanor led all scorers with 28 points, while Abmas added 26.
Bench player DeShang Weaver hit the biggest bucket of the game. Weaver drilled a 3-pointer with two minutes remaining to put Oral Roberts ahead for good 80-78. Florida didn't score a point in the final 2:30 of the game and Oral Roberts held on to win 81-78.
Oral Roberts really won this game at the free-throw line by knocking down 19 free throws, compared to just 7-for-9 by Florida. Abmas shot a perfect 12-for-12 from the charity stripe.
Four starters from Florida scored at least 14 points, whereas Oral Roberts had only two double-digit scorers (Abmas and Obanor). Sophomore guard Tre Mann led Florida with 19 points in the loss.
On Friday, Oral Roberts shocked the world with an overtime victory and upset over #2 Ohio State. Oral Roberts is now 10-2 ATS in their last 12 games.
Oral Roberts faces #3 Arkansas in the Sweet 16 next Friday as a +11 underdog.
Florida Gulf Coast Dunk City Run in 2013
In 2013, Florida Gulf Coast (26-11) won the Atlantic Sun Conference, but the selection committee pegged them with the #15 seed. Andy Enfield currently coaches USC, but he earned the respect of his peers when he guided the Florida Gulf Coast Eagles to a Sweet 16 bid.
During the 2012-13 season, Florida Gulf Coast earned the nickname "Dunk City" because of their athletic players and high-octane offense.
In the Round of 64, Florida Gulf Coast upset #2 Georgetown 78-68. The final score didn't reflect the mismatch because FGCU blew out the Hoyas for most of the game.
In the Round of 32, Florida Gulf Coast continued their run-good with a 10-point victory over #7 San Diego State.
In the Sweet 16, Florida Gulf Coast faced in-state foe Florida. The Gators were the #3 seed, but ranked #14 in the AP Top 25 Poll. Florida Gulf Coast's shooters went cold and FGCU scored only 50 points against Florida. They lost 62-50 in a low-scoring quagmire.
After their remarkable run in 2013 March Madness, Florida Gulf Coast finished the season with a #25 ranking in the Coaches Poll. Enfield leveraged his new-found fame into a head coaching job at a power conference school when USC hired him a week later.