Houston, RWB has a problem. Russell Westbrook, a 9-time All-Star, wants the Houston Rockets to trade him and the short list currently includes the New York Knicks, Charlotte Hornets, Orlando Magic, and Detroit Pistons.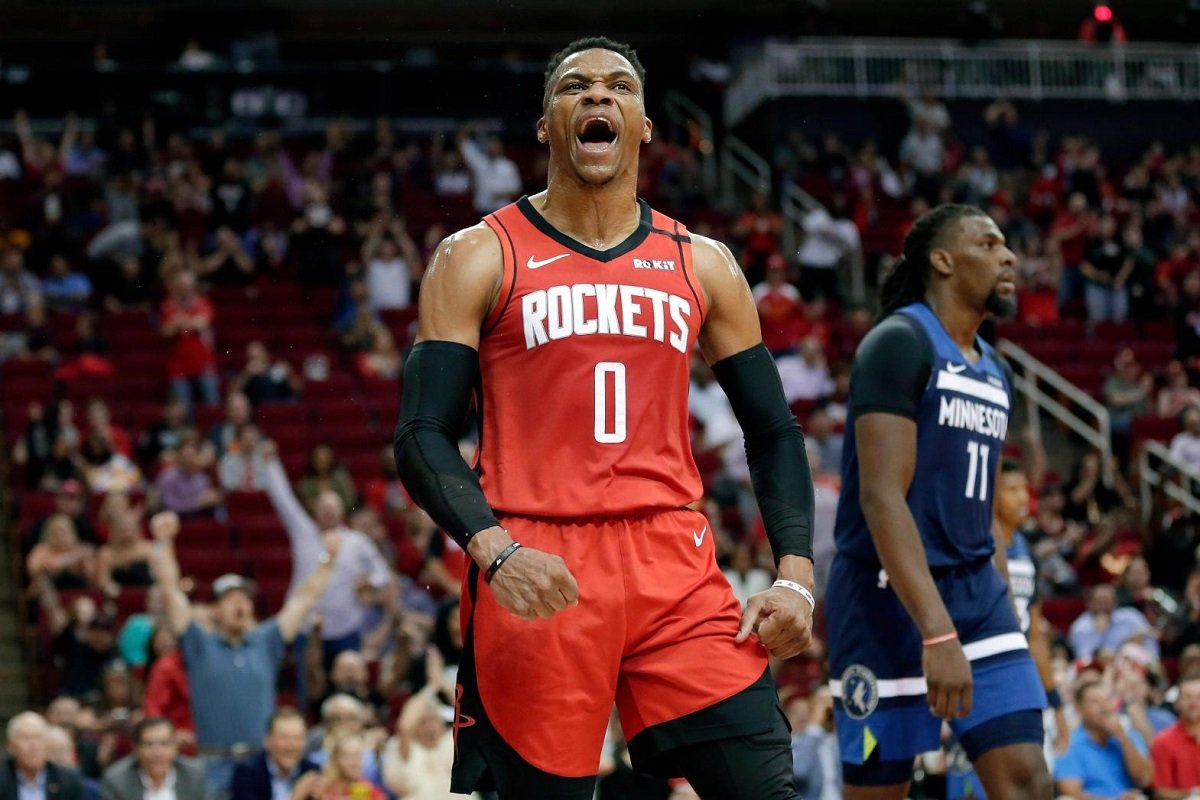 Westbrook averaged 27.2 points, 7.9 rebounds, and 7.1 assists per game with the Houston Rockets last season. In his previous three seasons with the Oklahoma City Thunder, Westbrook averaged a triple-double per game. In 2017, Westbrook won the MVP after a sensational season in which he scored a career-high 31.6 points, 10.7 rebounds, and 10.4 assists per game.
Over his career, Westbrook averages 23.2 points, 8.3 assists, 7.1 rebounds, and 1.6 steals per game.
A couple of contenders also made the short list such as the Milwaukee Bucks and Philadelphia 76ers.
If you have not noticed a connection, all the teams mentioned are located in the Eastern Conference. Westbrook played 12 seasons in the Western Conference, including 11 with the Oklahoma City Thunder and the pandemic-shortened season with the Houston Rockets. He only made the NBA Finals once, back in 2012, and never won a championship.
RUSSELL WESTBROOK TRADE ODDS
New York Knicks 11/4
Orlando Magic 3/1
Detroit Pistons 13/4
Charlotte Hornets 7/2
Milwaukee Bucks 15/4
Philadelphia 76ers 7/1
---
BetOnline posted the New York Knicks as the favorite to acquire Westbrook in a trade at 11/4 odds. The Charlotte Hornets are 7/2 odds, but not the only team on the list of potential Westbroook trade list.
The Milwaukee Bucks are 15/4 odds to secure Westbrook, while the Sixers are the long shot on the board at 7/1 odds.
RWB at MSG?
Who has not been linked to the New York Knicks in the last few months including the Greek Freak, LaMelo Ball, Fred VanVleet, and Chris Paul. Remember last year when Kevin Durant and Kyrie Irving were linked to the Knicks? Both stars snubbed James Dolan and signed lucrative free agent contracts with crosstown rival the Brooklyn Nets.
The Knicks are itching to snag a star and won't blink about overpaying for a veteran that can sell tickets. CP3 seems a tad old and injury prone for a future Hall of Famer to pay $85.5 million over the next two seasons.
Westbrook, 32, will earn nearly $132.7 million over the next three seasons. The Knicks would be dumb enough to trade away talented young players and take on that hefty salary. Besides, Westbrook and Tom Thibodeau would be a horrible match together. Thibs preaches defense and no way Westbrook will buy into his philosophy when he'd rather spent the back nine of his career trying to score a triple-double every night, than playing hard-nosed defense with a bottom-feeder like the Knicks.
Buzz City RWB
The Hornets could use a high-volume scorer ever since Kemba Walker left Buzz City for the Boston Celtics. The Hornets popped up earlier in the week in the latest batch of NBA trade rumors involving Westbrook.
"The Hornets have emerged as a potential suitor for Westbrook," said Shams Charania of The Athletic. "There have been a couple other teams mentioned, but in Charlotte, there are movable veteran contracts, as well as the Jordan Brand connection for Westbrook."
Charlotte Hornets general manager Mitch Kupchak shrugged off the trade rumors and suggested they were not in the market for a pricey veteran like Westbrook, who will make north than $41 million next season. Last season the Hornets had a payroll of $124.4 million. Nicolas Batum earned the most at $25.5 million. All but four players made more than $4 million.
Batum, Terry Rozier, Malik Monk, and Cody Zeller were all mentioned as potential trade bait with the Rockets.
Morey Reprise or Greek Freak Wingman?
Most of the destinations for Westbrook are bunk teams. It's interesting that teams out West in pursuit of a title are not lining up to sell the farm to acquire Westbrook. The biggest name of note were the Milwaukee Bucks.
The Bucks are still one key player away from a trip to the NBA Finals. They could use a fourth-quarter closer, especially when the playoffs roll around. But they'll have to pay the Freak a super-max contract if they expect him to stick around Milwaukee. Westbrook will be 34 in his final year of his contract in which he's set to earn $47 million in the 2022-23 season.
The Philadelphia Sixers also made the short list, but they're a team in flux. Doc Rivers joined the team as their new head coach and ex-Rockets GM Daryl Morey is now the Sixers new general manager. But what will they do with Ben Simmons? Will they ship out Simmons and picks for Westbrook or James Harden? Harden to the Sixers was another rumor that heated up in recent days.
"I'm telling you what I have heard: they don't want to play with each other any more," said Stephen A. Smith. "Russell Westbrook doesn't want to play with James Harden. James Harden doesn't want to play with Russell Westbrook."
Westbrook and Harden are two alpha males that seemed like an odd combination. They appeared simpatico on the court, but the Rockets had deeper problems than those two wanting to be the guy shooting the rock at will.
Both the Sixers and Bucks are pipe-dream long shots. The Knicks are the only team with enough cash to pay his hefty salary. But the Knicks should grab Harden in a trade instead of Westbrook. Harden's energy meshes with NYC better than Westbrook's egocentric vibe.