A rumor, which we reported on back in May about Chris Paul going to the Knicks in a trade, gained momentum in the last few days. Knicks general manager Leon Rose used to work as an agent for CAA where one of his high-end clients was none other than Paul. The Knicks would have to give up potential draft picks to acquire Paul from the Oklahoma City Thunder, plus a couple of their young stars, Kevin Knox and Frank Ntilikina.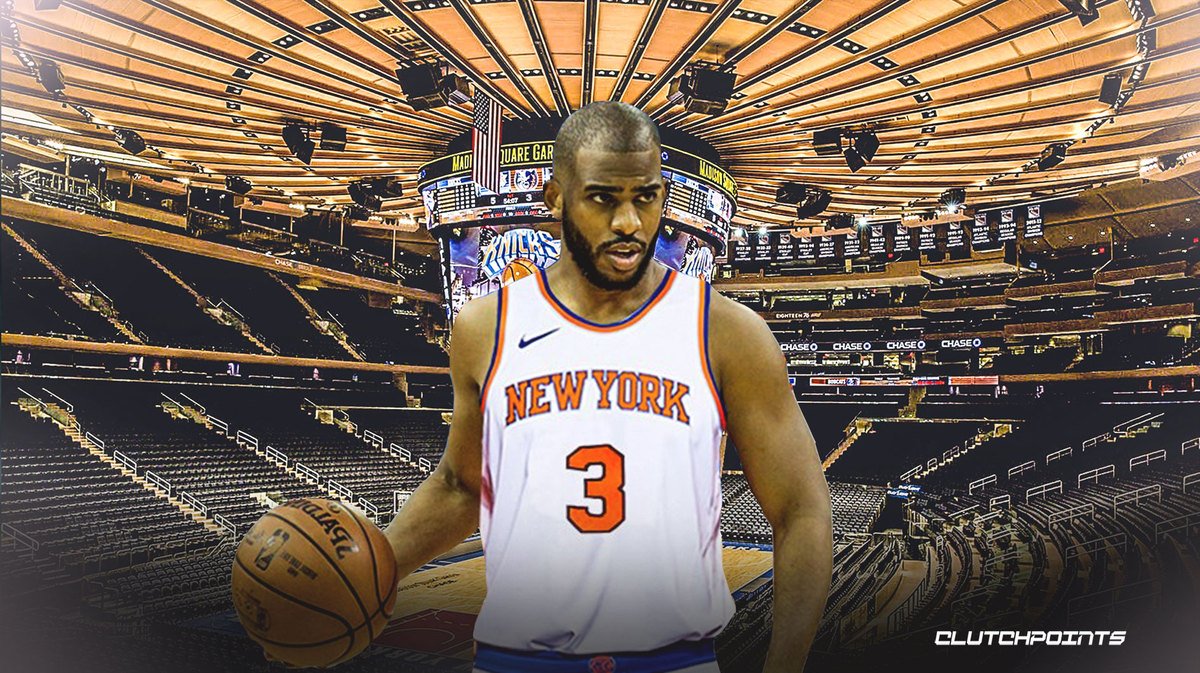 The Knicks are saddled with a pair of young point guards who haven't produced. They'd love to shed one of them in this deal, even if it means they must give up Knox to bring CP3 to Madison Square Garden.
Frank Ntilikina, the former #8 pick in the NBA Draft, has been a bust while Dennis Smith, Jr. has yet to live up to his full potential.
---
| | | |
| --- | --- | --- |
| SEASON | SALARY | AGE |
| 2019-20 | $38.5 million | 34 |
| 2020-21 | $41.3 million | 35 |
| 2021-22 | $44.2 million | 36 |
---
So long as James Dolan owns the team, free agents want to avoid the toxic dump known as MSG. The Knicks were once one of the most prestigious franchises in all of pro sports, especially in the NBA. Since Dolan bought the team, however, the Knicks have become a huge joke. That said, it's no surprise the Knicks are foolish enough to overspend for a Hall of Fame player in the twilight of his career. Paul has two more years remaining on his contact. He is due $41.3 million next season and $44.2 million in 2021-22.
Knox and Frankie Cigs
If the Knicks want Paul, they'll have to trade a couple of their former first-round draft picks. Back in 2017, the Knicks took a flier on Frank Ntilikina with the #8 overall pick in the 2017 NBA Draft. They passed on Donovan Mitchell and Bam Adebayo in favor Ntilikina. The Knicks knew it was a gamble drafting a European player (born in Belgium raised in France), but they hoped they could develop him as a point guard. That never happened, and it didn't help the situation when David Fizdale took over.
Fizdale has a well-known beef against European players for being soft and unable to play defense. Ntilikina didn't impress his new coach in practice and quickly fell out of the rotation. In three seasons, Ntilikina started just 51 games with the Knicks, averaging 6.3 points and 3.1 assists per game.
The Knicks drafted Kevin Knox with the #9 overall pick in the 2018 NBA Draft. Knox showed promise as a rookie by starting 57 games and averaging 12.8 points and 5.7 rebounds per game. He got shoved aside when the Knicks drafted RJ Barrett. Knox came off the bench in his sophomore NBA season, starting in just four games, and saw his floor time seriously reduced from nearly 30 minutes per game to 18 minutes. Knox struggled to adapt as a role player and averaged 6.4 points per game.
Ntilikina clearly didn't pan out, while Knox incurred a bad beat when the Knicks drafted Barrett.
Dennis Smith, Jr. Bust
The Knicks acquired Dennis Smith, Jr. in a massive trade that shipped the Unicorn to Dallas. The Knicks traded disgruntled Kristaps Porzingis for Smith, who at the time looked like a great pickup. In his rookie season, Smith averaged 14.8 points and 5.2 assists per game.
The Mavs already had Luka Doncic and many scouts were high on Smith when the Mavs traded him midway through his sophomore season.
Once Smith arrived in New York City, he became a huge bust, averaging just 14.0 ppg in the 21 games he appeared in with the Knicks at the end of the 2019 season. During his first full season with the Knicks, Smith quickly earned a spot in David Fizdale's doghouse. Things didn't improve when Mike Miller took over.
Smith started just three games and appeared in only 34 total games. His average plummeted to 6.2 points and 2.9 assists per game coming off the bench.
The Knicks would love to move Smith in a trade for Paul, but will the OKC Thunder be willing to take a flier on the reclamation project?