This weekend's stakes races bring us Essential Quality making his 3-year-old debut in one Kentucky Derby prep. They bring us the first win-and-you're-in Derby prep, and they bring us a Derby prep that gives the winner a berth in the Preakness Stakes.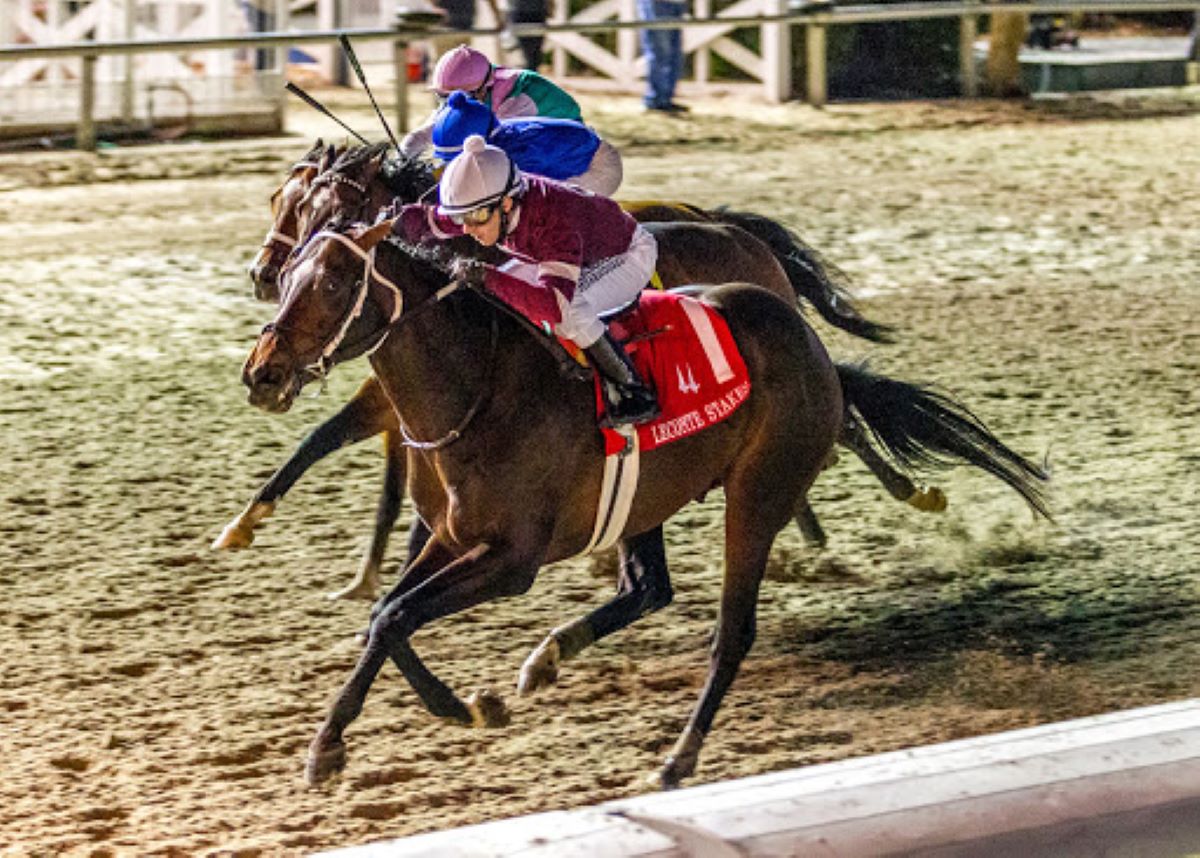 They also bring back Monomoy Girl for her 6-year-old debut, and Maxfield for his 4-year-old debut. And, we get to see horses we saw on last year's Derby trail, like Wells Bayou and Enforceable.
This week's Derby preps take us to Fair Grounds for the Grade 2 Risen Star. This marks the first of the 50-20-10-5 Derby points races of the season, meaning the winner will likely earn a spot in the May 1 Derby. The second Derby prep is the Grade 3 Southwest Stakes at Oaklawn Park. That features Essential Quality, running for the first time since his Breeders' Cup Juvenile victory last November.
The third Derby prep, the El Camino Real Derby from Golden Gate Fields, doubles as a win-and-you're-in for the Preakness Stakes.
Fair Grounds, Oaklawn Take Weekend Stakes Stage
The weekend stakes slate brings us a Kentucky Oaks prep from Fair Grounds, the Grade 2 Rachel Alexandra. The Louisiana track also gives us the Grade 3 Mineshaft Stakes, where Maxfield headlines a strong field of older horses.
Other weekend stakes include the Grade 3 Razorback at Oaklawn that may or may not include Wells Bayou. He is entered in both the Mineshaft and the Razorback. The Arkansas track plays host to the Grade 3 Bayakoa on Monday, headlined by Monomoy Girl. And there is a good Grade 2 for older fillies and mares at Santa Anita, the Santa Monica.
OG News takes a closer look at this weekend's selected races.
Saturday
Grade 2 Risen Star/Fair Grounds
This 1-1/8-mile Derby prep welcomes back the top four finishers from last month's Lecomte, Midnight Bourbon, Proxy, Mandaloun, and Santa Cruiser. Waiting for them is the winner of the Springboard Mile at Remington Park, Señor Buscador.  The winner of this race will vault to the top of the Derby points ladder. If Keepmeinmind stays in this race instead of the Southwest Stakes, where he is also entered, the field will have nine horses who won their previous races.
Listed El Camino Real Derby/Golden Gate Fields
Rombauer, the fifth-place finisher in the Breeders' Cup Juvenile, is expected here. He scratched out of the Robert B. Lewis at Santa Anita on Jan. 30. Don't expect to see many other front-row Derby contenders in this 1-1/8-mile race, which offers 10-4-2-1 Derby points. It does offer a spot in the Preakness to the winner.
Grade 2 Rachel Alexandra/Fair Grounds
This 1-1/16-mile race opens the major Kentucky Oaks preps, offering 50-20-10-5 points. The two to watch are Travel Column, who comes in off a win in the Grade 2 Goldenrod, and Souper Sensational. The latter finished second in the Silverbulletday last month. Speaking of that race, it sends out the winner, third-place filly and fifth-place filly, Charlie's Penny, Moon Swag, and Littlestitious, respectively.
Grade 3 Mineshaft/Fair Grounds
This 1-1/16-mile race for 4-year-olds and up may be a Grade 3, but it brings at least a Grade 2 field. There's unbeaten Maxfield, coming in off a win in December's Tenacious Stakes. There's also Enforceable, returning after winning an allowance here last month. And, we could see Wells Bayou here. He comes back either here or in the Razorback after his uninspiring third in the Louisiana Stakes on Jan. 16. The underrated Sonneman is also entered.
Grade 3 Razorback/Oaklawn
This is another stakes race punching above its weight. If we don't see Wells Bayou at Fair Grounds, we'll see him one state north for this 1-1/16-mile race for older horses. We will see Brad Cox's Owendale, returning after finishing third in the Grade 1 Clark last December. There's Mystic Guide, who hit the board in all six of his starts, including a second in the Grade 1 Jockey Club Gold Cup. And, there are two Dale Romans-trained entries returning after also-ran efforts in the Pegasus World Cup, sixth-place Coastal Defense, and 11th-place Mr. Freeze.
Grade 2 Santa Monica/Santa Anita
Last year's champion, Hard Not to Love, returns to defend in this seven-furlong sprint for older fillies and mares. She hasn't won since, but hit the board in four of her next five starts. Waiting for her are two Bob Baffert offerings, Merneith and Qahira. The former finished third in the Grade 1 La Brea after winning her previous two. Qahira comes in 5-for-8. Adding depth is Fair Maiden, who won the La Brea last out.
Monday
Grade 3 Southwest Stakes/Oaklawn
If Keepmeinmind keeps this date instead of the Risen Star, this 1-1/16-mile jaunt becomes the best Derby prep of the weekend. He comes in off a victory in the Grade 2 Kentucky Jockey Club last fall. Waiting for him is the Champion 2-Year-Old of 2020, Essential Quality, along with the horse he supplanted as the top juvenile, Jackie's Warrior. He comes in off his fourth in the Breeders' Cup Juvenile with questions about his two-turn capabilities.
Grade 3 Bayakoa Stakes/Oaklawn
Monomoy Girl looms large and likely in charge in this 1-1/16-mile race for older fillies and mares. She returns for her 6-year-old season after going 4-for-4 in 2020. The fourth win brought her second Breeders' Cup Distaff victory in three years. Looking for a piece is Finite, returning after her fourth in the La Brea and a win in the Grade 3 Chilukki last November.