Trainer Brad Cox called her "a monster," but you probably know her as the best mare of her generation. Either way, Cox says you'll see Monomoy Girl return Feb. 15 at Oaklawn Park for the Grade 3 Bayakoa Stakes.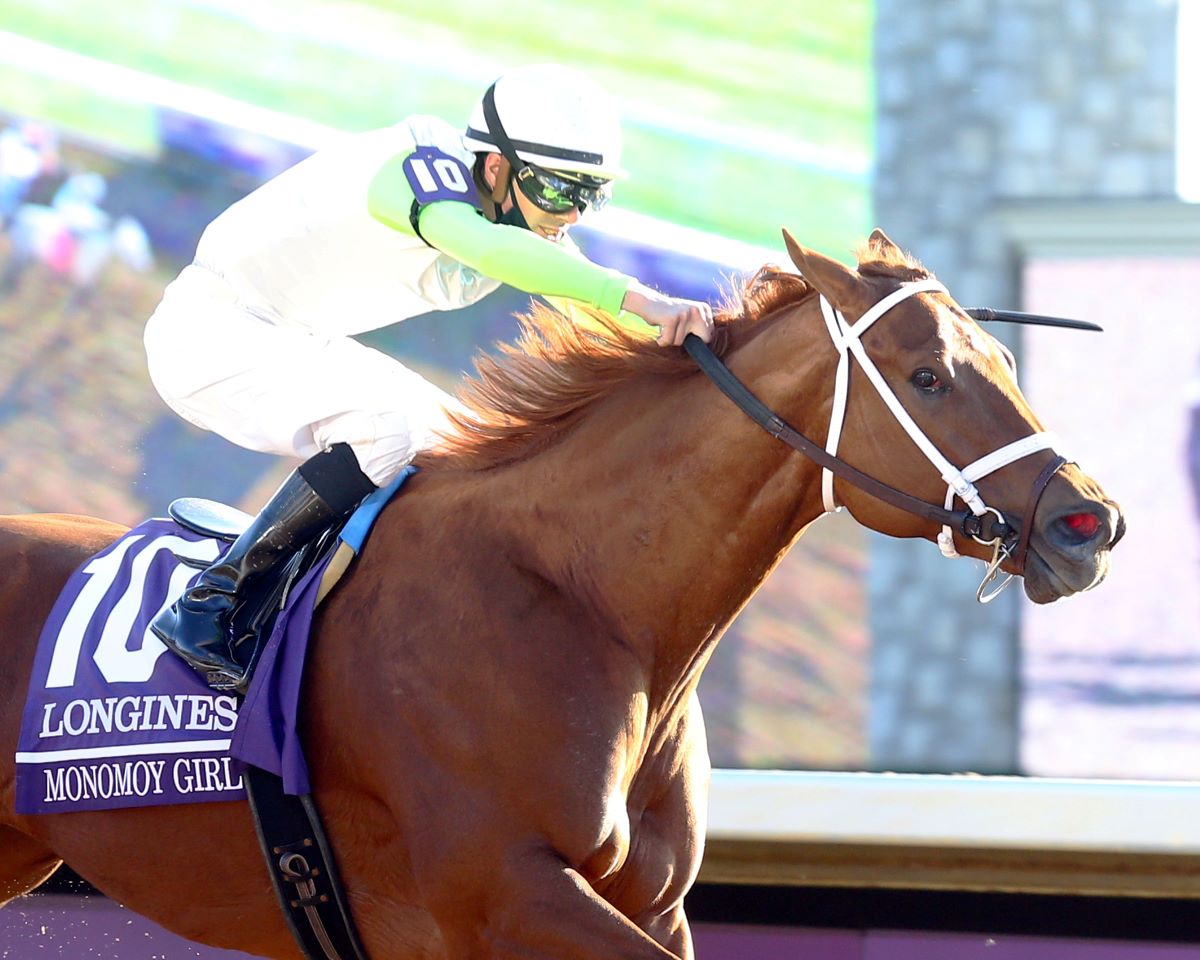 The $250,000, 1-1/16-mile Bayakoa marks Monomoy Girl's 2021 opener and a logical starting point for what should be a monstrous 6-year-old campaign. It's her first race since she wrapped up a perfect 2020 season on Nov. 7 with a 1-¾-length victory in the Breeders' Cup Distaff.
That victory – Monomoy Girl's fourth in 2020 – was deceptively closer than it actually was. She went three-wide on both turns and found herself trailing the pace further than usual. Yet, at the top of the stretch, Monomoy Girl found that gear no other filly or mare has. She powered past Lady Kate, Valiance, and Dunbar Road for her second Distaff title in three years.
NBC's Randy Moss said it was the best race of her career.
From there, Cox took Monomoy Girl to his Fair Grounds base for some R&R, mixed with a couple of workouts. She clocked a 37-second, three-furlong workout on Dec. 27 and followed that with a 48.8-second half-mile on Jan. 2.
The 'Monster' is Ahead of Schedule
"Honestly, with her breeze this past weekend, she's probably a little ahead of schedule, as far as where I thought she'd be," Cox told Oaklawn Park's Jennifer Hoyt. "We never took her out of training. We just backed off of her. She's as good as ever, to be honest with you. She's a monster."
That's probably what Cox's fellow trainers of older fillies and mares really don't want to hear. The day after Monomoy Girl won the Distaff, she entered the sales ring at Fasig-Tipton's Kentucky Fall Mixed Sale at Keeneland. The gavel went down at a record $9.5 million, but buyer Spendthrift Farm turned around and gave her back to Cox for 2021.
No matter that the $9.5 million set a world record for a racing/broodmare prospect sold at public auction. Just like that, the Champion 3-year-old filly of 2018, and the likely Champion Older Dirt Female of 2020, is back in the mix. Monomoy Girl's four wins in 2020 came in typical fashion: stalk wide, then pounce on the pace-setter at the top of the stretch or just afterward. Her biggest margin of victory came in her season-opening allowance win at Churchill Downs in May, where she won by 2-¾ lengths.
Monomoy Girl Made the Most of Her Limited Starts
That followed 18 months off due to injury and illness that cost Monomoy Girl her entire 4-year-old season. She rebounded by winning two Grade 1s, the Distaff and the La Troienne at Churchill Downs, and the Grade 2 Ruffian at Belmont Park.
Monomoy Girl doesn't blow away fields. She merely wins races – 13 of them in 15 starts. Seven of the 13 came in Grade 1s. Only one horse has beaten her across a finish line – the aptly named Road to Victory in the 2017 Grade 2 Golden Rod Stakes at Churchill Downs. And that was by a neck at the wire.
Her only other defeat came via disqualification at the 2018 Grade 1 Cotillion Stakes at Parx. Mike Smith, aboard Midnight Bisou, claimed interference when Monomoy Girl drifted out in deep stretch. Stewards upheld the claim and Monomoy Girl was taken down and placed second.
Get Her Starts and You're Looking at a $5 Million Mare
This accounts for Monomoy Girl's $4,426,818 in career earnings. Expect that figure to take a monstrous leap in 2021, when Cox runs his pet monster more than four times.
"(She) Looks amazing. Her weight's great. Her breeze this weekend was spectacular," Cox said. "If we can continue to see that throughout the year, we're going to have a great year again."