The tempting storyline in Saturday's Grade 1 La Brea Stakes at Santa Anita Park is to look at the seven-furlong race through the quality vs. quantity prism. Steve Asmussen's standout filly Finite vs. Bob Baffert's quartet of Merneith, Golden Principal, Himiko and Provocation.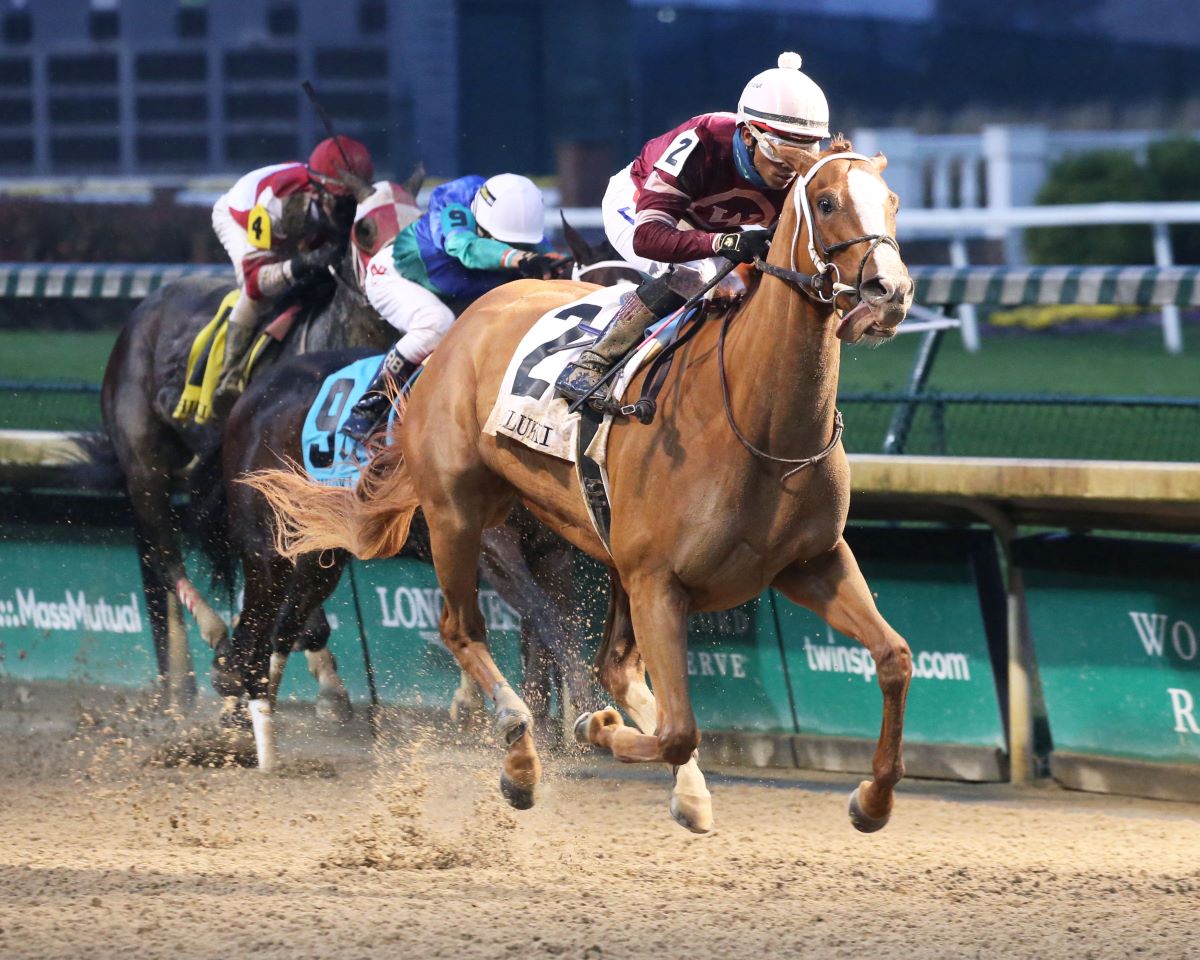 Asmussen sending a multiple Grade 2 and Grade 3 winner against Baffert's zone-flooding foursome – all of whom seek their first graded stakes victory.
The $300,000 La Brea is one of three Grade 1s and five graded stakes on Santa Anita's opening-day card. The seven-furlong sprint for 3-year-old fillies is the distaff counterpart to the card's marquee event: the Malibu Stakes.
La Brea Stakes
Morning Line (Jockey)
Princess Mo, 50/1 (Geovanni Franco)
Merneith, 4/1 (John Velazquez)
Himiko, 4/1 (Flavien Prat)
Secret Keeper, 6/1 (Abel Cedillo)
Finite, 7/2 (Ricardo Santana Jr.)
Biddy Duke, 12/1 (Juan Hernandez)
Provocation, 12/1 (Joel Rosario)
Motivated Seller, 5/1 (Umberto Rispoli)
Fair Maiden, 12/1 (Ricardo Gonzalez)
Golden Principal, 12/1 (Mike Smith)
Stellar Sound, 5/1 (Victor Espinoza)
And yes, it comes with that convenient storyline of Midwest invader Asmussen sending one of his top prospects west. There, he finds Baffert and his endless barn of 3-year-old, front-row prospects waiting – along with six others in the 11-filly race.
Finite a Tepid, but Reasonable, Favorite
Of such races are stellar cards made. And the La Brea offers plenty of quality, if unfamiliarity. Six of the 11 fillies open on the morning line at 8/1 or lower. And while Finite is the tepid favorite at 7/2, Merneith isn't far back at 4/1. Neither are storyline-crashers Chad Brown's Motivated Seller (5/1) or Michael McCarthy's Stellar Sound (5/1).
Yes, while it seems otherwise, the La Brea is more than Asmussen vs. Baffert. It's a wide-open field providing exotic betting options aplenty.
That said, most of those options begin with Asmussen's Finite. She comes off a Grade 3 win in the Chilukki Stakes at Churchill Downs last month. That 2 ½-length victory came against older horses over a mile. It also came right after Finite lost by a neck to Venetian Harbor in the Grade 2 Raven Run Stakes in mid-October at Keeneland.
La Brea Stakes May Hinge on Finite's Versatility, Class
Finite's six 2020 races produced three victories and that second. They also displayed a versatile running style. In her last two races, Finite surged forward from midpack. In earlier victories at the Listed stakes Silverbulletday and the Grade 2 Rachel Alexandra – both at Fair Grounds – Finite played pace-stalker.
This is Finite's first Grade 1 race and Asmussen told reporters earlier in the week that he's using the La Brea for two elements. First, as a barometer going into 2021. Second, as a way to raise the daughter of Munnings' status. Nothing looks better on the resume than a Grade 1 win.
If anyone knows that, it's Baffert. He owns seven La Brea titles, the last coming in 2012 with Book Review. First among equals in his La Brea foursome is Merneith, coming off a victory in the Fort Springs Stakes at Keeneland in early November. One start earlier, Merneith beat stablemate Golden Principal in an allowance optional claiming race at Santa Anita.
No Load Management for Consistent Merneith
The La Brea is Merneith's ninth race of 2020 and she's finished in the money seven times – while displaying remarkable consistency speed-wise. All eight of the daughter of American Pharoah's Equibase Speed Figures run between 90 and 99. That latter figure came in that October allowance. Her only graded stakes outing produced a third to Swiss Skydiver in the Grade 2 Santa Anita Oaks.
Which brings us to Golden Principal (12/1). She turned that allowance runner-up into her second career victory in six races: an allowance victory at Del Mar. That featured her career-best 99 Equibase.
Himiko (8/1) and Provocation (12/1) finished 1-3 in a November allowance optional claimer at Del Mar. They both seem over their hooves in this field.
Don't Forget the 'Former Baffert' Here
There's a former Baffert in the field as well. That's Stellar Sound, who moved to McCarthy's barn earlier this year. She owns a third in the Grade 2 Las Virgenes under Baffert's tutelage and a third in the Grade 3 Bayakoa three weeks ago at Los Alamitos. In between, Stellar Sound turned in a career-best 110 Equibase destroying a Santa Anita allowance field by seven lengths.
Brown's Motivated Seller finished second to Merneith in the Fort Springs. That was her only loss in three races, albeit three races without a graded stakes start.
The pick: Finite. A filly in form at what could be a decent price, given the Baffert factor with Merneith et-al. Triple-digit Equibases in her last two races, her versatility and the fact she's beaten better here tilt the scales. If Merneith takes the money a Baffert prospect typically takes at Santa Anita, you could get Finite at 3/1 or better, which is true value.