The Seattle Seahawks (8-2) and Russell Wilson needed overtime to defeat the San Francisco 49ers (8-1) on Monday Night Football, and hand the Niners their first loss of the season.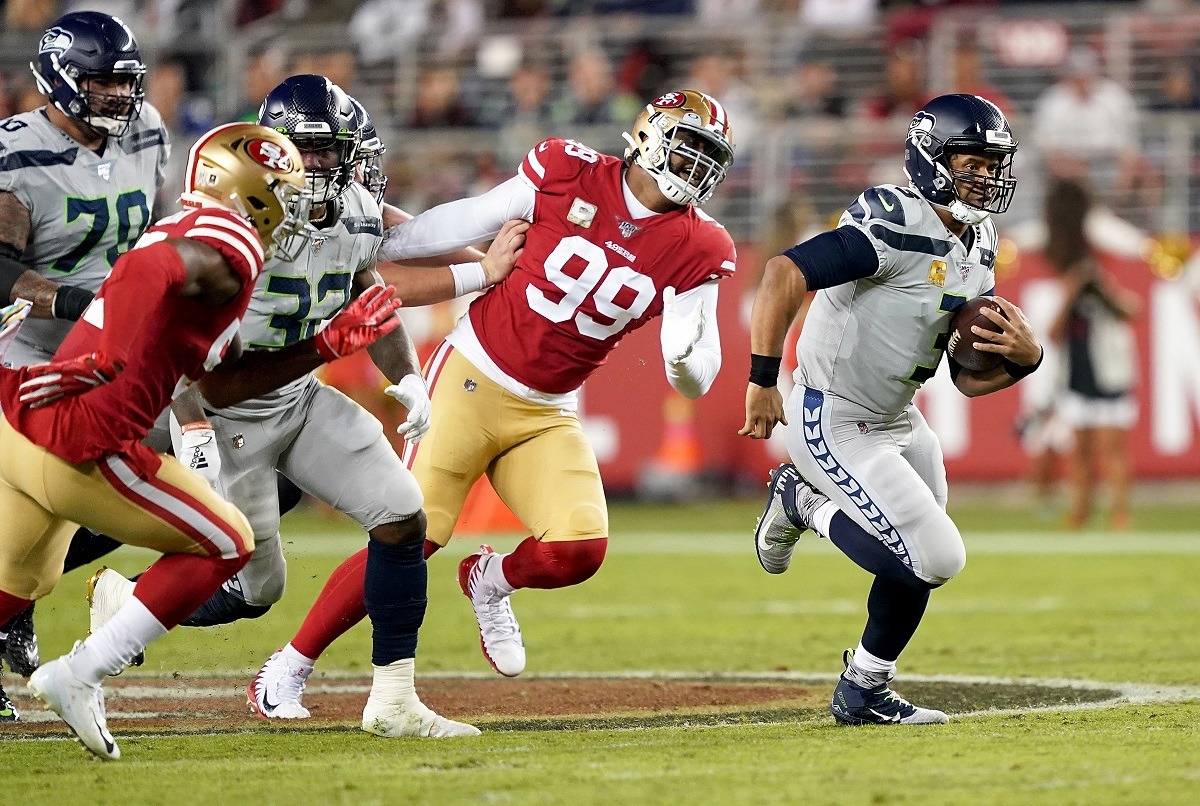 Other big teams also lost in NFL Week 10, including the New Orleans Saints, Kansas City Chiefs, and the Los Angeles Rams.
Meanwhile, the sun is finally shinning for a couple of bottom feeders. The Miami Dolphins won two games in a row after picking off the Indianapolis Colts, and the New York Jets won bragging rights after defeating the lowly NY Giants in the proverbial Toilet Bowl.
Lastly, the Cincinnati Bengals are still bad. Despite the quarterback change, the Bengals lost again, remaining winless at 0-9.
Mahomes Ambushed by Titans in Return
Tennessee Titans 35, Kansas City Chiefs 32… The Titans (5-5) and Ryan Tannehill pulled out a comeback win in a shootout. Derrick Henry unleashed another monstrous rushing attack with 188 yards and two scores. Patrick Mahomes returned from a kneecap injury, and looked rusty for Kansas City (6-4) in the surprise loss. Only Mahomes could be "rusty" with 446 yards and three touchdowns. Andy Reid better be careful because Chucky and the Raiders are on his tail.
Raiders Edge Bolts
Oakland Raiders 26, LA Chargers 24… Rookie RB, Josh Jacobs scored a game-winning touchdown with a minute to go in this back-and-forth AFC West battle on Thursday Night Football. This game marked the last time the Chargers (4-6) would play the Raiders (5-4) in Oakland. The Black Hole will soon appear on the Strip when the Raiders move to Las Vegas next season.
L-Jax Scores Four TDs, MVP Candidate?
Baltimore Ravens 49, Cincinnati Bengals 13… Lamar Jackson threw three TDs and ran for another. Rookie WR Hollywood Brown (four receptions, 80 yards) caught a touchdown. Heck, even backup RG3 saw time in this blowout for the Ravens (7-2). The Bengals (0-9) stayed the Bungles, and continued their losing streak.
"He is Houdini!" @Lj_era8 🦇 pic.twitter.com/Kk2Zx59QTS

— Baltimore Ravens (@Ravens) November 11, 2019
Birds Shock the Aints
Atlanta Falcons 26, New Orleans Saints 9… The "Aints" showed up, and the Saints (7-2), were nowhere in sight. The Falcons (2-7) sacked Drew Brees six times, even though they only recorded seven sacks in the previous eight games. If you find the Saints offensive line, please return it to the Superdome. Thank you.
Jets Win Bum Fight
New York Jets 34, New York Giants 27… The Jets won the 2019 Toilet Bowl and improved to 2-7. Credit the Gang Green run D, who stuffed Saquon Barkley, and held him to his worst-career game (one rushing yard on 13 carries). Rookie Daniel Jones threw four touchdowns in the loss, but got sacked six times. Sam Darnold stopped seeing ghosts long enough to throw a touchdown, and run for another. The Giants (2-8) have now lost six straight, after losing to their MetLife Stadium roommate.
Steeltown Pounds Hollywood
Pittsburgh Steelers 17, LA Rams 12… The LA Rams (5-4) forgot to fly their offense out to Pittsburgh (5-4). The Rams D scored the only touchdown of the game, and accounted for nine of the team's 12 points. The Rams were already on the playoff bubble, but if they don't turn around their offensive woes, they're toast.
Two-Headed Dalvin Cook
Minnesota Vikings 28, Dallas Cowboys 24… Dak Prescott threw for 397 yards and three touchdowns, but the Cowboys comeback fell short. Dalvin Cook led the Vikings in rushing (97 yards, one TD) and receiving (seven receptions, 86 yards) for 183 combined yards. The Vikings (7-3) held on to beat the Cowboys (5-4) on Sunday Night Football. Oh, and we told you to take Kyle Rudolph the other day. He hauled in two touchdowns, including a sick one-handed grab.
.@KyleRudolph82 with one of the best one-handed catches of the year! 😱@VIkings on top early. #SKOL

📺: #MINvsDAL on NBC
📱: NFL app // Yahoo Sports app
Watch free on mobile: https://t.co/RXk10jUojC pic.twitter.com/EUZjrdlucS

— NFL (@NFL) November 11, 2019
Bucs Survive Air Raid
Tampa Bay Bucs 30, Arizona Cardinals 27… A back-and-forth shootout, as advertised, with 93 combined pass attempts. The Bucs (3-6) finally won their first home game (1-3) of the season. Rookie Kyler Murray threw three touchdowns to Christian Kirk for the Cardinals (3-6-1), but Peyton Barber scored a touchdown to complete the comeback win for the Bucs.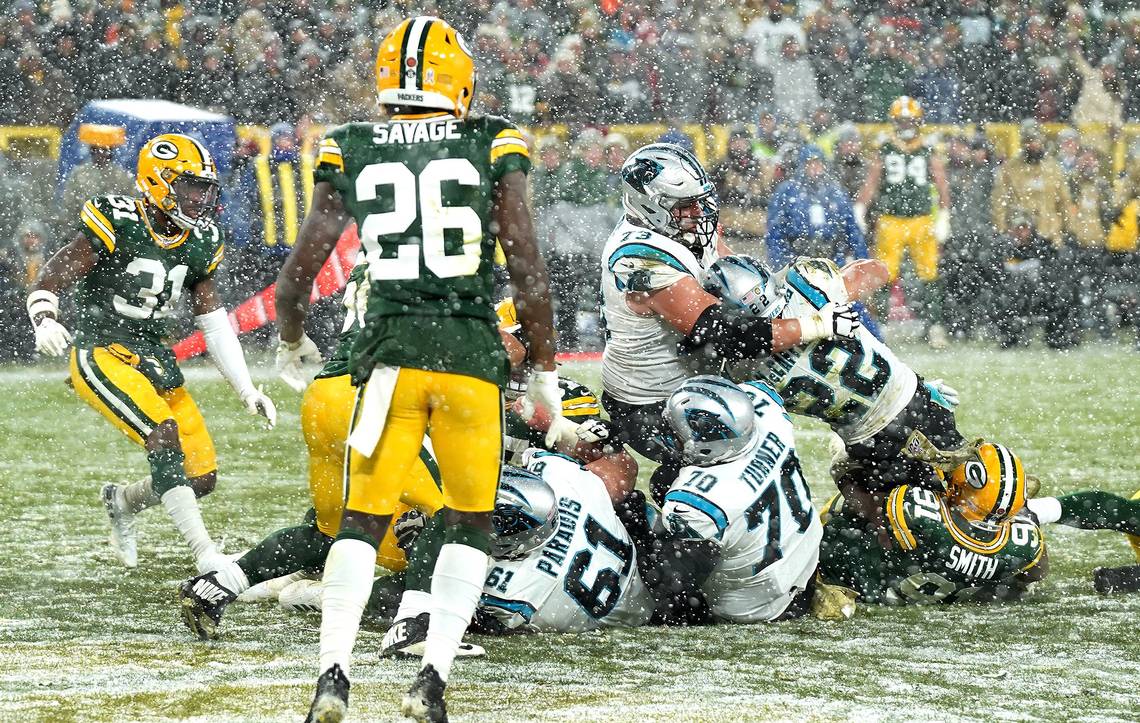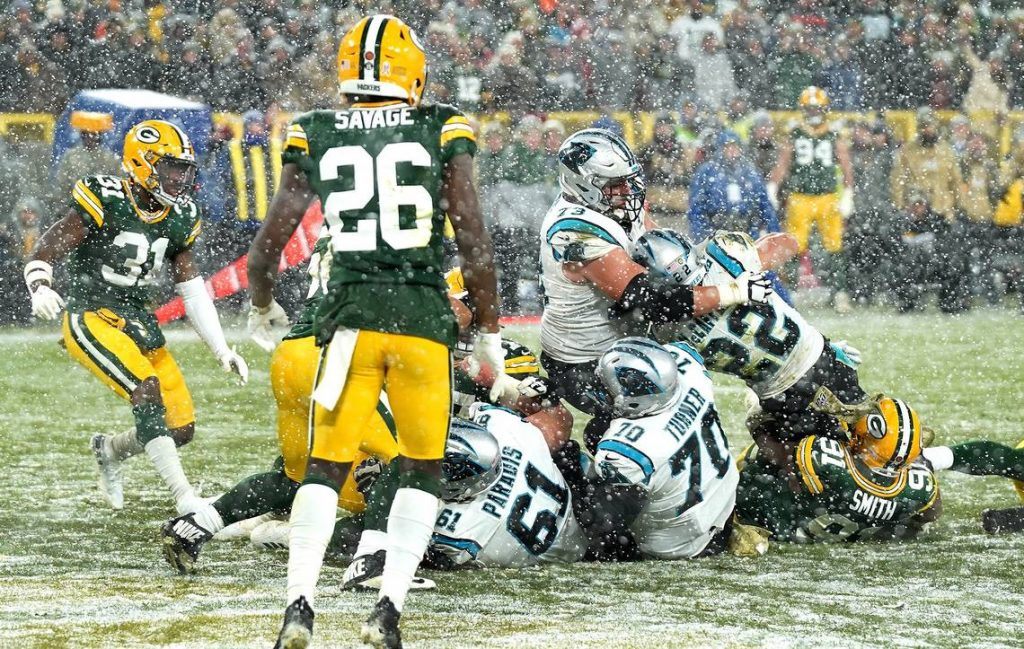 Pack Stuff CMAC
Green Bay Packers 24, Carolina Panthers 16… First snow game of the season. The Packers (8-2) stuffed Christian McCaffrey at the goal line as time expired. The Panthers (5-4) couldn't stop Aaron Jones, who averaged 7.2 yards a carry, and scored three touchdowns.
Browns Finally Win at Dog Pound
Cleveland Browns 19, Buffalo Bills 16… Baker Mayfield threw two touchdowns, and the Browns (3-6) finally won a home game (1-3), while the Buffalo Bills (6-3) finally lost a road game (3-1). Josh Allen rushed for two touchdowns, and the Browns D held Devin Singletary and Frank Gore to 54 combined yards.
Mitchy Tosses Hat Trick
Chicago Bears 20, Detroit Lions 13… Mitch Trubisky threw three touchdowns, and the Bears (4-5) held off the pesky Lions (3-5-1), who played with QB Matt Stafford (broken bones in his back).
Fish Win Two in a Row
Miami Dolphins 16, Indianapolis Colts 12… Jacoby Brissett did not play, and the Colts (5-4) lost to the lowly Dolphins (2-7). The Fish are on a two-game winning streak, thanks to FitzMagic's two touchdowns.
 San Francisco 49ers Lost MNF OT Thriller
Seattle Seahawks 27, San Francisco 49ers 24 (OT)… We finally were treated to a good Monday Night Football matchup. A back-and-forth battle that headed into overtime before the Niners (8-1) lost their first game of the season. It started out as a defensive slog, and evolved into a sack-fest. Both QBs ate dirt all night, and were sacked five times apiece. Russell Wilson pulled this one out, and Jimmy G lost his first game of the season for the Niners. Seattle (8-2) improved to 5-0 on the road. No feral black cats appeared on the MNF broadcast in NFL Week 10. Cannot wait for this rematch in Week 17 between the Seahawks and the 49ers, which might determine the NFC West champ.