Indianapolis Colts quarterback, Jacoby Brissett, sprained his knee against the Pittsburgh Steelers on Sunday, and became the latest starting QB knocked out during a game this season after a crushing injury.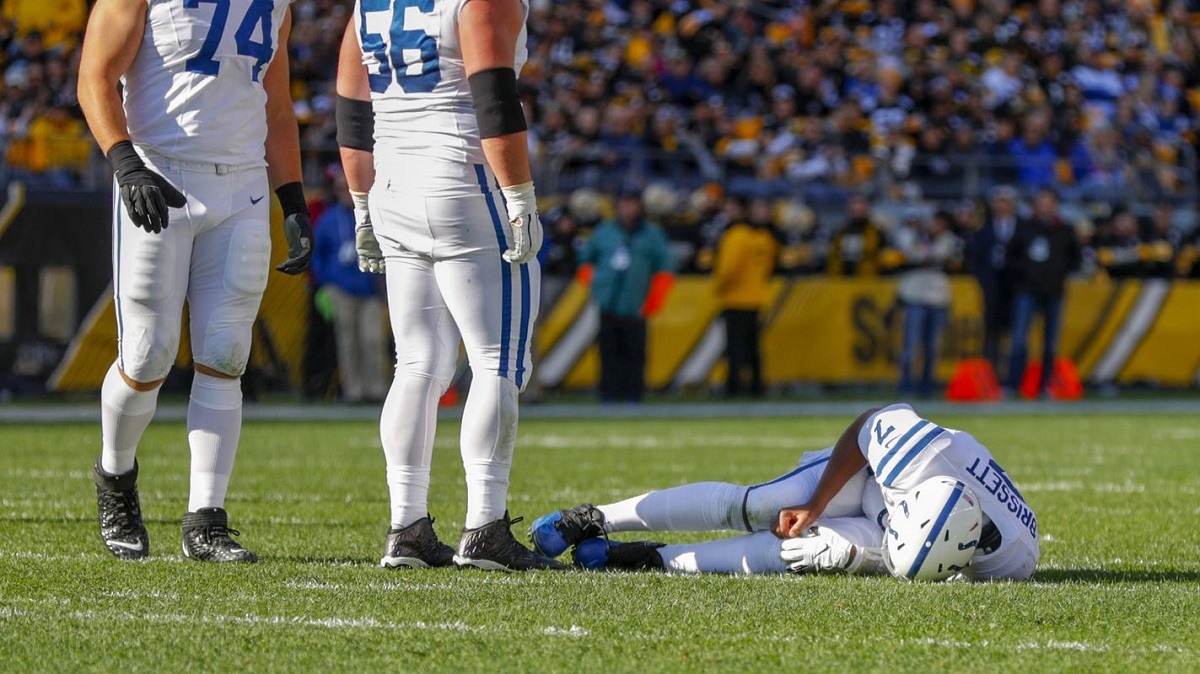 Before the 2019 NFL season began, Andrew Luck announced his retirement after he realized he would not be healed in time to play another season. That should have been a precursor of doom for all quarterbacks this season. We've reached the midway point of the NFL season, and at least 11 starting quarterbacks have been injured and replaced by backups.
Almost one-third of the starting quarterbacks in the NFL spent time on the injured reserve after suffering numerous in-game injuries. That list includes Nick Foles, Drew Brees, Cam Newton, Ben Roethlisberger, Sam Darnold, Josh Allen, Mitch Trubisky, Patrick Mahomes, Matt Ryan, Joey Flacco, and now, Jacoby Brissett.
Brissett stepped into the starting role for the Colts when Luck retired. Brissett previously filled in for Luck as his backup, and the Colts were fortunate that they had a viable option to lead the team when their franchise quarterback could no longer physically play after numerous injuries piled up for Luck.
When Brissett went down against the Steelers with an apparent knee injury, head coach Frank Reich tapped backup Brian Hoyer. Hoyer produced immediate results with three touchdown passes. He nearly orchestrated a comeback victory over the Steelers in Pittsburgh, but fell short of the mark.
Brissett is scheduled for an MRI, but early injury diagnosis suggested he has an MCL sprain. If he's out, Hoyer will take over for the Colts' next game against the Miami Dolphins.
Another QB KO'd
If the big story this season is the high volume of QB injuries, then backup quarterbacks are the second biggest story. Several backups stepped up and filled tough spots. Teddy Bridgewater bested them all when he went 5-0 as a starter before Drew Brees returned from thumb surgery.
The rash of injuries at quarterback exposed the overall lack of valuable backups. The teams that had decent ones in place (e.g. New Orleans) or an offensive system to fall back on, thrived (e.g. Kansas City), while other teams, like the Pittsburgh Steelers, were screwed and saw their seasons come to a premature end.
2019 INJURED STARTING QBs:
Patrick Mahomes (Kansas City Chiefs)
Drew Brees (New Orleans Saints) *
Ben Roethlisberger (Pittsburgh Steelers)
Cam Newton (Carolina Panthers)
Nick Foles (Jacksonville Jags)
Sam Darnold (NY Jets) *
Mitch Trubisky (Chicago Bears) *
Josh Allen (Buffalo Bills) *
Matt Ryan (Atlanta Falcons)
Joey Flacco (Baltimore Ravens)
Jacoby Brissett (Indianapolis Colts)
* Returned from injury
DeShaun Watson injured his eye when a defender accidentally kicked him in the face in Week 8. Even with the blurry eye, Watson didn't miss any action. He made the trip to London and promptly beat the Jaguars in NFL Week 9.
Backup QBs didn't escape the injury bug either, with Mason Rudolph (Steelers) and Trevor Siemian (Jets) both going down.
Backups like Teddy Bridgewater and Kyle Allen thrived when they were thrust into action. Rookie Gardner Minshew got everyone fired up because of his on-field personality, but he didn't exactly play himself into the lineup. Jags starting QB, Nick Foles, is expected to return after recovering from a collar bone injury. He will take over after the Jags' bye week.
Now, it's up to Colts backup Brian Hoyer to step up while Brissett nurses his knee injury.
Benched for Rookies
The 2019 NFL season also saw a revolving door for quarterbacks who were benched without an injury. No less than five teams pulled their opening day starter after failing to get the job done. Three backups were rookies, with one of them about to make their NFL debut in Week 10.
Several old-guard quarterbacks were benched, including Eli Manning and Andy Dalton. The desperate 0-8 Cincinnati Bengals needed to do something to shake up the team, but now they're sending untested rookie Matt Finley into the fire instead of Dalton.
The Giants swapped out Eli Manning in Week 3 for rookie Daniel Jones. Jones, quickly dubbed Danny Dimes, led the Giants to a couple of victories but, since then, it's been the same old Giants after dropping four games in a row.
2019 BENCHED STARTING QBs:
Eli Manning (NY Giants)
Josh Allen (Miami Dolphins)
Marcus Mariota (Tennessee Titans)
Andy Dalton (Cincinnati Bengals)
Case Keenum (Washington Redskins)
The Titans looked much better the last couple of weeks with Ryan Tannehill under center, but the Titans are still tied for last place in the AFC South.
The Washington Redskins have a long list of problems. The quarterback spot was always one of those. They came into the season with Colt McCoy still nursing a broken leg, which is why Jay Gruden initially tapped Case Keenum to start after his initial QB shuffle. With Gruden's job on the line after a winless start, he benched Keenum in favor of Ohio State rookie Dwyane Haskins. Haskins has yet to fully mature as a pro quarterback, yet they threw him into the mix as a long shot in hope he could turn the team around much like Lamar Jackson accomplished last year with the Baltimore Ravens.