Even though Halloween happened last week, a black cat spooked bettors and possibly jinxed the hometown New York Giants during Monday Night Football's telecast against the Dallas Cowboys at MetLife Stadium. The MNF black cat running on the field immediately went viral, and has become an overnight celebrity.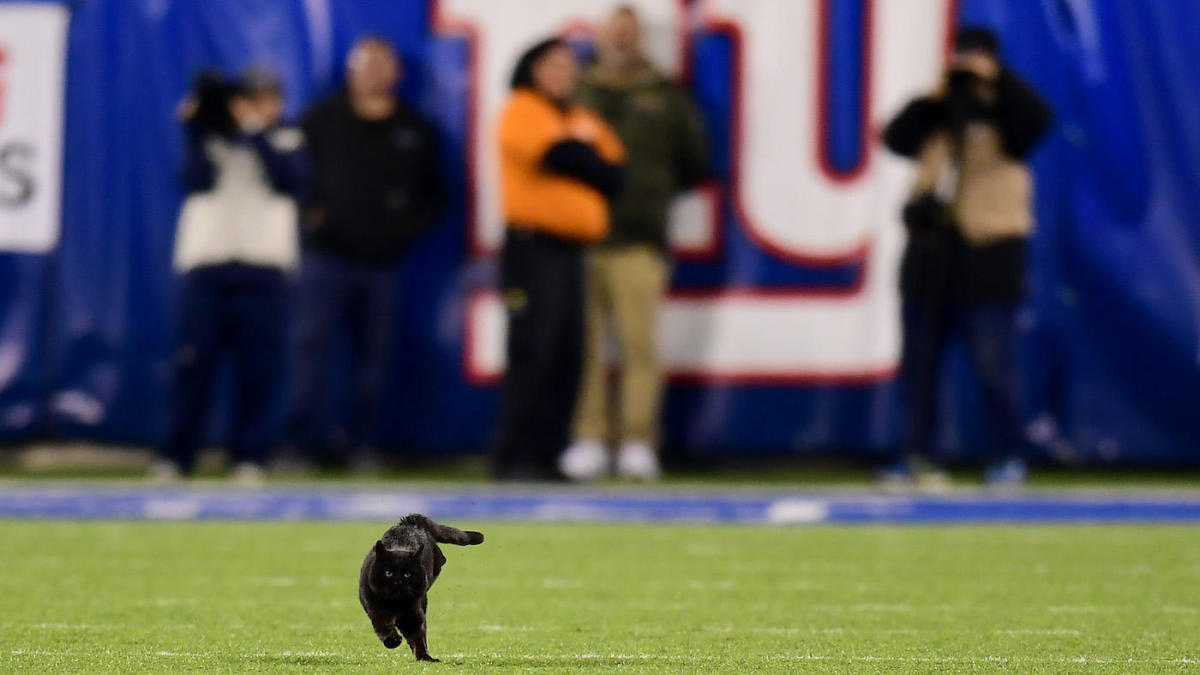 The Cowboys scored 10 quick points in less than 90 seconds late in the second quarter, shortly after a stray black cat wandered onto the field at MetLife Stadium in East Rutherford, New Jersey. The black cat delayed the game for several minutes while the elusive creature evaded officials and security.
Halloween isn't over yet 😹 pic.twitter.com/XhLDP3NgJO

— New York Giants (@Giants) November 5, 2019
The Monday Night Football announcers had fun with the cat delay, especially radio announcer Kevin Harlan.
Kevin Harlan's Westwood One radio call of the cat on the field is, as you might expect, an all-time great call. How much of a pro is Harlan? He worked a sponsor read into it. pic.twitter.com/3x0MVNEHNY

— Timothy Burke (@bubbaprog) November 5, 2019
The black cat energized the audience and quickly went viral on social media. In a somewhat boring MNF game, the cat became the most exciting thing on the telecast.
According to MetLife Stadium officials, several stray cats live at the stadium underneath the bleachers. A cat rarely runs onto the field, so this was an exception.
"The black cat ran off the field and disappeared under a seating section," said MetLife Stadium in a statement. "Once we locate and safely capture the cat, we will take it to a veterinarian for examination."
Bad Beat MNF Cat
Black cats are synonymous with black magic and the occult, which is why they've been frowned upon in numerous cultures for centuries. That's unfair to black-furred felines. Of course, fear sells… especially in America. Fear of black cats has long been appropriated by big business, which utilizes their images to push Halloween sales.
The black cat incident at the MetLife Stadium has become an overnight Internet sensation because, who doesn't like looking at cute cats and silly cat memes instead of doing more important things like work?
Dallas Cowboys owner, Jerry Jones, is known to have odd superstitions. Jones watched the Monday Night Football game from a private box, but was initially convinced the black cat was a harbinger of doom.
"I haven't seen one glare at me that far away before," said Jones. "I know he was looking at me the whole time he was out there. But things did kind of change when that black cat came out."
If the MNF cat put a hex on anyone, it wasn't Jones and his Cowboys.
"I'm not superstitious, but I wasn't getting near it," said Dallas QB Dak Prescott. "Thankfully, we got that thing out of the stadium and was able to get back to the game."
Be advised, though: Do not bring up the MNF black cat to angry Giants fans or bettors.
Instead of a 12-3 lead going into halftime, the Giants were down 13-12 after a 42-yard touchdown, a Daniel Jones interception, and an ensuing field goal.
Bad Beat Alert: MNF Under 48.5
To complicate matters, under bettors were sunk on a freak play late in the game. The consensus total closed at 48.5. With the score 30-18 and the Giants driving with the ball into Cowboys territory, Dallas sacked Giants QB Daniel Jones. The ball trickled out of his hands and was promptly scooped up by Jourdan Lewis on the 37-yard line. Lewis ran the fumble back for a touchdown.
The under was kaput with the 37-18 final score. Ouch, talk about a bad beat.
Jourdan Lewis with the scoop n score to end the night!@JourdanJD@dallascowboys | #DallasCowboys
📺: #DALvsNYG on ESPN
📱: NFL app // Yahoo Sports App
Watch free on mobile: https://t.co/ZpxWpD9DPm pic.twitter.com/2gzOgJIKnH

— NFL (@NFL) November 5, 2019
Teaser bettors were also screwed by the fumble recovery for a touchdown. With the closing line at Dallas -6.5, anyone who had a teaser (+6, +6.5, +7) involving the Giants (getting +12.5, +13, or 13.5 points) had a universal sick feeling in their stomach as their dreams of cashing a teaser ticket were shattered as soon as Lewis scooped up the fumble, and scampered 73 yards into the end zone for a teaser-killing touchdown.
Giants fans have been in a tizzy all season. After starting 0-2, the Giants finally benched slumping quarterback Eli Manning in favor of rookie Daniel Jones. Jones had an auspicious debut with two straight wins, but the Giants (2-7) dropped five games since then.
Why blame the rookie QB for turnovers when you can pass the blame off on a mischievous MNF black cat with mystical powers that can alter the trajectory of football? With Manning on the bench, there's no one else left to blame, aside from the MNF black cat. When in doubt, find a scapegoat… er, in this case, a scapecat.