Rookie WR Marquise "Hollywood" Brown had a dazzling debut with four catches for 147 yards and 2 touchdowns in a Baltimore Ravens 59-10 blowout over the Miami Dolphins.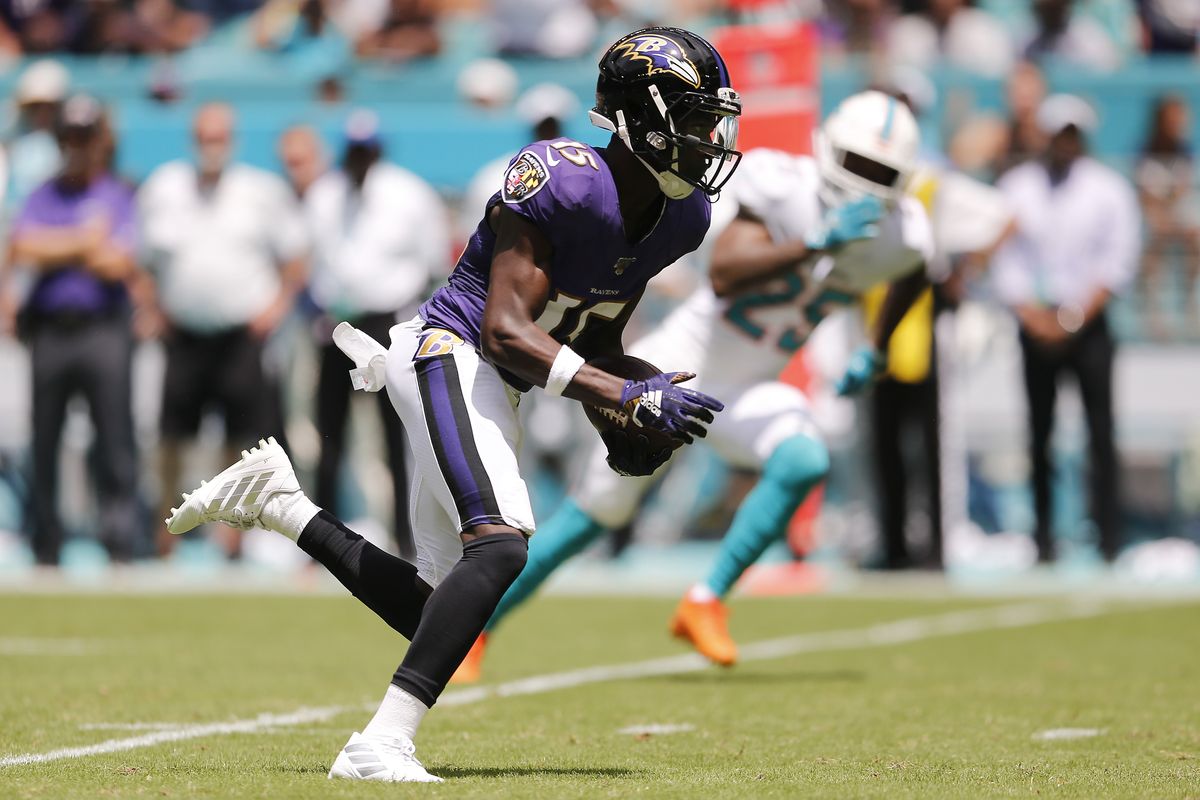 'Hollywood" Brown made a name for himself in the first quarter against the porous Dolphins secondary. Midway through the 1Q, Lamar Jackson hit Brown for a 47-yard touchdown to put the Ravens up 14-0.
Only four minutes and 20 seconds later, Jackson and Brown connected on their second reception of the game. This time, Brown smoked the Dolphins for a 83-yard touchdown. Two catches, two scores. Welcome to the NFL, rube!
WHO IS "HOLLYWOOD" BROWN?
Age: 22
Hometown: Hollywood, Florida
Position: WR
College: Oklahoma
Draft: 25th Overall, 2019 Draft
The Baltimore Ravens selected Brown late in the first round of the 2019 NFL Draft. The WR out of Oklahoma scored 17 touchdowns in two seasons down in Norman. Brown got tapped as an All-American last season after scoring 10 touchdowns and 75 receptions in only 12 games.
Looking Good, Lamar Jackson
Of course, a sample size of one game isn't enough to jump on the Brown bandwagon. However, Lamar Jackson's arm looks good for a "running back". Whatever he's done in the offseason to improve, his accuracy worked.
The Ravens won't be playing terrible teams like the Dolphins every week. Rumors are swirling that Miami is tanking, and the players are revolting. Hence, the 59-10 blowout. Jackson threw five touchdowns in the first half as the Ravens went into the locker room with a 42-10 lead. Two of those went to Brown in the opening quarter.
83-YARD TOUCHDOWN.@lj_era8 ➡️ @Primetime_jet. pic.twitter.com/9ax0x9FuUd

— Baltimore Ravens (@Ravens) September 8, 2019
Waiver Wire Pick Ups
Drafting good players in your fantasy football league is vital, but working the waiver wire is just as important, especially if you're in desperate need of a specific position.
If you don't have an early waiver wire selection, then you better do your research and find someone flying under the radar. Rookies, like Mecole Hardman and Deebo Samuel, often make the best fantasy football sleepers. You can add "Hollywood" Brown to that list.
In this instance, everyone will be on the Brown bandwagon, so unless you're one of the big losers in Week 1, you'll probably miss out on snagging  the speedster for your roster.
In addition, John Ross III excelled in a close loss for the Cincinnati Bengals. Ross caught seven passes for two scores and 158 yards. The third-year WR out of Washington didn't exactly come out of nowhere. Ross scored seven touchdowns in 13 games last season.