Only three undefeated NFL teams remain with two of them — the Tennessee Titans (5-0) and Pittsburgh Steelers (5-0) — meeting in Week 7. Playoff-caliber teams like the Green Bay Packers, Buffalo Bills, and Los Angeles Rams are in a classic bounce-back mode after losses last week.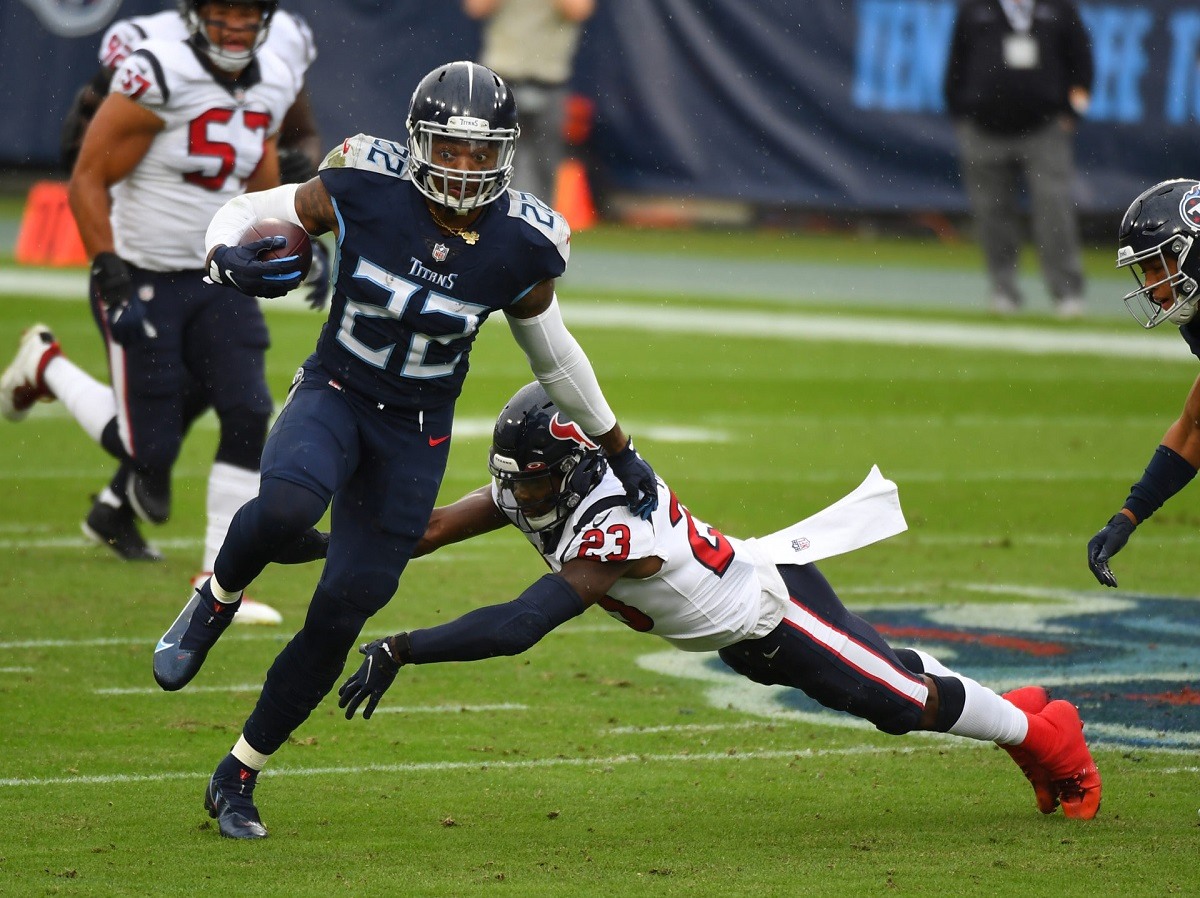 The NFL flexed the Seattle Seahawks (5-0) and Arizona Cardinals (4-2) game to Sunday Night Football just in case the Las Vegas Raiders experienced a COVID outbreak and they had to move that game to Monday or Tuesday. As of press time, there are no more new positive tests from the Raiders, so the game should continue as scheduled for Sunday afternoon.
The NFL scheduled four teams for a bye in Week 7: the Indianapolis Colts, Miami Dolphins, Minnesota Vikings, and the Baltimore Ravens.
Best of the Best: Titans and Steelers
Green Bay Packers (4-1) at Houston Texans (1-5) … After a near-flawless start to the season, the Green Bay Packers were thumped by Tom Brady and the Tampa Bay Bucs. The poor Texans will face their wrath in this bounce-back game. LINE: Green Bay -3.5
Kansas City Chiefs (5-1) at Denver Broncos (2-3) … The Broncos are fresh off an upset over Cam Newton's COVID Pats. The Chiefs added Le'Veon Bell last week, and he's expected to make his first appearance in a Kansas City uniform. LINE: KC -9.5
Pittsburgh Steelers (5-0) at Tennessee Titans (5-0) … The NFL Game of the Week for Week 7. Two undefeated teams enter the octagon. Only one team in this matchup, the Pittsburgh Steelers or Tennessee Titans, could end up 6-0 and maintain their perfect season. Pittsburgh must figure out how to slow down Tennessee and the human wrecking ball known as Derrick Henry. LINE: Tennessee -1
Undercats and Home Cat Alert
Cleveland Browns (4-2) at Cincinnati Bengals (1-4-1) … The Browns have back-to-back smashmouth divisional games. They were beat down by the Steelers last week, and now head to the jungle to face Joe Burrow and the pesky Bengals. Home dog alert! The Browns spot the Bengals points in this divisional brawl. LINE: Cincy +3
Carolina Panthers (3-3) at New Orleans Saints (3-2) … Sean Payton and the New Orleans Saints are 7-3 since 2009 when playing fresh off a bye week. Michael Thomas's ankle has healed, but now he's nursing a hamstring injury. LINE: New Orleans -7.5
Detroit Lions (2-3) at Atlanta Falcons (1-5) … Welcome to the Battle of the Sad Matts and Sad Cats. Matty Ice Ryan and Matt Stafford are two super talented quarterbacks who deserve better than their current sad state of affairs. One Matt saw his coach sacked, while the other Matt can't wait to see his head coach fired. LINE: Atlanta -2.5
Jacksonville Jaguars (1-5) at LA Chargers (1-4) … The Chargers are the best one-win team in the NFL, while Gardner Minshew wants to avoid getting benched in Week 7. This is a must-win game for the Jags if he wants to keep his job. LINE: LA Chargers -7.5
Fade the Jets … Again
Buffalo Bills (4-2) at New York Jets (0-6) … The Bills Mafia couldn't ask for a better slump buster game in Week 7. After losing two in a row following an auspicious 4-0 start, the LOL Jets remain the sole winless team in the NFL. We're betting against the Jets every week, and Operation Fade the Jets is now 6-0 because they're 0-6 ATS under Adam Gase. LINE: Buffalo -12.5
Jimmy G Returns to Foxboro
San Francisco 49ers (3-3) at New England Patriots (2-3) … The Patriots are 2-3 for the first time since 2001. Cam Newton recovered from coronavirus and Belichick is eager to stick it to Shanahan and the Niners. The total is 43.5 o/u in an expected low-fi scoring game. LINE: NE -2.0
Tommy Boy Goes to Vegas
Tampa Bay Bucs (4-2) at Las Vegas Raiders (3-2) … The Bucs have the best defense in the NFL, according to stats geeks. Todd Bowles has the defense locked in and fresh off an impressive win over Green Bay. The Raiders have always been rebels, so it's no surprise that the team has been loose with its off-the-field COVID-19 protocols. LINE: Tampa -4
Poo Emoji Game of the Week
Dallas Cowboys (2-4) at Washington (1-5) … Washed-up Andy Dalton and a fumble-happy Zeke Elliot lead the Cowboys into the swamp for NFL Least action. LINE: Pick'em
National TV Games
SNF: Seattle Seahawks (5-0) at Arizona Cardinals … Kyler Murray vs. Russell Wilson will be another fun battle on Sunday Night Football. The public thinks this matchup will be a high-scoring affair, with the highest-scoring team in the league (33.8 ppg) taking on the fourth-best rushing team (161 ypg) in the NFL, and fifth overall in total yardage (402.5 ypg). LINE: Seattle -3.5
MNF: Chicago Bears (5-1) at LA Rams (4-2) … Da Bears go to Hollywood. We get to see if the five-win Bears are exposed as a fugazi team. The Rams, under Sean McVay, are 11-4 after a loss, and they lost to the San Francisco 49ers last week. LINE: LA Rams -6