The Seattle Kraken will soon be released, much to the delight of hockey fans in the Pacific Northwest. In the meantime, however, Seattle Seahawks fans are thrilled that Pete Carroll finally released their version of the Kraken. After two spectacular games, Russell Wilson became the new favorite to win the MVP this season at 3/1 odds.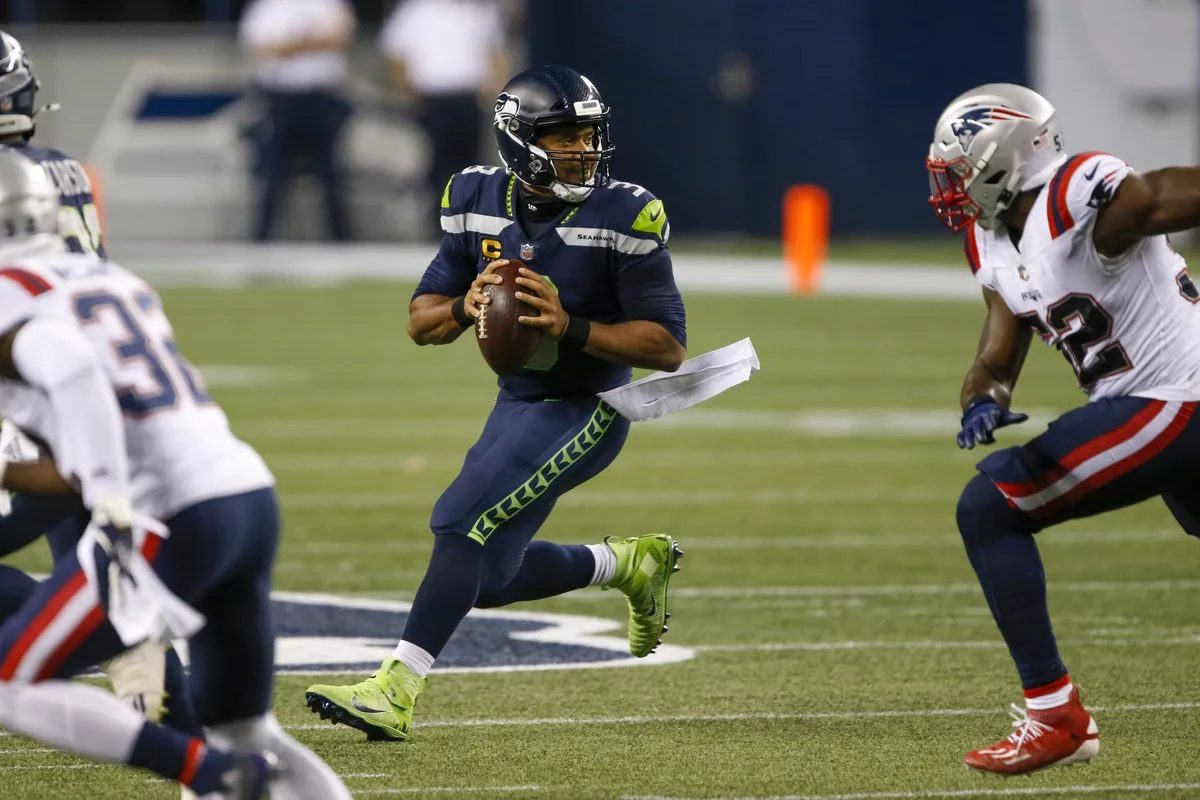 DraftKings adjusted its MVP odds, and Wilson went right to the top of the list. The last two MVP winners, Patrick Mahomes and Lamar Jackson, are right behind at 5/1 odds.
Mahomes is the best player in the NFL, which is why Kansas City made him the highest-paid player in history. The problem with being so awesome is that, after awhile, some of the extraordinary plays become normalized and you almost expect Mahomes to make crazy passes on every single play.
---
Russell Wilson 3/1
Lamar Jackson 5/1
Patrick Mahomes 5/1
Aaron Rodgers 8/1
Kyler Murray 14/1
Josh Allen 20/1
Cam Newton 20/1
Dak Prescott 20/1
Ben Roethlisberger 28/1
Deshaun Watson 30/1
Tom Brady 33/1
Drew Brees 40/1
Derrick Henry 40/1
Ryan Tannehill 50/1
Aaron Jones 100/1
Odds via DraftKings
---
Jackson, the reigning MVP, got off to a good start (479 passing yards, 99 rushing yards, four TDs) for the 2-0 Baltimore Ravens. Even so, expectations are high for the third-year QB who is hoping to fade the ominous Madden Cover Curse.
Ship the MVP to Wilson?
Just give Wilson the MVP right now. He tossed four touchdowns in Week 1 against Atlanta before topping himself in Week 2 with five touchdowns against the New England Patriots on Sunday Night Football. So far this season, he has 610 passing yards and nine touchdowns.
If you selected Wilson for your fantasy football team, you must be super thrilled after his kick-ass start. He's completing an insanely efficient 82.5% of his passes (52-for-63), including several big-time, vertical bombs.
You can find Wilson at 3/1 odds right now to win the MVP. If he remains healthy and Pete Carroll continues to let "Russell do Russell", then Wilson has the inside track to the MVP. The seven-time Pro Bowler, now in his ninth season, has yet to secure an MVP award.
Don't Sleep on Kyler Murray
Kyler Murray and the 2-0 Arizona Cardinals sit in first place. They picked off the Super Bowl runner-up in Week 1 with a big win over NFC West rival, the San Francisco 49ers.
In his second season, Murray completed 67% of his passes. He's tallied only 516 air yards and two passing touchdowns this season, but he rushed for three scores. In two games, he rushed for 168 yards at an average of 7.5 yards per carry. He's not a run-first guy, but if a play breaks down, he's ready to roll.
"As soon as I leave the pocket I survey the field," explained Murray. "Seeing how the blocks were set up, they were set up pretty perfectly. Once I get a guy 1 on 1, I like my chances."
For context, he ran for four touchdowns last season, and he has three already this year.
Welcome to 𝐭𝐡𝐞 𝐊𝐲𝐥𝐞𝐫 𝐌𝐮𝐫𝐫𝐚𝐲 𝐒𝐡𝐨𝐰.

🎞 @gmfb pic.twitter.com/E4Xo5VWqID

— Arizona Cardinals (@AZCardinals) September 23, 2020
Aaron Rodgers and the Well-Oiled Packers
The Green Bay Packers (2-0) look good after two games. Rodgers (302 passing yards per game, six total TDs) looks even better at the helm of the high-octane offense that averages 42.5 points per game. Rodgers will miss Davante Adams (ankle), but he has a couple of young wideouts ready to fill in, including Marquez Valdes-Scantling and Allen Lazard.
The Packers play in a weak division this year, which they should easily steamroll. Rodgers as the MVP offers good value at 8/1 odds. He's a high-profile QB playing for a team that regularly appears in televised games and which gets a significant amount of media attention.
Long Shot: Olds and Youngs
Drew Brees? He's not looking so hot, especially after losing his favorite target, Mike Thomas, for an unknown amount of time with an ankle injury.
Tom Brady? He's still looking good … at times. Tommy Boy still has some gas left in his tank, but he won't be a legit MVP contender unless the Bucs can win consistently in their division, and on the road.
Ryan Tannehill seems worthy of a flier at 50/1, if you think the Titans will return to the AFC Championship game. Tannehill continues to surprise everyone, but you can't let anything get past those fantasy football nerds. The Titans aren't a high-profile team, so their lack of constant media hype will likely hurt Tannehill's MVP chances.
Derrick Henry got off to a slow start. If you drafted him high in your fantasy football league, let's hope he's just warming up. Otherwise, the wear and tear of a deep playoff run last season might catch up to him this year. He's rushed for 200 yards, but he averages only 3.6 yards per carry, down a whole 1.5 yards from last season. Henry has yet to find the end zone this season.
Aaron Jones at 100/1 MVP odds seems way too high. He should be in the 20/1 to 25/1 spot. He's clearly the top running back in the league right now, especially after Christian McCaffrey (ankle) and Saquon Barkley (torn ACL) will miss time with injuries. Jones tore it up in his first two weeks with 234 rushing yards, three touchdowns, and a scorching 6.9 yards per carry. He also caught a touchdown pass for four total TDs in two games for the high-scoring Packers.