Do you need a quarterback in your fantasy football league? You should consider adding Gardner Minshew, Ryan Tannehill, Justin Herbert, or Joe Burrow to your roster as Week 3 waiver wire QB pickups.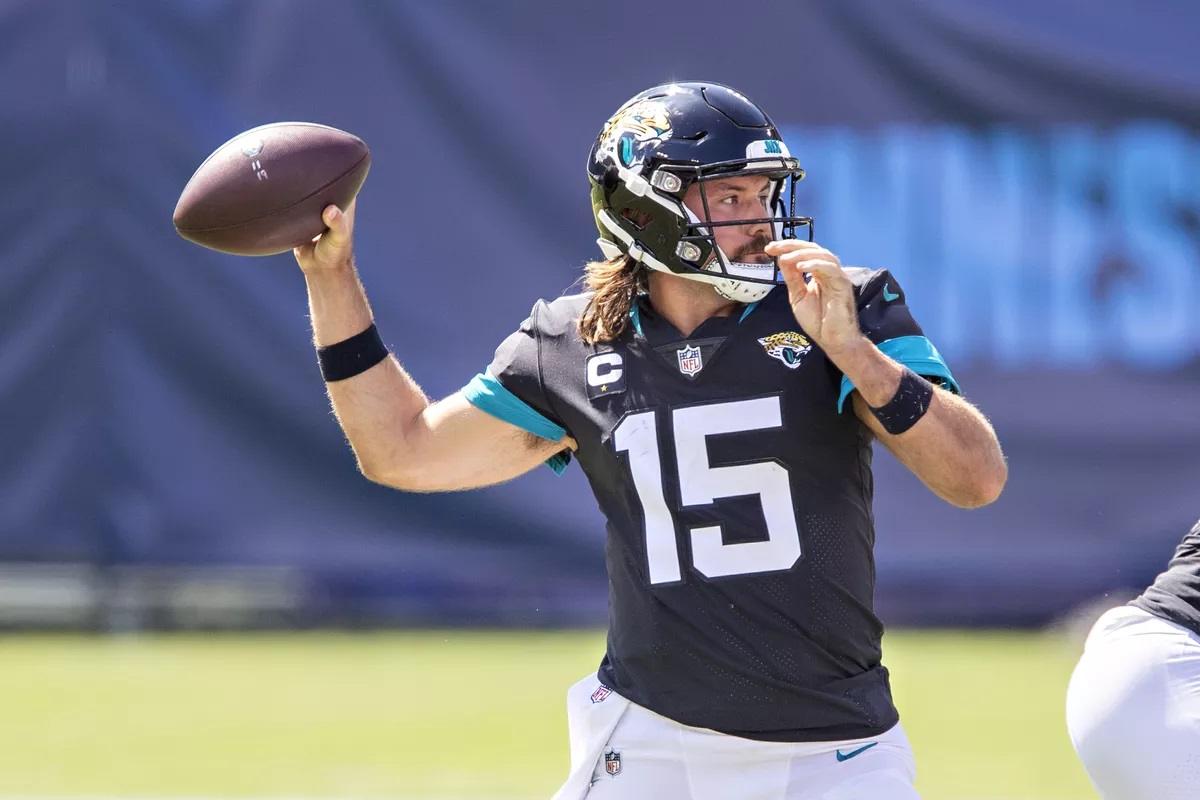 So, should you take Tannehill or Minshew? Great question, Minshew and the Jacksonville Jags (1-1) host the Miami Dolphins (0-2) during a short week on Thursday Night Football. Tannehill and the Titans (2-0) head to Minnesota to take on the winless Vikings (0-2) and their porous secondary. The Vikes allowed 71 points this season, the second-highest in the NFL.
---
WEEK 3 WAIVER WIRE – QB PICKUPS
Gardner Minshew (QB, Jacksonville Jaguars)
Ryan Tannehill (QB, Tennessee Titans)
Justin Herbert (QB, LA Chargers)
Joe Burrow (QB, Cincinnati Bengals)
---
Or, should you roll the dice with a rookie quarterback and pick up either Joe Burrow or Justin Herbert? Burrow is the #1 pick and the Heisman Trophy winner, but the Cincinnati Bengals are just bad. Justin Herbert had a literal baptism by fire when he found out that he'd start Week 2's game against the Super Bowl champions less than five minutes before kickoff. Herbert almost pulled off an insane upset over Patrick Mahomes and the Kansas City Chiefs, who won in overtime on a 58-yard field goal.
Week 3: Minshew Mania 2.0 or Underlooked Tannehill
If Wooderson (Matthew McConaughey) from "Dazed and Confused" was an NFL quarterback, he'd be Gardner Minshew. Minshew became a popular waiver wire pickup last season, but he's not currently on many peoples' rosters.
Everyone counted out and dismissed the Jacksonville Jaguars in 2020. Well, everyone except Minshew. He believed in himself and his squad, even though the so-called experts picked them to finish dead last behind even the sad-sack LOL Jets.
After two weeks, ESPN ranked Minshew #11 in their overall QB fantasy rankings. Minshew sits behind reigning MVP Lamar Jackson at #10 and the 2018 MVP Patrick Mahomes at #8.
Minshew's thrown six touchdowns so far this season as Minshew Mania flourishes in Jacksonville for a second season. In Week 2's close loss to the Tennessee Titans, Minshew threw for 339 yards and three touchdowns.
Let's be frank about Tannehill. Adam Gase ruined him during his brief tenure with the Miami Dolphins, much like he's ruining Sam Darnold with the NY Jets. Credit the Tennessee Titans and head coach Mike Vrabel for having the patience and faith that they could revitalize Tannehill's career once he overcame the near career-threatening "Gase PTSD" he suffered with the Dolphins.
Once Tannehill took over as the starter in Tennessee, the Titans went on a winning streak that took them all the way to the AFC Championship game. It's only been two games thus far in 2020, but Tannehill already proved last season wasn't a fluke. He's tossed six touchdowns and ranks #6 in the NFL in QB rating. Tannehill finds himself wedged in between Mahomes and Jackson in fantasy QB rankings at #9 overall.
So, Tannehill or Minshew in as a waiver wire QB in Week 3? Both play against bad teams, but Tannehill might rack up more fantasy points against a horrendous Vikings' defense.
Joe Burrow Wins QB Battle of #1 Picks
The Cincinnati Bengals started the season 0-2, but they lost two close games. In Week 1, the Bengals lost 16-13 to the LA Chargers in Burrow's NFL debut. Burrow ran for a touchdown but didn't throw one against the Chargers.
In Week 2, Burrow had a short week of preparation and had to quickly turn around to face the Cleveland Browns on Thursday Night Football in a battle between former #1 picks. The Browns won 35-30 when Burrow met Baker Mayfield in a divisional game for the first time.
Burrow threw for 316 yards, three touchdowns, and no interceptions in the loss to the Browns. He had better stats than Mayfield (219 yards, 2 touchdowns, 1 INT), but Mayfield booked the win. Burrow hooked up with Tyler Boyd seven times for 72 yards and a touchdown as the two quickly developed a strong relationship.
So, do you pick Burrow or Herbert off the waiver wire for Week 3? At this point, Burrow is a guaranteed starter, whereas the Chargers are taking a wait-and-see approach with either Tyrod Taylor or Herbert as a starter in Week 3.
Herbert's Next Man Up Debut
Not every rookie quarterback gets to make their pro debut against the reigning Super Bowl champion. Then again, Herbert woke up on Sunday thinking he'd be backing up Tyrod Taylor against the Kansas City Chiefs. However, Taylor had a rib injury and a bad reaction to a shot, which meant he was unable to play in Week 2.
Head coach Anthony Lynn tapped Herbert to start with less than five minutes before kickoff. The rookie didn't have any time to get nervous during his debut. Lynn threw him into the deep end of the pool and the kid survived. Herbert went 22-for-33 for 311 yards and one touchdown pass. He also rushed for a touchdown.
"That kid played his tail off," Mahomes said, praising Herbert.
Herbert became only the ninth rookie QB to throw 300-plus yards in his auspicious debut.
The Chargers led 14-6 at halftime, and led 17-9 heading into the fourth quarter. Mahomes worked his magic in the fourth quarter to force a tie before Kansas City locked up the victory in overtime on a 58-yard bomb of a field goal by Harrison Butker.
"I was really excited," said Herbert. "This is something I've waited for my entire life, and sure it didn't end the way we wanted to, but we made some big plays along the way."
"The Chargers picked the kid #6 overall for a reason," said ex-punter turned broadcaster, Pat McAfee.
Herbert is the future of the franchise, but if Taylor is healthy to play in Week 3, Herbert will return to backup duties … for now.