The Baltimore Ravens (12-5) were favorites by as much as 10 points during the lead up to the AFC Divisional playoff game against the Tennessee Titans (11-7). Even as a double-digit road dog, the Titans jumped out to a 14-0 lead to silence the crowd in Baltimore, and never looked back. Titans running back, Derrick Henry, rushed for 195 yards and threw a touchdown pass to lead the Titans to the 28-12 victory.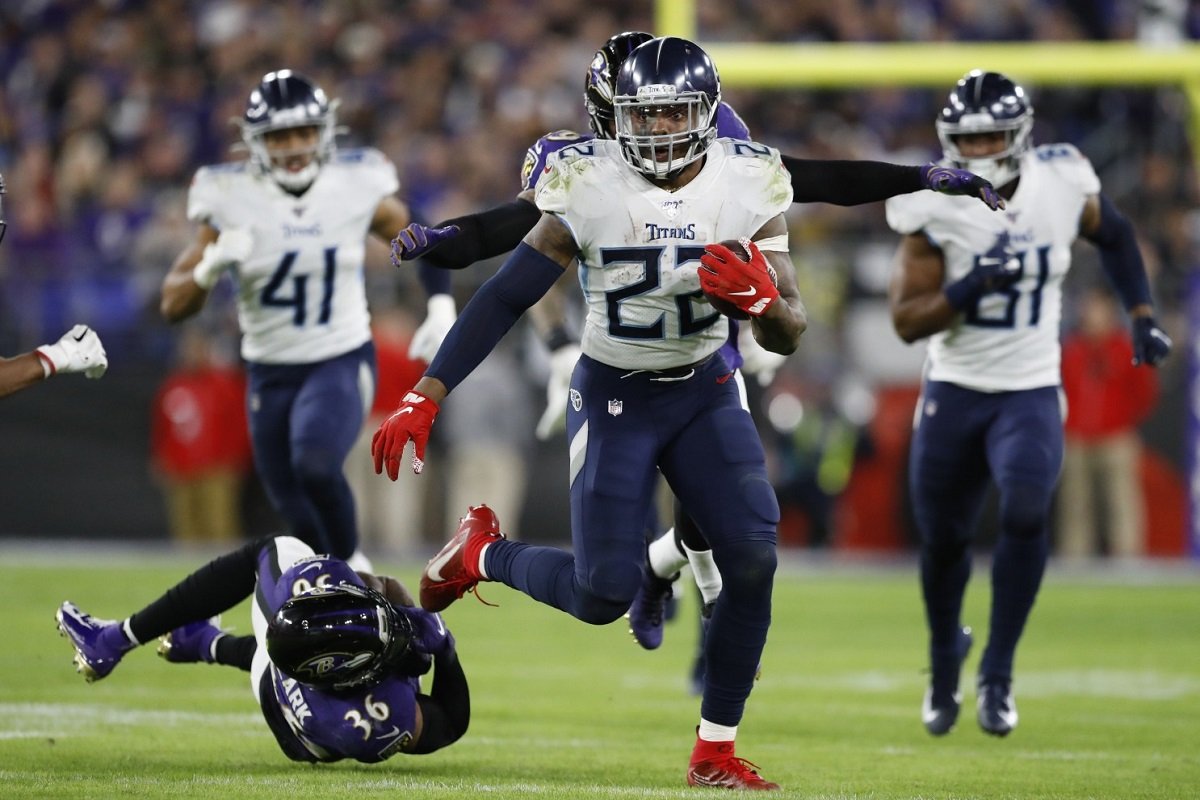 The #6-seeded Titans now advance to the AFC Championship game to face the winner of Kansas City/Houston. This is the first time a #1 seed lost to a #6 seed in the divisional round since 2010.
The Ravens suffered their first loss since Week 4 when they were 2-2. They won 12 consecutive games, but looked rusty after an opening-round bye week.
Henry set a new NFL record by rushing for at least 180-plus yards in his third straight game. Henry didn't score any rushing touchdowns against the Ravens, but he threw a jump-pass to Corey Davis for a touchdown in the third quarter to put the Titans ahead 21-6.
"It's not just me," said Derrick Henry. "It's a team effort. We're all playing collectively as an offense, as a whole. We're just locked in. We believe in each other. We communicate. It's working out there."
League MVP, Lamar Jackson, struggled with a pair of interceptions and a fumble. The ineffectiveness of Mark Ingram, who nursed a serious calf injury, was also apparent. Ingram rushed for a season-low six carries for only 22 yards.
"We just beat ourselves," Jackson said. "I had a lot of mistakes on my behalf. Three turnovers. That shouldn't happen."
Rusty Ravens?
After a sluggish first half, the Ravens could only muster up six points against the Titans on a pair of Justin Tucker field goals. They were down 14-6 at halftime and as bad as they played, they were still within striking distance.
Jackson had a 20-day layoff while resting in the final game of the season in Week 17, plus the bye week in the wild card.
"I don't have that answer," said Ravens coach John Harbaugh. "It's unanswerable. Our guys practiced really hard and did the best they could. But we didn't play a sharp football game, for sure."
The Ravens scored their first touchdown with 11 minutes remaining in the fourth quarter when Jackson found Hayden Hurst for a 15-yard TD. Jackson and the Ravens failed to convert a two-point conversion, and were down 28-12. That would be the last time the Ravens scored the rest of the game.
Jackson finished with 143 rushing yards on 20 carries. With a banged-up Ingram ineffective, the Ravens abandoned the run-game in the second half, and Jackson finished with 365 yards on 31-for-59 passing attempts.
Tannennhill Wins Again, Henry's Beastmode
Ryan Tannenhill is 8-4 since head coach Mike Vrabel benched Marcus Mariota. So far in two playoff games, Tannnenhill threw three touchdowns and only one interception. He hasn't put up eye-popping stats, with only 15-for-29 completed passes for 160 total yards. Then again, the surging Titans didn't have to rely on Tannenhill to bring home the victory.
When you have a special and powerful running back like Derrick Henry, you don't have to do anything extra aside from protecting the ball and feeding the beast.
"It's going to be grind, grind, grind and then he's going to bust one," said Vrabel.
The Titans got on the scoreboard quickly after they capitalized on a Lamar Jackson interception. Tannenhill connected on a 12-yard pass to Jonnu Smith to put the Ravens in the hole 7-0.
At the start of the second quarter, Tannenhill threw a 45-yard touchdown strike to Kalif Raymond. The Titans took a 14-0 lead and silenced a stunned crowd in Baltimore.
The Titans didn't back down in the second half. They scored two more times in the third quarter. Derrick Henry threw a 3-yard touchdown to Corey Davis on a jump-pass, trick play to put the Titans ahead 21-6.
"I haven't done that pass since high school," said Henry. "I feel l like I still got it."
🚨 DERRICK HENRY TOUCHDOWN PASS 🚨 @KingHenry_2 | #TENvsBAL pic.twitter.com/VU3vhqgp54

— Tennessee Titans (@Titans) January 12, 2020
Tannenhill added a 1-yard touchdown run less than three minutes later to open up a 28-6 lead.
With their win, the Tennessee Titans advanced to the AFC Championship game next weekend. Oddsmakers bumped up their 2020 Super Bowl chances to 11/2 odds.