New York Giants running back Saquon Barkley suffered a season-ending knee injury when he tore his ACL against the Chicago Bears. The Giants invited free agent RB Devonta Freeman to a work out in hopes they can sign him after Barkley's injury.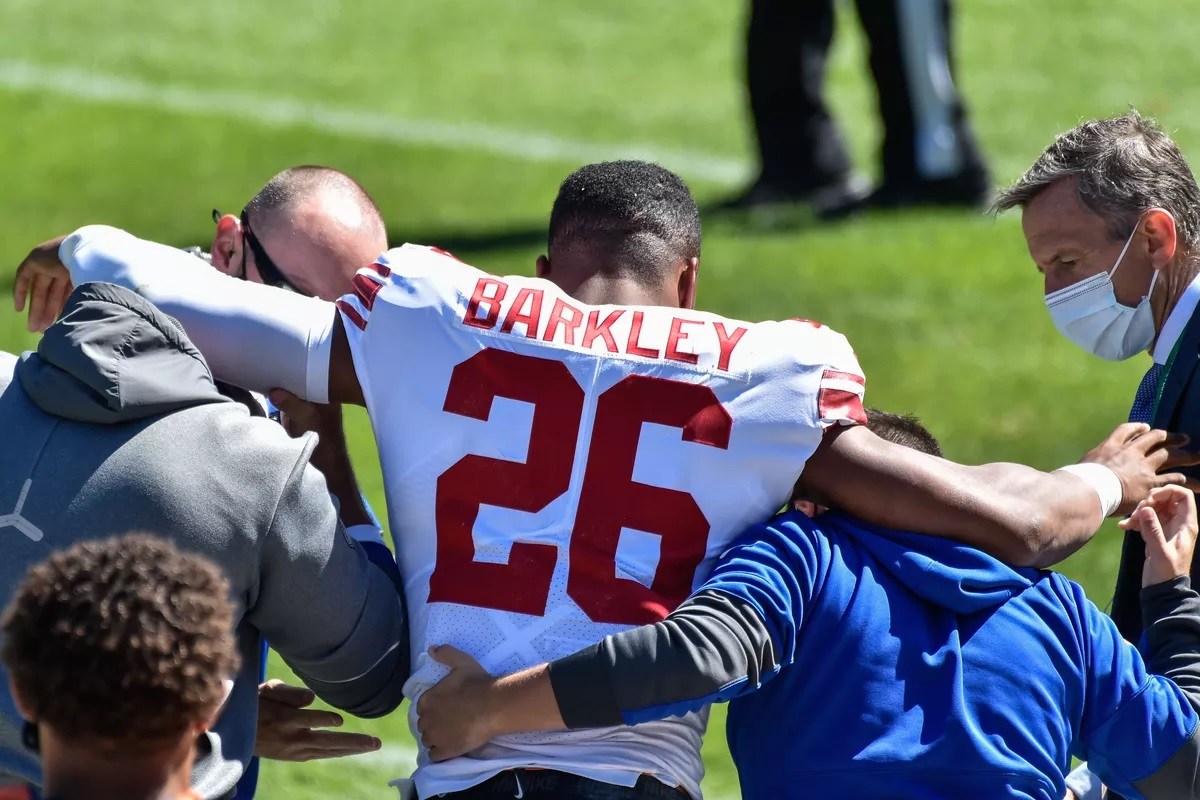 Medical staff carted Barkley off the field when he incurred an injury in the first quarter. Sources told ESPN on Sunday night that Barkley tore his ACL in Chicago. He will be re-checked by team doctors in New York City on Monday morning.
After an ugly game in Week 1 with just six rushing yards, Barkley got off to a much better start in Week 2 with 28 rushing yards before he left the game with an ankle injury. He had not yet scored a touchdown this season.
---
| | | | | |
| --- | --- | --- | --- | --- |
| | GAMES | TDs | RUSH YD | REC YD |
| 2018 | 16 | 15 | 1,307 | 721 |
| 2019 | 13 | 8 | 1,003 | 438 |
| 2020 | 2 | 0 | 34 | 60 |
---
The Giants drafted Barkley out of Penn State with the second overall pick in the 2018 NFL Draft.
In his rookie season, Barkley rushed for 1,307 yards and 11 touchdowns. He also added 721 receiving yards and  four TD receptions.
In 2019, he accounted for 1,441 combined yards and eight total touchdowns in 13 games. Last season, Barkley suffered a high ankle sprain and missed three games with that lingering injury.
Done for Season
You don't have to be a medical expert to watch the replay of Barkley's injury to know that he blew out his ACL. Bad beat for a good kid.
"Certainly a tough break for us," said QB Daniel Jones. "But I know those guys will battle. They'll attack the challenge, and we're excited to support them and we'll have guys step up."
Backup running back Dion Lewis stepped up in the second half. He rushed for 20 yards and a touchdown. Lewis also caught four passes for 36 yards.
"He's Saquon Barkley," said Lewis. "You lose a guy like that, it's a huge loss."
"Obviously we're all praying for the best," said head coach Joe Judge. "I would just say this: Regardless of whatever the outcome is going to be and the doctors say, don't fall asleep on Barkley. It's going to be a hell of a story either way."
The Giants relied upon Wayne Gallman last season as the next man up when Barkley missed several games with an ankle injury. Gallman was inactive in Week 2 due to a coach's decision.
The Giants also lost starting WR Sterling Shepard to an injury in Week 2. His status for Week 3 is unknown.
Tanking G-Men?
After the Giants started 0-2, whispers are coming out of New Jersey that the Giants and Jets are exploring the possibility of tanking the rest of the season for a shot at the #1 pick (presumably Clemson QB Trevor Lawrence). Never mind that both teams drafted a quarterback in recent years.
The Giants posted a 51-77 record since their last Super Bowl victory after the 2011 season. The G-Men have five losing seasons in the last six years.
The Giants are 12-36 over the last three seasons, including a 3-13 record in 2017 that allowed them to land Barkley in the 2018 NFL Draft.
It's one thing for the New York Jets to lose a lot of ball games. That's been the norm for the LOL Jets. The constant losing is atypical for the Giants organization, but they've been in a tailspin, and who knows when they will finally be able to stop the nightmare.
Giants and Jets racing for the No. 1 pick in the 2021 Draft pic.twitter.com/HC9TK4xn0S

— NFL Memes (@NFL_Memes) September 20, 2020