New York Giants running back, Saquon Barkley, sprained his ankle and left the Tampa Bay Bucs game, only to return to the sidelines on crutches with his right foot in a boot. The Giants pulled out a 32-31 comeback victory after a sensational debut from rookie quarterback Daniel Jones, but they lost All-Pro RB Saquon Barkley with a high-ankle sprain.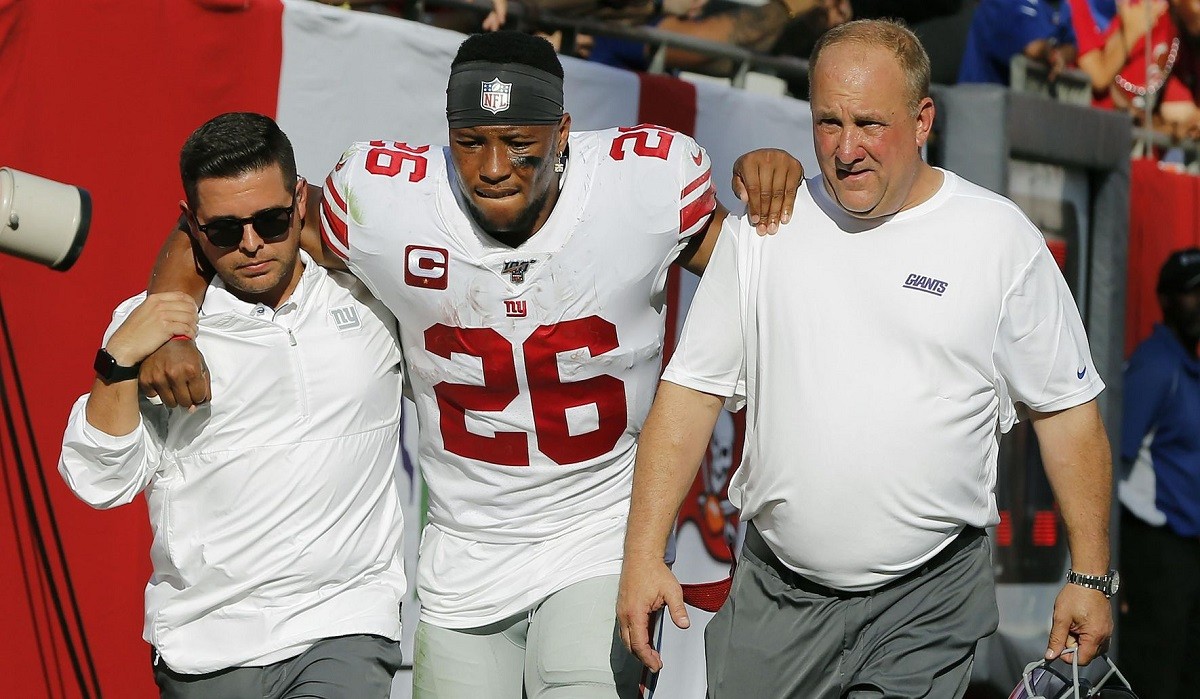 As bad as the Giants have been the last two seasons, Saquon Barkley stood out from the rest of the pack. In his rookie season, Barkley became a two-headed monster that can beat you on the ground and in the air.
In 2018, Barkley combined for 2,028 total yards and 15 touchdowns. He rushed for 1,307 yards, and caught 91 passes.
After a spectacular rookie season, fantasy nerds wondered if Barkley could improve upon his stats? The big question heading into everyone's fantasy football draft was, "Do I draft Christian McCaffrey or Saquon Barkley with the first pick?"
For now, Barkley is out at least 4-8 weeks. If you need a running back in fantasy football, then you should probably grab Barkley's backup, Wayne Gallman. The Giants drafted Gallman out of Clemson in 2017. He saw more action in his rookie season because he spent most of last year behind Barkley on the depth chart.
Here's the Saquon Barkley injury… pic.twitter.com/nGlR57H1sn

— #BusinessAintBoomin (@ftbeard_17) September 22, 2019
Barkley Down
Dr. David Chao, a former NFL team doctor with the San Diego Chargers, is a popular guest on sports radio shows and podcasts. In a recent interview on SiriusXM Fantasy Sports Radio, Dr. Chao said, "I'm hopeful this is better than AJ Green's potential 8-game, high-ankle sprain."
According to Dr. Chao, Barkley admitted he had a similar injury during his freshman year at Penn State. In that instance, the high sprain kept him out of the lineup for only two weeks.
The low estimates for his inactivity say four weeks, while some conservative estimates suggest eight weeks. The NY Giants have a late bye week this year. The G-Men are slated with the next-to-last bye in Week 11.
The wise move would be to shut down Barkley until the Giants return from the bye in Week 12.
"As far as what you can't do, it's (hard) getting around corners and cutting," explained Dr. Chao. "It's very hard to tape and support. It can aggravate and linger. This is another reason why he'll miss a couple of weeks. The Giants need him back fully healthy, not partly healthy."
However, it's difficult to keep NFL players on the sideline. If it were up to Barkley, he'd probably want to play this weekend. But the Giants are 1-2 and have no shot at actually winning their division. Letting Barkley return to full form, no matter how long that takes, is the best decision in the long term. In the short term, the Giants have a brand new QB to tinker with, so they'll let the fans bask in the warmth of the beginning Daniel Jones Era. And let the local media in NYC hound the #LOLJets for headlines and click-bait.
What Is a High Ankle Sprain?
Everyone sprains their ankles. It's a part of everyday life, especially as a professional athlete. Some sprains are more severe than others.
Patrick Mahomes sprained his ankle in Week 1. He only missed a couple snaps before he returned to action. In his case, he could return to the game with a low-ankle sprain after a trainer taped him up.
Barkley's sprained ankle is much more severe, which is why he can't pop a Vicodin, tape up his right foot, and plow through an opposing onslaught.
"A low-ankle sprain are standard inversion basketball-type sprains; a high-ankle sprain is when the foot turns out," said Dr. David Chao. "It spreads the strong ligament between the small bone and the big bone."
According to Dr. Chao, sometimes severe high-ankle sprains require surgery to repair ligament damage. Barkley's current case does not require surgery.