If you are seeking waiver wire pickups heading into Week 4 in your fantasy football league, then you should keep tabs on QB Daniel Jones (NY Giants), WR Phillip Dorsett (New England Patriots), and RB Wayne Gallman (NY Giants).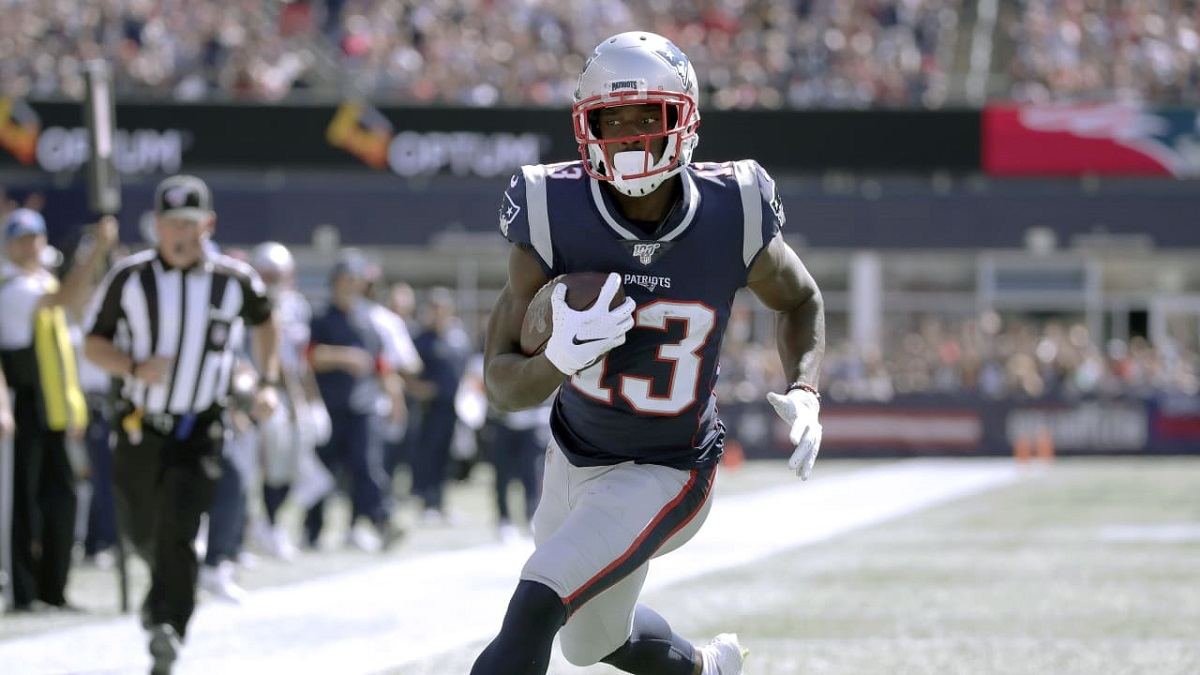 The NY Giants finally benched Eli Manning in favor of rookie Daniel Jones and Hones did not disappoint anyone in his debut with 2 passing and 2 rushing touchdowns. The Giants gained a QB, but lost a RB when Saquon Barkley injured his ankle. With Saquon Barkley out 4-8 weeks, his backup Wayne Gallman seems like an obvious addition.
WEEK 4 WAIVER WIRE PICKUPS:
Daniel Jones (QB, NY Giants)
Wayne Gallman (RB, NY Giants)
Phillip Dorsett (WR, New England Patriots)
Out in New England, wide receiver Phillip Dorsett has become a new favorite target from Tom Brady and he's expected to see more receptions if Julian Edelman's rib injury lingers.
Wayne Gallman, Saquon's Back Up
If you got lucky with a top draft pick and opted for Saquon Barkley over Christian McCaffrey, but did not pick a handcuff backup in the later rounds then you might want to grab Wayne Gallman before someone else blocks you.
The Giants drafted Wayne Gallman the year before Saquon Barkley. Gallman looked good in limited action in his rookie season. He barely played last year during Barkley's breakout season.
The only touchdown Wayne Gallman scored this season happened in Week 1.
Filling in for Saquon Barkley in Week 3, Gallman rushed only 5 times for 13 yards for a meager 2.6 yards per carry. He also added zero receptions.
The Giants play the winless Washington Redskins in Week 4. Barkley is expected to miss at least four weeks and possibly eight weeks. The Giants have a bye in Week 11, so there's a chance you could be without Barkley through Week 12.
Daniel Jones to the Rescue
Okay, let's not hand out the key to the city and rename the New Jersey Turnpike for Daniel Jones just yet. The rookie played one game against a bad team and a rusty coach that made a rare bad decision down the stretch. Even if the Gants lost to the Tampa Bucs, everyone in NYC would still be going berserk over Daniel Jones. At this point, everyone in the tri-state area has shut up about "Jones being a terrible draft pick" and have jumped on the "Why didn't we bench Eli Manning sooner?" bandwagon.
Daniel Jones is a worthy waiver wire pick up because he demonstrated a good arm and the ability to scramble under pressure. Jones did not put on a total QB-ground attack clinic like Lamar Jackson did last year with the Ravens. Jones is not a run-first QB, but he will take that route if all of his other options are not available.
In his auspicious debut, Jones scored two rushing touchdowns and tossed two more. The rookie finished 22-of-36 for 336 yards and zero interceptions in his debut. He got sacked five times though.
Jones developed a quick rapport with TE Evan Engram and WR Sterling Shepard. Both players post 100-yard games. Engram caught 6 passes for 113 yards and a touchdown. Shepard torched the Bucs secondary for seven receptions, 100 yards, and a touchdown.
PERFECT timing#GiantsPride | #NYGvsTB pic.twitter.com/lSvXSyzxVB

— New York Giants (@Giants) September 22, 2019
AB Who? We got Phillip Dorsett!
If Phillip Dorsett keeps playing like this, he will get an invite to Tom Brady's house for Christmas. Bill Belichick certainly loves Dorsett for his versatility.
Dorsett spent his first two seasons with the Indianapolis Colts before joining the Patriots in 2017. Dorsett scored 3 touchdowns last season and he averaged to catches per game.
The backup WR found himself far down on the depth chart behind Brady's BFF Julian Edelman, Josh Gordon, and Antonio Brown. Now that the Patriots punted on AB after one game, Dorsett moved up a spot. When Julian Edelman left the Jets game with a rib injury, Dorsett became a bigger option for Brady.
"Phil has done a great job for us," said coach Bill Belichick. "He's been versatile and very dependable. His role has changed many times. He's very smart and comes through for us week after week, year after year, in many critical junctures."
In the easy win against the Jets, Dorsett finished with 6 receptions for 53 yards and one touchdown.
In Week 1, Phillip Dorsett caught two touchdown passes in a 33-3 blowout against the Pittsburgh Steelers. In any blowout against the tanking Miami Dolphins, Dorsett caught three balls but did not find the end zone.
The Pats play the undefeated Buffalo Bills in Week 4. If you need a WR, Philllip Dorsett is among the top waiver wire pickups.
Catch, run, score.@dorsett_4 | #GoPats pic.twitter.com/258gYlOZrj

— New England Patriots (@Patriots) September 22, 2019