Here's come the Joker with his silly grin, and he's now the consensus favorite to snag the NBA Most Value Player Award. Nikola Jokic, the big man from the Denver Nuggets, emerged as the betting favorite at -110 odds to win the 2021 NBA MVP, according to a new update by DraftKings.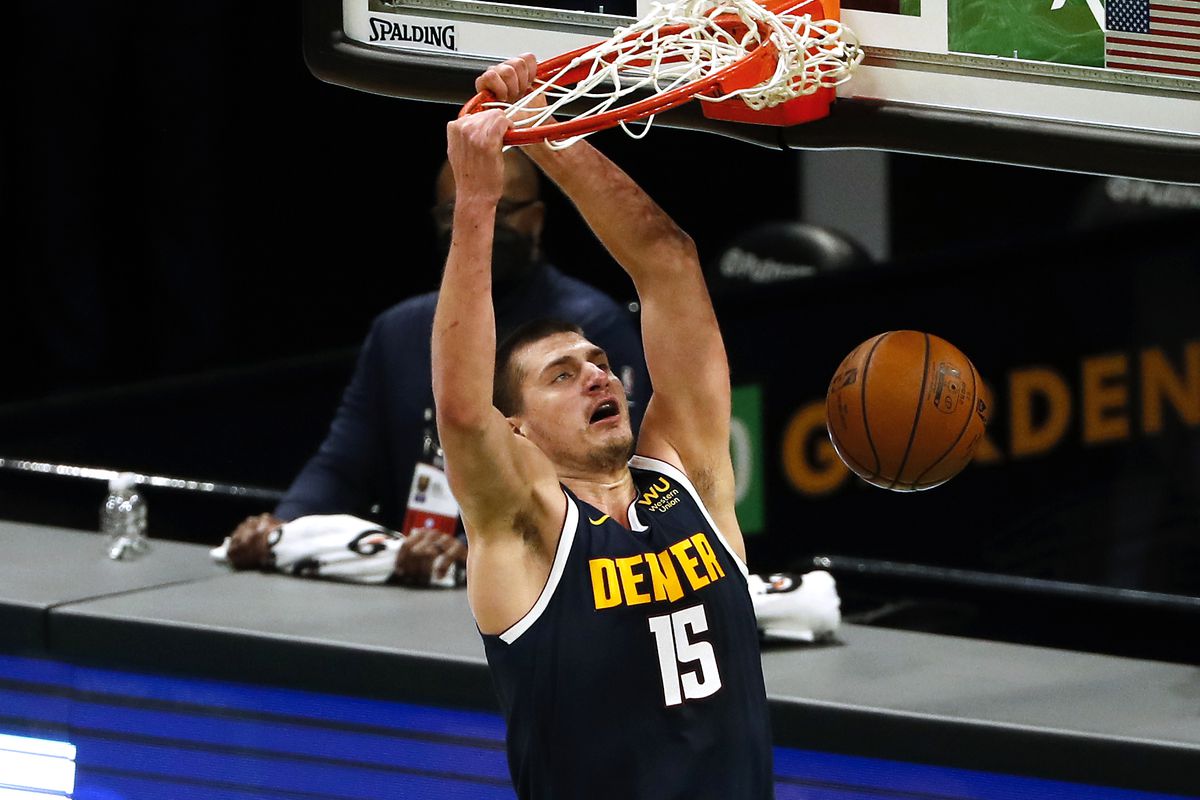 Jokic surpassed the previous MVP favorites, Joel Embiid (+500) and LeBron James (+600 odds), who both succumbed to injuries over the last week. Embiid went down with a hyper-extended knee last week, and he's expected to miss at least another week. LeBron suffered a high ankle sprain and he's expected to miss at least a month, though he could be out for up to two months.
In the meantime, a healthy Jokic took over as the betting favorite to win the MVP. Earlier in the season, Denver Nuggets fans fired away at prop bets backing their hero.
---
Nikola Jokic -110
Joel Embiid +500
LeBron James +600
Giannis "Greek Freak" Antetokounmpo +800
James Harden +900
Luka Doncic +1200
Damian Lillard +1400
Steph Curry +2000
Kawhi Leonard +5000
Donovan Mitchell +6000
Kevin Durant +10000
Kyrie Irving +15000
Jimmy Butler +15000
Jamal Murray +25000
Julius Randle +25000
Ja Morant +25000
Trae Young +25000
Bradley Beal +25000
Chris Paul +25000
---
Giannis Antetokounmpo won the MVP in the previous two seasons, but the Greek Freak isn't among the favorites to win a third-straight MVP. Coming into the 2020-21 season, Luka Doncic was the public's pick to win the MVP at +500 odds, followed by LeBron James at +600.
Joker Crushing It
Jokic entered this season in the second group of MVP candidates with Embiid and Steph Curry. In the preseason, you could've backed Jokic at +1400 odds to win the MVP.
The Denver Nuggets had a short offseason because they advanced to the Western Conference finals. They barely had any time for a vacation before they headed into training camp before the start of the 2020-21 season. As a result, they stumbled out of the gate before they found their groove about 25 games into the season. The Nuggets are 14-6 over their previous 20 games.
---
Nikola Jokic MVP Odds History

10/31/21: +1400
1/14/21: +800
1/27/21:  +700
3/6/21: +450
3/23/21: -110
---
Jokic averages 27.1 points per game and ranks #9 in the NBA in scoring. He scored 35-plus points 11 times this season and scored 40-plus four times. He set a new career-high back in February when he erupted for 50 points against the Sacramento Kings.
Jokic is known as one of the premier passing big men in the game. He's currently the NBA's sixth-best passer, averaging 8.6 assists per game. He's also ranked #9 in rebounding, averaging 11.2 boards per game. Geeks that get aroused by advanced metrics will gush about Jokic's PER rating. He's ranked #1 in the league with a 31.76 PER.
Jokic recently posted the 53rd triple-double of his career, and his third triple-double in the last four games. He scored 28 points and added 15 rebounds and 10 assists against the Orlando Magic on Tuesday night. Overall this season, Jokic tallied 12 triple-doubles.
MVP Three-Peats: Russell, Chamberlain, Bird
Only eight players in NBA history won the MVP at least three times, and Antetokounmpo is attempting to become the ninth. That prestigious list includes Kareem Abdul-Jabbar (6), Bill Russell (5), Michael Jordan (5), Wilt Chamberlain (4), LeBron James (4), Moses Malone (3), Larry Bird (3), and Magic Johnson (3).
LeBron won four MVPs within a five-year span between 2009 and 2013. Many of LeBron's stans believe King James was robbed of his fifth MVP last year when the Greek Freak won back-to-back MVPs. LeBron had the inside track this season, but the sprained ankle will derail his bid for a fifth.
Antetokounmpo is seeking the first MVP three-peat since Larry Bird's run between 1984 and 1986. It's amazing that even Jordan, Magic, or LeBron never won three in a row.
In the 1960s, Bill Russell and Wilt Chamberlain each won the NBA MVP in three consecutive seasons. Russell won three in a row with the Boston Celtics between 1961 and 1963. Chamberlain won three-straight with the Philadelphia 76ers between 1966 and 1968.
You can back Antetokounmpo at +800 odds to win an NBA MVP three-peat.