Heading into the All-Star Break, Joel Embiid is the new betting favorite to win the 2021 NBA MVP at +200 odds, slightly ahead of LeBron James. Luka Doncic, the preseason consensus favorite to win MVP, saw his MVP odds slip to +1200.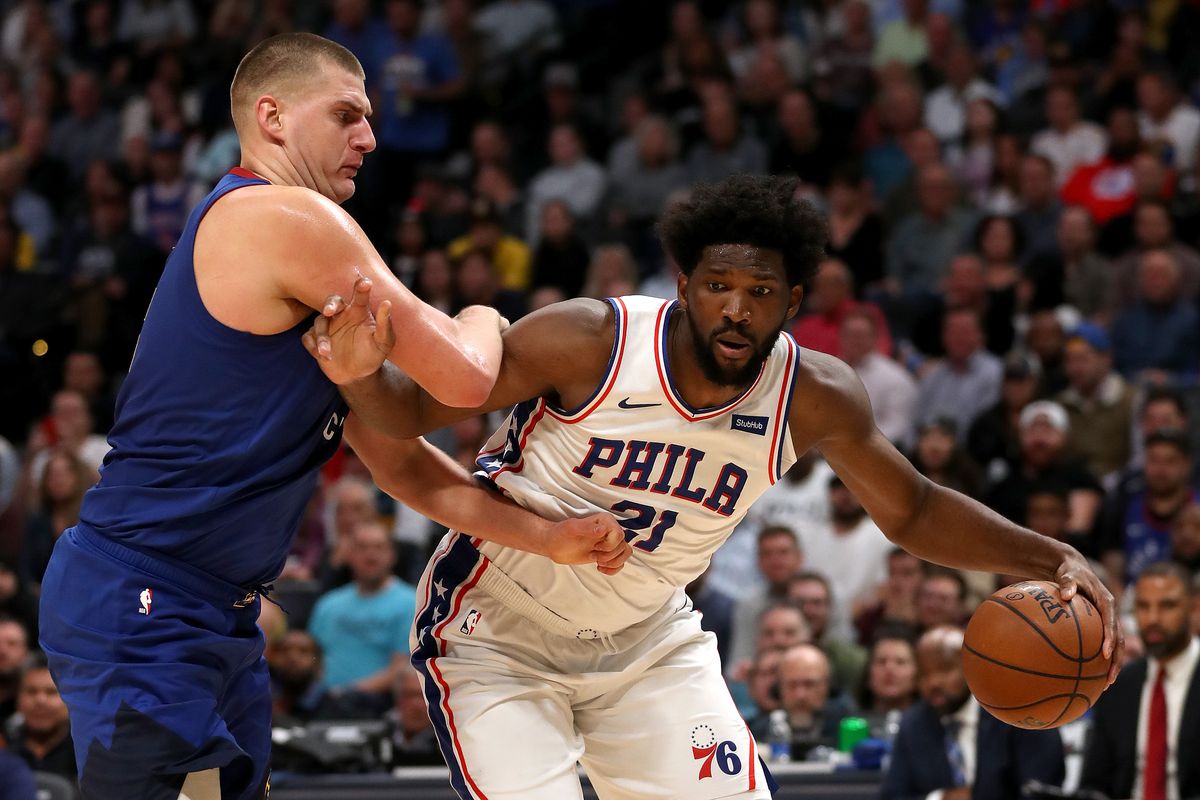 The Greek Freak won the MVP the last two seasons, but he slipped to +1600 odds to secure an MVP three-peat. At the end of January, the Freak was only +1000 odds for MVP. He was one of the favorites at the start of the season behind Doncic.
| | | | |
| --- | --- | --- | --- |
| | 3/6/21 | 1/29/21  | 12/25/20 |
| Joel Embiid | +200 | +600 | +2000 |
| LeBron James | +250 | +350 | +600 |
| Nikola Jokic | +450 | +700 | +1400 |
| Luka Doncic | +1200 | +600 | +500 |
| Giannis Antetokounmpo | +1600 | +1000 | +600 |
| Steph Curry | +2000 | +2000 | +1000 |
| Damian Lillard | +2000 | +2500 | +1600 |
| James Harden | +2500 | +3000 | +1300 |
| Kawhi Leonard | +3300 | +6000 | +1500 |
---
Embiid started the season in the middle of the pack in the MVP race. He's had a monster season and led the Philadelphia 76ers to the best record in the Eastern Conference. Embiid saw his odds move from +2000 to +600 at the end of January. He's since moved ahead of LeBron, Doncic, and Jokic.
MVP Race: Embiid, LeBron, or Doncic
For an old guy, LeBron is still crushing his peers that are a decade or more younger than him.  King James averages 25.8 points, 8.0 rebounds, and 7.8 assists per game. He's 36-years old and appeared in 36 out of 37 games. And if it were up to LeBron, he would've played in all 37.
LeBron was a public favorite to win his fifth MVP and he was one of the top three MVP favorites entering the season. LeBron seeks his first MVP since 2013 when he played with the Miami Heat. Many insiders felt LeBron should've won the MVP last season over the Greek Freak. The Bucks were the best team in the league, but the Freak disappeared in the postseason for a second-season in a row. LeBron saw his MVP odds move from +600 to +350 to +250.
Doncic (28.6 ppg, 9.1 assists, 8.4 rebounds) and the Dallas Mavericks (18-18) are fighting for a playoff spot, but it's been a one-man show for Doncic. The Unicorn missed most of the first half and looked rusty in his return. Meanwhile, Doncic carried the Mavs the entire first half. But they're not doing so hot, so it's tough to woo MVP voters when your team might bubble the playoffs.
Embiid is currently ranked second in the NBA in scoring averaging 30.2 points per game. He's the NBA's fifth-best rebounder pulling own 11.6 rebounds per game. His 31.19 PER is ranked #2 overall. If you think Embiid will win the MVP, then fire away ASAP to lock in +200 odds before they continue to shrink.
Jokic, Harden, and Dame
Damian Lillard (29.8 ppg, 8.0 assists) gets my vote for MVP, especially because Dame carried the Blazers when CJ McCollum went down with a broken foot. Have you seen some of the insane deep shots he's taking on a regular basis? The NBA's third-leading scorer routinely knocks down 30-plus footers. He'll even pull up on a fast break to unleash a three-bomb. Lillard offers value at +2000 odds, but there's a bias against beta cities when it comes to MVP voting.
The modern center love to hoist 3-pointers, but few can get down and dirty on the block. Jokic (27.1 ppg, 11.0 rebounds, 8.6 assists) can play old school and new school hoops, which makes him fun to watch. He's also the best passing center in the league and one of the best in NBA history. Jokic is only +450 odds to win MVP. He would probably win if you truly voted for the one guy that their team could not live without. These days, the MVP is as much as a popularity contest.
James Harden quickly adjusted to the Brooklyn Nets after he finally left Houston in a mega-trade. Harden no longer has to be the primary scorer on every possession. He averages 25.3 points per game and only ranked #14 in scoring, but he's the top passer in the NBA. He leads the league in assists with 11.1 per game. Harden is now an outside shot at MVP at +2500 odds.
Long Shots: Randle, D-Book, Beal, Spida
Julius Randle (23.2 ppg, 11.1 rebounds) earned a spot on the NBA All-Star Team. He's also on the short list for Most Improved Player. A slimmer Randle has been the main reason the Knicks finished above .500 in the first half of the season. The Knicks exceeded expectations and currently sit in the #5 spot, which says a ton about a team that tanked for a lottery pick two seasons ago. Randle is a long shot at +25000 odds to win the MVP.
The Utah Jazz has a triple guard trio that will knock your socks off, but Donovan Mitchell (24.7 ppg) is a long shot to win the MVP at +6000 odds. But even if you remove Spida, Jordan Clarkson could slide into his spot.
Devin Booker (24.9 ppg) initially earned a snub from the All-Star Game. But for a second season in a row, he got added to the NBA All-Star roster as an injury replacement. Booker is a long shot at +15000 odds to win MVP, but these day's he's getting more press as Kendall Jenner's latest significant other.
Bradley Beal (32.9 ppg) is a moonshot at +50000 to win the MVP, but he's clearly having a monstrous season. Beal leads the NBA in scoring. The Washington Wizards were one of the hotter teams over the last two weeks of the season, ever since a sports bettor fired away on a futures be that will pay out $5 million if the Wiz win the 2021 NBA Championship.