From its launch, NBA Top Shot stood out from the NFT competition by offering a slick interface and video moments in contrast to the static art pieces other companies sold. But beyond that, Dapper Labs has found a multitude of ways to keep collectors engaged, with its regular challenges arguably the most important of all.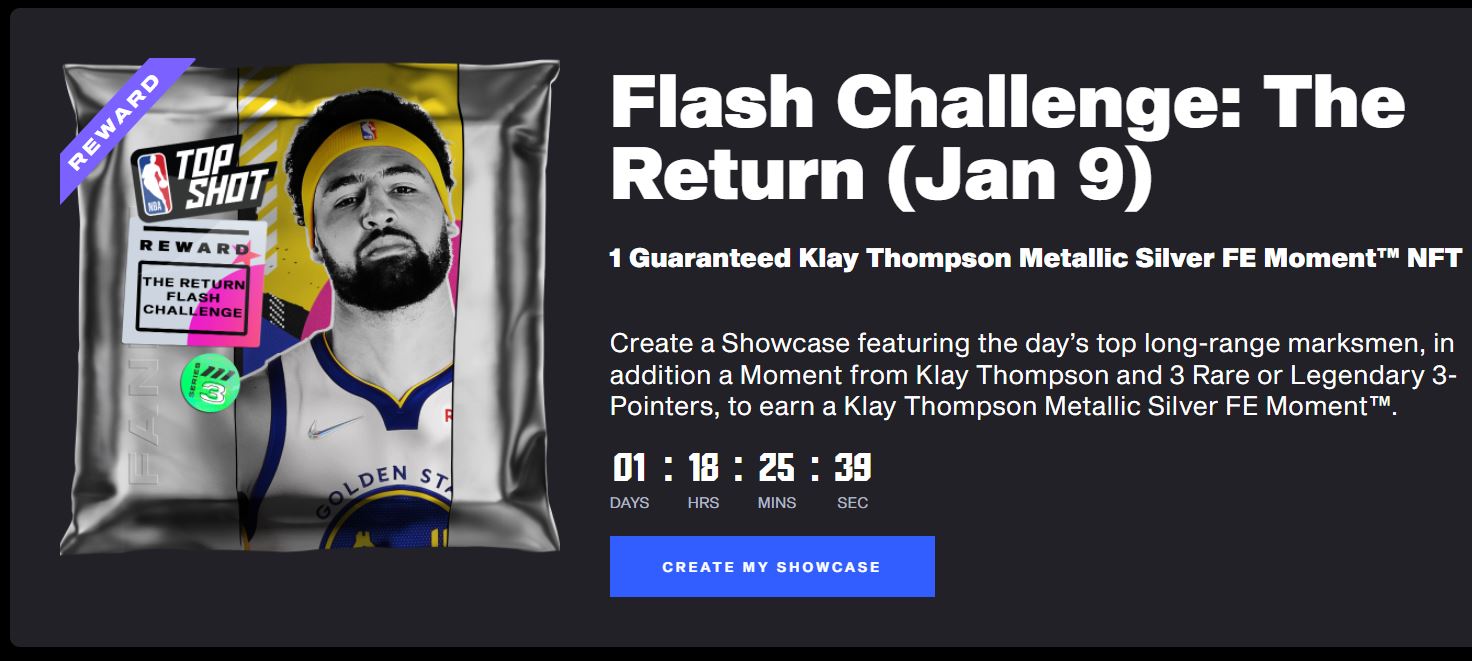 NBA Top Shot isn't the only sports NFT platform to use challenges or similar programs to keep users coming back to their sites or buying and selling their collectibles.
Challenges drive engagement for NFT sites
Panini and Topps have also used challenges as an engagement tool. But nowhere are they more ubiquitous to the ecosystem than in NBA Top Shot.
A challenge provides users with a way to earn a card, pack, or other reward based on what they already have in their collection. The most basic type of challenge asks a collector to complete a given set of cards by a set time. At that time, anyone who holds the required set will get the reward.
A recent challenge required users to collect nine Metallic Gold Limited Edition (MGLE) cards. Seven were specific players from the current Series 3 set, including Anthony Davis, Julius Randle, Marcus Smart, and others. Users also had to have two MGLE moments with the "handles" label from Series 1 or Series 2.
That's a hefty number of rare moments for any user to add to their collection, but the reward might be worth it: an exclusive Trae Young MGLE moment. Only 386 users completed the challenge, and the resulting moment is now selling for at least $620 in the NBA Top Shot Marketplace.
Thompson moment latest in Flash Challenge series
Not all challenges are that difficult to complete. Top Shot regularly runs what they call "Flash Challenges" based on the results of a given night of games.
On Monday Night, users could create a showcase with moments featuring the leading scorers of each NBA game, as well as an Archive Set moment from each of the three winning teams. Anyone who completed that showcase earned an Archive Set pack. A hard version of that challenge requires rare or legendary moments, rewarding a rare pack from Series 2 instead.
For collectors who think completing these challenges is a no-brainer, it's important to keep in mind that the moments needed for these showcases go into high demand the instant users learn what they need to purchase. That means prices go up – and in the case of rare moments, can go through the roof – only to fall again after the challenge is completed.
941 days.
Leading into 1 epic night.

Here's how to own a Moment™ NFT from The Return. #NBATopShotThis #KlayDay #Warriors https://t.co/lOf7OdmDDQ

— NBA Top Shot (@nbatopshot) January 10, 2022
NBA Top Shot is currently running a challenge celebrating Klay Thompson's return to action on Sunday, with an exclusive Thompson moment as the reward. To earn that prize, collectors must make a showcase with one moment from each of Sunday night's top five leaders in 3-pointers made, a Thompson Vintage Vibes or Deck the Hoops moment, and three additional rare or legendary 3-pointers.
The current minimum cost to put together that showcase stands at approximately $850, assuming a collector doesn't already own some of the needed moments. But those who see NBA Top Shot as a long-term investment may well be willing to spend that in order to get their hands on another exclusive moment for their collections.