Since NBA Top Shot took off and became a phenomenon in January, every pack the site has released has delivered guaranteed value for buyers. Even if a collector opened the worst cards in a set, they could turn around and sell them for an immediate profit.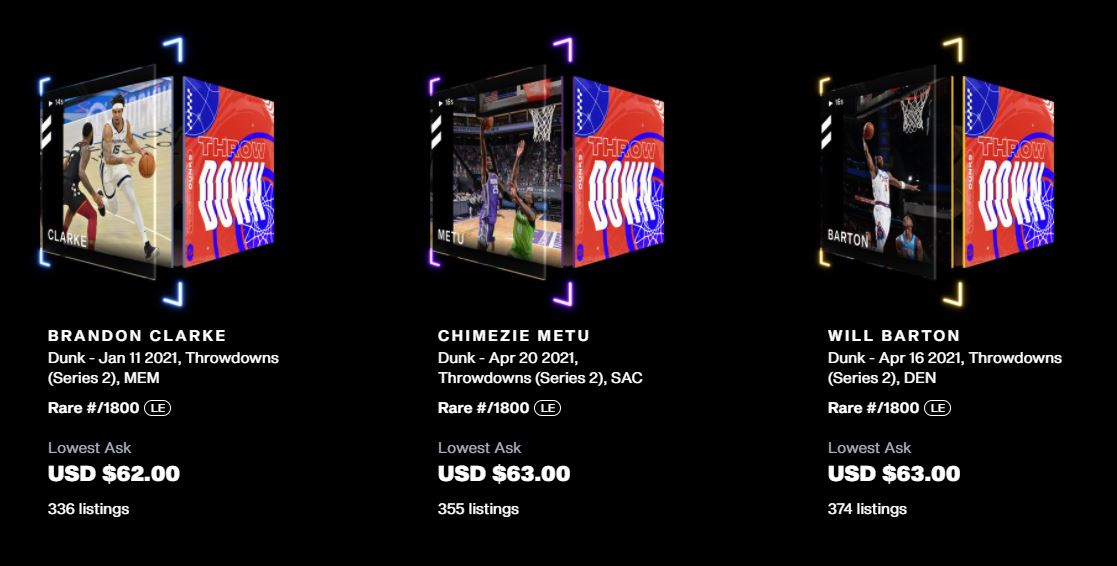 But times have changed in recent weeks, as NBA Top Shot prices have slowly but steadily declined. Nowhere is that more apparent than in the Throwdowns Series 2 packs that the platform released on Monday.
Collectors show muted interest in latest Top Shot offering
In concept, the Throwdowns packs offered up an attractive product for collectors. The set featured 45 memorable dunks from the 2020-2021 NBA season. Top Shot minted 1,800 of each moment and placed one in each pack (along with five Series 2 Base Set moments). Each pack retailed for $149.
But, the set featured relatively few star players. That seemed to keep away many collectors and investors, as NBA Top Shot's Twitch account only reported about 110,000 people who initially queued for the packs. Some of those didn't even want the Throwdowns product, instead leaving the line, then reentering at the back for a $9 base set "rebound" pack instead.
From #WontBowDown …

With authority, Zionnnnn Williamsonnnnn 💪🏼😤 pic.twitter.com/j4O9HvYN72

— NBA Top Shot (@nbatopshot) May 10, 2021
After the drop, collectors showed soft interest in the product as well. Despite the price of the packs, users can currently buy the cheapest moments from Throwdowns – dunks by players like Jaxson Hayes, Brandon Clarke, and Montrezl Harrell – for just over $60.
Of course, it was still possible to make a handsome profit from buying a pack. Anthony Edwards moments are fetching a minimum of $273 as of Tuesday night, with a Zion Williamson dunk also selling for $240. Premium serial numbers also command much higher prices.
Still, it appears that the era of guaranteed money is officially over on NBA Top Shot. This might be more of a market correction than a worrying trend: traditionally, sealed product is worth more than the average value of the cards within. It could also mean that more collectors will be able to get their hands on product that they want. But the trend is worth monitoring to see where Top Shot moves over the months and years to come.
Breaking down the Topps MLB 1952 Redux set
Collectors are still waiting on the second major drop of Topps MLB NFTs. In the meantime, the one dynamic aspect for the digital baseball card offering has been the 1952 Redux packs.
Each week, users can "burn" a selection of common cards to buy jumbo packs of four 1952 cards, or mini-packs containing two cards, each featuring a retro 1952 Topps card template. The burnable cards change each week, with Topps announcing that there will be five weeks of this promotion.
What wasn't immediately obvious – at least to me – was that each week's 1952 Redux pack could only contain a subset of 10 of the 50 cards in the set. That has made some packs more valuable than others. As of Tuesday evening, Week 2 Jumbo packs were retailing for a minimum of about $150; meanwhile, Week 4 packs started at about $215.
---
Topps MLB NFTs: 1952 Redux Packs
Week 1
Week 2
Week 3
Week 4
Week 5
Adell
deGrom
Ohtani
Judge
Trout
Betts
Chapman
Bellinger
Tatis
Kershaw
Alonso
Bohm
Yelich
Bregman
Cole
Freeman
Acuna
Donaldson
Pujols
Bell
Martinez
Devers
Mize
Bart
Bryant
Baez
Jimenez
Goldschmidt
White
Votto
Robert
Lindor
Pearson
Molina
Cabrera
Gray
Alvarez
Strasburg
Snell
Carlson
Arenado
Machado
Torres
Guerrero
Bichette
Verlander
Posey
Harper
Scherzer
Soto
---
You can check out the table above to see which players are in which packs. Expect the Week 5 packs to carry a premium: Mike Trout will appear in the final group, with Bo Bichette, Juan Soto, and Clayton Kershaw also likely to drive up prices at least a bit.