The NBA playoffs have produced a laundry list of upsets, buzzer-beaters, and memorable moments leading up to the Finals. That's given NBA Top Shot plenty of material to work with throughout the playoffs, and more than a few opportunities to try out some new ideas as the NFT platform continues to evolve during its open beta phase.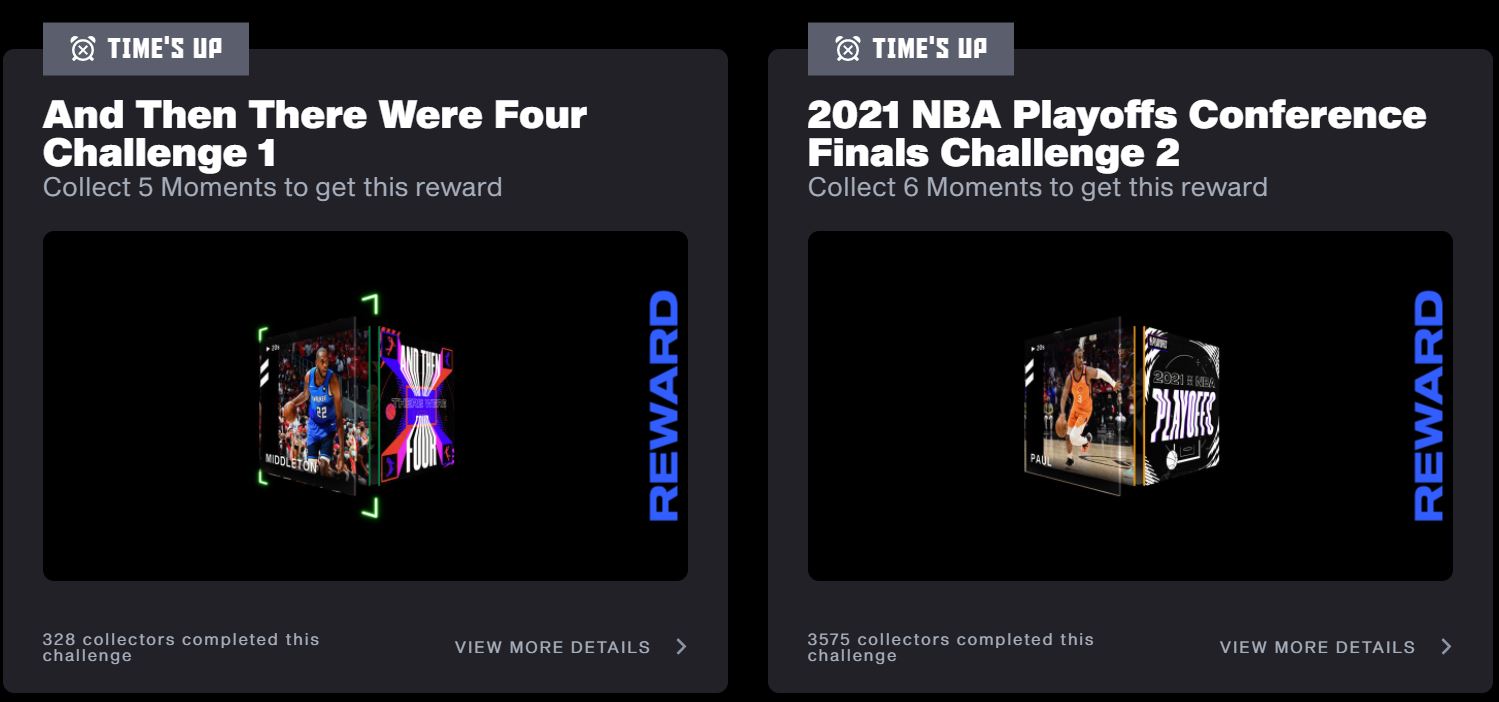 While prices on the platform remain stagnant, NBA Top Shot has used the postseason as an opportunity to try different formats for releasing packs and rewarding collectors.
Top Shot adjusts Collector Score system
I've written before about Top Shot's Collector Score system, in which users earn a score based on the moments they hold along with various bonuses, such as owning complete sets or spending money in the marketplace. The initial implementation of this feature made it easier for veteran investors and collectors to snag rare or legendary packs, but completely shut out newer users unless they were willing to spend big on moments in the marketplace.
For the "And Then There Were Four" drop – a rare pack with moments from the conference finals – NBA Top Shot mixed things up yet again. The platform divided its drop into three tiers of 2,000 packs each.
TODAY'S THE DAYYYYYY

🏀 'And Then There Were Four'
💥 Rare Pack Drop
⏰ 2 pm PDT General Queue

Final hours to get in: https://t.co/VkREZRdtKR pic.twitter.com/x43rR51bIh

— NBA Top Shot (@nbatopshot) July 14, 2021
Almost all users qualified for the "general" drop, needing only a collector score of 100 to participate. Collectors could also qualify for two priority queues, one for those with a collector score of at least 5,000, and another for those with a score of 10,000 or higher. That gave experienced users the best chance to buy a pack, but allowed almost all users to have some chance of success. NBA Top Shot hasn't announced whether will use this method again for its coming NBA Finals legendary pack.
Valley Oop features in latest challenge
Speaking of "And Then There Were Four," the set features just 10 moments. Five were immediately tied to a challenge that rewarded a Kris Middleton moment. Only 328 collectors completed that challenge – hardly surprising, since there are only 750 of each of the rare moments in the set.
NBA Jam En Fuego Mode Activated 😤

This Khris Middleton #ATTW4 Challenge Reward will never be released in packs. But it can be yours if you collect all 5️⃣ required Moments 👀

Complete Challenge: https://t.co/GfY8N4Ag29 pic.twitter.com/siFjhddVZH

— NBA Top Shot (@nbatopshot) July 15, 2021
Many collectors could be more interested in the second challenge from the set: the infamous Valley Oop, featuring Deandre Ayton. Users who want to snag one might have to spend $1,000 or more to grab the five moments necessary to get the reward, but it could prove to be one of the most collectible plays from the 2020-21 season.
Remember THIS?! 💥

The #ValleyOop Moment is a Challenge Reward for the #ATTW4 set that will never be released in packs 👀

What's your Deandre Ayton stat line prediction for GM 4? ⬇️

Join General Queue: https://t.co/VkREZQVSmh https://t.co/tBuzmIBr9L pic.twitter.com/Zf1eO1nuGy

— NBA Top Shot (@nbatopshot) July 14, 2021
Those looking to spend less money had plenty of opportunities throughout the playoffs. Over the first three rounds, NBA Top Shot offered up 20 common challenges tied to its 2021 postseason collection. In most cases, anywhere from 2,000 to 3,000 users collected the moments needed to grab these rewards.
Top Shot has also placed more emphasis on "quests" during the postseason, particularly during the NBA Finals. The platform has announced rules for creating showcases of certain moments for each Finals game: for instance, the top points scorers, or players with the best plus/minus numbers. These quests have awarded playoff packs at random as another way to encourage user engagement.
It's unclear how investors are valuing all of these new initiatives. The NBA Top Shot marketplace hasn't boomed during the playoffs, though it's notable that its previous slide seems to have ended as of late. As of Monday afternoon, the Momentranks.com MR 100 index stands at 1.858.72 – still far off the 4,241.08 it opened at in early May, but virtually unchanged over the past two weeks.