UFC president Dana White and undefeated boxer Floyd Mayweather Jr. have been talking about a potential partnership in recent months. Now, White says that an agreement between the two would likely result in Mayweather competing in some capacity, though perhaps not in the realm of MMA.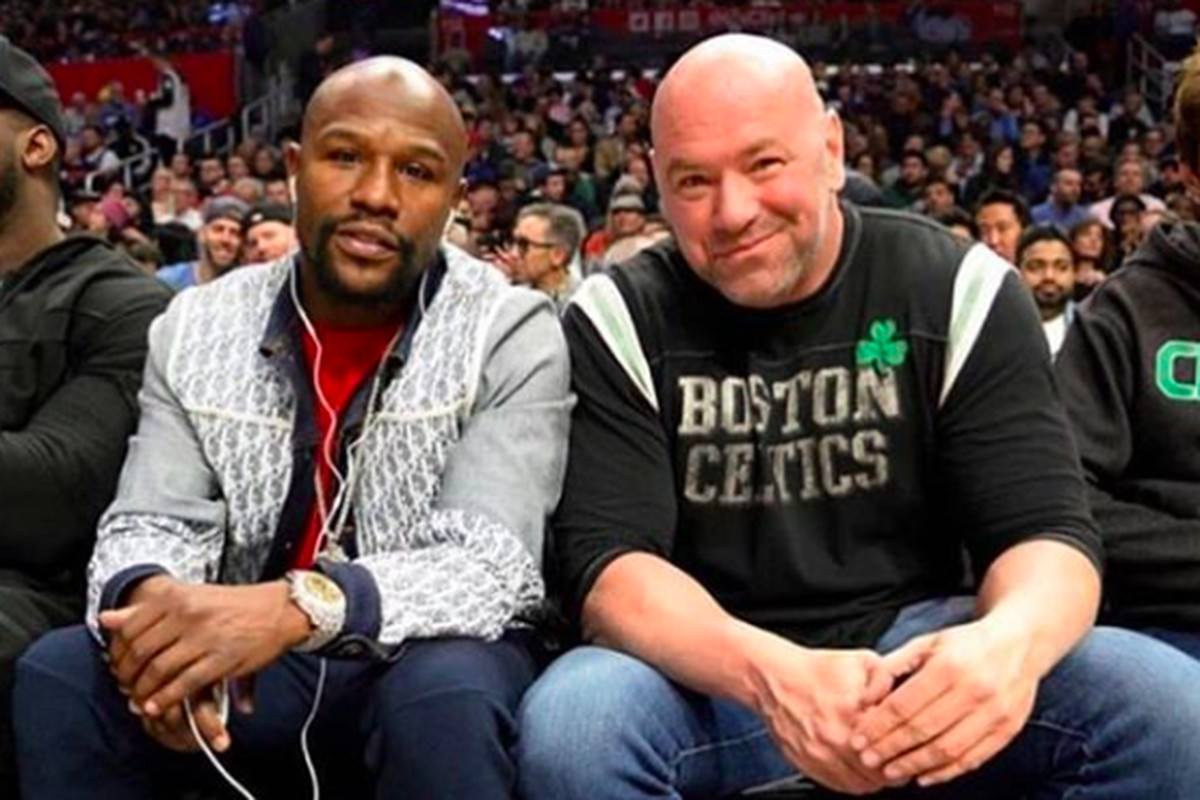 Speaking to ESPN earlier this week, White gave more details on his talks with Mayweather, saying that it's more likely than not that the 42-year-old Mayweather could be fighting in some capacity by the fall.
Mayweather, White See Value in Partnership
Mayweather and White were seen on camera talking at an NBA game in LA back in November, when the Clippers hosted the Boston Celtics. According to White, the conversation quickly turned to how the two men could work together.
"The easiest way to explain it to you is, Floyd and I both feel that we add value to each other, and we're going to figure something out," White told ESPN. "Some things have to play out, and then I'm going to start talking to [Mayweather promoter Al Haymon] maybe this summer, and then I'll have something for Floyd in the fall."
White was less committal about the fight taking place under the UFC banner. While he left the door open to either a boxing or MMA match, he also expressed disdain for most crossover fights, saying he's only willing to consider them "when the demand is there," as it was in the Mayweather vs. McGregor boxing match.
"It will be interesting to see if we start to see that kind of demand again with any kind of crossover fight," White told ESPN.
While the UFC is currently on something of a holiday break – the next card for the promotion won't take place until UFC 246 on Jan. 18 – there's always matchmaking going on, and a couple of notable fights have been confirmed in just the last few days.
Matchmaking Heats Up During Holiday Break
Ronaldo "Jacare" Souza and Uriah Hall have verbally committed to a 185-pound fight on April 18 in Brooklyn, according to ESPN. Hall (15-9) is establishing himself as a true middleweight contender, having moved up to No. 10 in the world in the UFC rankings. Souza (26-8) remains a legendary name, despite being 40-years-old and having lost four of his last six bouts.
Meanwhile, controversial heavyweight Greg Hardy (5-2) will step back in the Octagon in March to do battle with the undefeated Yorgan De Castro (6-0). While Hardy is still raw, he looked surprisingly good in a loss to Alexander Volkov back in November, maintaining the UFC's hopes that the former NFL star can be molded into a legitimate heavyweight contender.
One thing UFC fans are unlikely to see in the new year is a heavyweight run for Jon Jones. While Jones (25-1) has long been considering moving up in weight, White is skeptical, saying that new contenders always seem to emerge for Jones to fight at 205 pounds.
"I don't know about him going to heavyweight, I think he's comfortable at light heavyweight," White told ESPN. "Every time that you think there's not another challenger for Jon Jones, there's another challenger for Jon Jones."
Jones is set to fight Dominick Reyes (12-0) in a light heavyweight title defense at UFC 247 in March.