Greg Hardy may have suffered a clear and convincing loss to Alexander Volkov at UFC Fight Night 163 in Moscow on Saturday, but he also proved that his MMA career needs to be taken seriously going forward.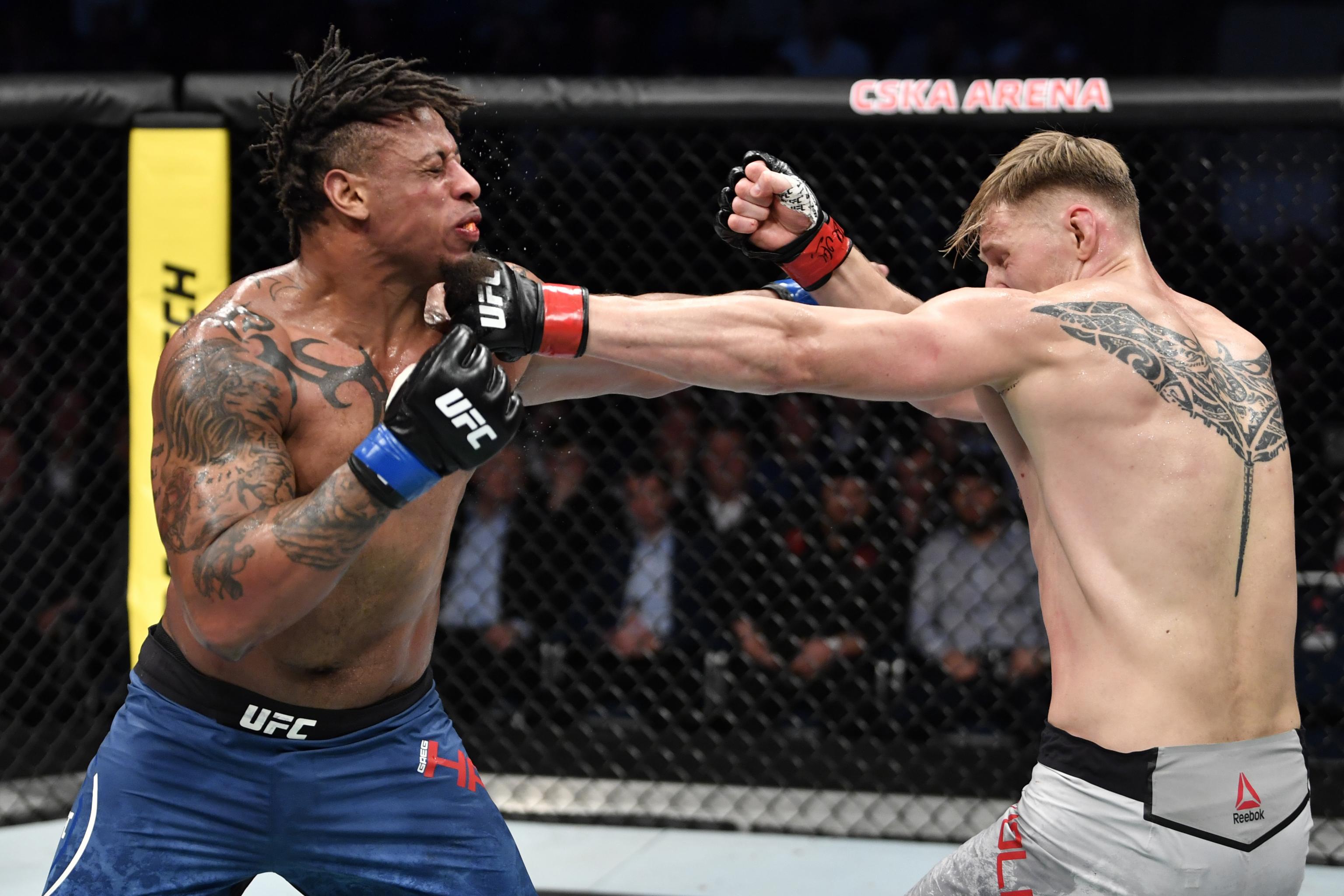 Volkov (31-7) won by unanimous decision, winning every round on every card as all three judges awarded the Russian a 30-27 victory.
Volkov Controls Fight, But Hardy Competes
As the score indicates, there was no controversy whatsoever about the decision. Volkov was the more polished fighter, and showed control of the fight. Hardy didn't look lost at all, however, at times showing he could give the No. 6 heavyweight contender some trouble in the Octagon.
"Greg Hardy is uncomfortable to fight, because he is big and physically strong," Volkov said after the bout. "He throws down uncommon jabs. He is uncomfortable when he tries to break away. But generally it was a good fight, and I now understand how to develop as a fighter."
Still, the fact that Hardy (5-2) was coming into the fight on short notice – just three weeks after his win over Ben Sosoli was changed to a no contest because Hardy used an inhaler between rounds – made the former NFL star's performance all the more impressive.
Afterwards, Hardy seemed to understand that he performed reasonably well, but said he was still far from where he wants to be in the MMA world.
"The bar where I want to get to is astronomically high," Hardy told ESPN. "It's so far away from me that I'm in tears on the inside."
Hardy has been a controversial addition to the UFC, as he was convicted on a domestic violence charge in 2014. The verdict was later overturned on appeal after the victim didn't appear in court.
Nurmagomedov Cousin Loses Debut
The UFC event in Moscow also provided another excuse for Conor McGregor and Khabib Nurmagomedov to continue their war of words. Khabib's cousin, Abubakar Nurmagomedov, made his UFC debut on the card, losing by first round submission to welterweight David Zawada.
That prompted McGregor to take to Twitter and mock the result, tweeting "1 quitter exposed" and "Nurmagotaptap" about Abubakar's loss. McGregor would later delete all of the tweets he made in relation to the fight.
Those comments came a day after Khabib told reporters that McGregor would have to do something very special to earn a rematch with the reigning UFC lightweight champion.
"As for a rematch, to fight for a belt in the UFC, I remember I had something like nine or 10 fights," Nurmagomedov said. "If he wins 10 fights in a row, then that's completely possible."
Nurmagomedov beat McGregor by submission in October 2018, which is also the last time that McGregor fought in the UFC.
Melendez Released by UFC
On Monday, the UFC announced it was releasing former UFC lightweight title contender Gilbert Melendez (22-8) from his contract. The 37-year-old lost five fights in a row before the release.
"It was a fun ride with the UFC that I really enjoyed," Melendez told ESPN. "That said, I do feel like this release was mutual. I'm ready to move on."