If we get a Kentucky Derby finish like the Haskell Stakes finish, they'll be talking about that Derby for years to come. And after that Haskell, and the rest of July's Derby preps, it's a good time to see where the Derby contenders are at mid-summer – weird as that sentence is to type.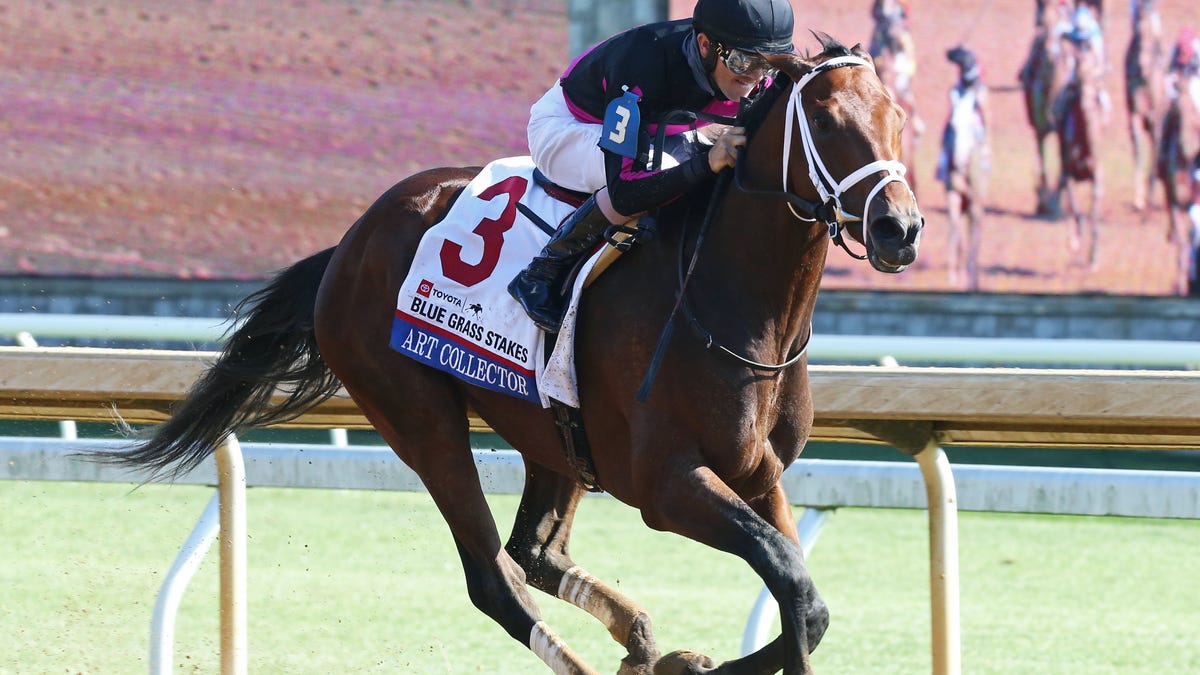 July's minor preps, such as the Los Alamitos Derby, Ohio Derby, Indiana Derby, and Peter Pan Stakes introduced us to Uncle Chuck, Dean Martini, Shared Sense, and Country Grammer, respectively. All picked up victories and Derby qualifying points, although only Country Grammer (50 points) is currently in the field.
July also introduced us to Blue Grass Stakes winner Art Collector, who collected more betting buzz than any other horse. And the month re-introduced us to the Adventures of Authentic, who won the Grade 1 Haskell in a manner that only he can.
With the Sept. 5 Derby less than seven weeks away, it's time to check in on where the Derby contenders are. and where they're headed next. OG breaks down what we learned about several Derby contenders heading out of the Haskell and July's Derby preps.
Tiz the Law Taking it All In
Tiz the Law (272 points): He not only remains the points leader and future odds leader (11/5 at William Hill, +220 at Circa Sports), but the Belmont Stakes champion remains on top of his game. Last Saturday morning at Saratoga, he turned in a sizzling 59.63-second five-furlong workout. That was the fastest of the 20 horses working that distance. Tiz the Law's final Derby tuneup is the Grade 1 Travers Stakes on Aug. 8.
Authentic (200 points): The mischief this Into Mischief progeny finds would turn trainer Bob Baffert's hair white – if it wasn't that shade already. Going off as the 3/5 favorite at the Haskell, Authentic broke sharply, controlled the pace perfectly, and took a three-length lead to the eighth pole.
And that's when things went haywire. All of a sudden, Authentic looked like he either hit a wall or flipped on cruise control. As Ny Traffic flew up outside and closed the gap, jockey Mike Smith needed a flurry of right-handed stickwork to wake Authentic up. The wake-up call salvaged a nose victory over Ny Traffic, who simply ran out of track.
This brings up several variables to Authentic's Derby equation. First, it brings questions on whether Authentic has the stamina to go 10 furlongs. Baffert maintains he does. Second, Authentic was wearing earplugs to minimize distractions, which – with the minimal Monmouth Park crowd – were minimal noise-wise. Third, what does this mean when there will be noise – not to mention 19 other horses in the gate — on Derby Saturday?
All that said, Authentic won a Grade 1 race with a triple-digit (100) Beyer Speed Figure. Only one horse out of the 28 Authentic faced (Honor A.P.) beat him in five races. He sits as the fourth favorite at +750 on Circa's Derby Futures board. He'll train up until the Derby.
"I was pretty proud of him," Baffert told Monmouth Park's media relations department after the race. "He's a late foal (May 5). He's maturing, but he's a quirky little guy. He still has a lot of improving to do."
Art Collector Remains the Hottest Item On the Board
Art Collector (100 points): Here's your Derby Flavor of the Month. After winning the Blue Grass Stakes 10 days ago, Art Collector shot up every futures board. He sits at +650 on Circa's Derby Futures board, looking up at only Tiz the Law and Honor A.P. Again, you could have had Art Collector at 150/1 in late May, and at 30/1 on June 29.
His 100 points already puts him into the Derby, but trainer Tommy Drury wants to run him one more time. You can find him next – probably at odds-on – in the 1 1/8-mile Ellis Park Derby Aug. 9.
"Now that we're back on the track and seeing him train, gosh, if anything it seems like he's better," Drury told Ellis Park's media department. "The timing of it is going to be good leading up to the Derby. That's the ultimate goal, and we're going to try to take our best shot."
Ny Traffic (110 points): The ultimate bridesmaid came within an eyelash of winning his first Grade 1 race at the Haskell. Instead, Ny Traffic picked up his third consecutive runner-up and fourth top-three in four Derby preps. He did so running perhaps the best race of his career, clocking a 100 Beyer. He's headed to Saratoga for tune-up work before the Derby, where Ny Traffic is 30/1 at Circa.
"To see him, trying and keep coming and almost getting there," trainer Saffie Joseph Jr. said after the race. "At the sixteenth pole, I thought he might win. It went from a low to a high. I didn't take the beat that bad, honestly. I was just happy how he ran and it was another jump forward, like we're going in the right way for the Derby."
Two Baffert Horses Have Derby Prep Work in Front of Them
Uncle Chuck (20 points): Here's where Baffert has to get creative. Because Baffert doesn't want his armada of 3-year-olds facing each other, Uncle Chuck's likely next destination is Saratoga for a Travers tango with Tiz the Law.
Uncle Chuck picked up his 20 points dismantling a weak Los Alamitos Derby field. Making his third career start in one of America's top 3-year-old races is quite the class leap. So is his 8/1 status as the fifth-favorite on Circa's futures board. While it's safe to say Uncle Chuck should pick up enough points at the Travers to put him in the Churchill Downs gate, this is his one and only remaining chance.
Cezanne (0 points): Speaking of horses with one — and only one — chance, the third member of Baffert's reconfigured Big Three won another allowance race in July at odds-on. That said, Cezanne has yet to run a Derby prep. That will change on Aug. 1 when Cezanne takes on Honor A.P. in the Shared Belief Stakes at Del Mar.
The $3.65 million prodigy seems ready for the challenge. Last Saturday, Cezanne went five furlongs in 1:00, the second-fastest time of 114 horses working that distance at Del Mar.