When looking at, and understanding, the Indiana Derby and its place on the Kentucky Derby Trail, it's important to take a page from one of the favorites – Major Fed.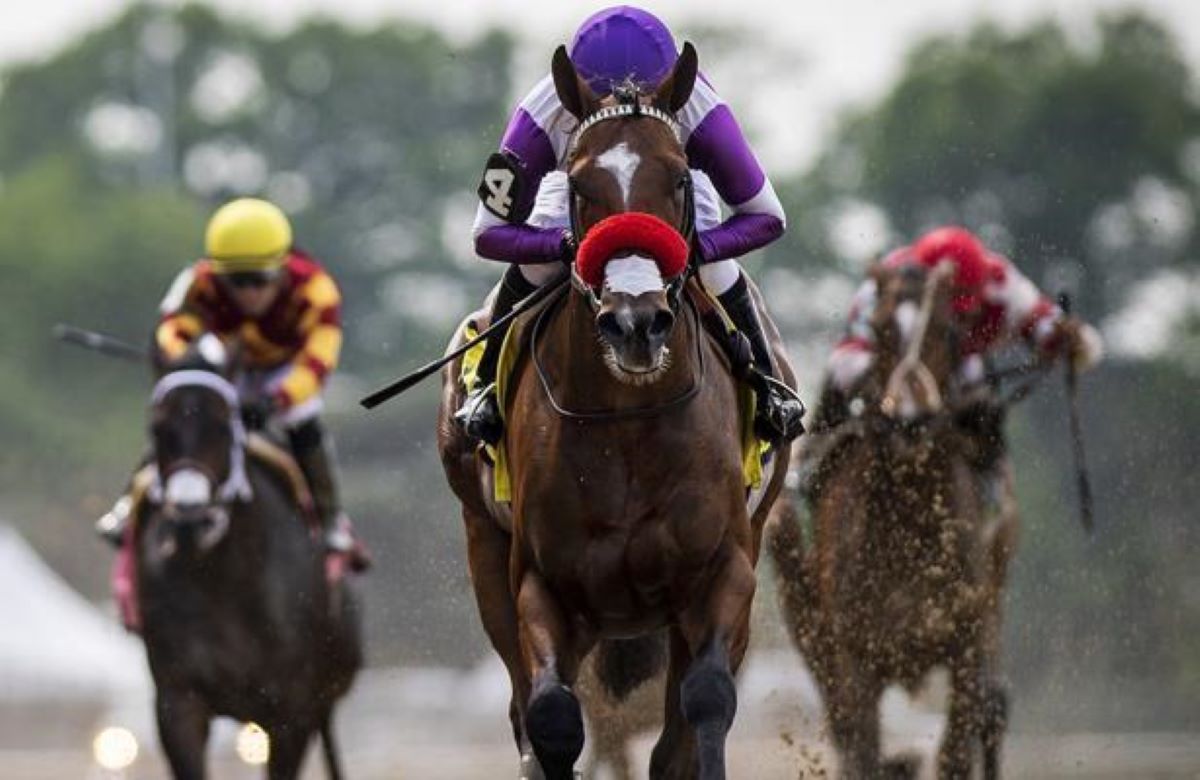 Don't look away at the wrong time.
Major Fed brought us this lesson through his misadventures at March's Grade 2 Louisiana Derby, when he had his head turned just as the gates opened. His trainer, Greg Foley, said Major Fed lost the Louisiana Derby at that moment. He did well, however, to finish fourth and take 10 Derby points for his efforts.
As a result, you're seeing Major Fed at Wednesday's Grade 3 Indiana Derby. The richest horse race in Indiana, the $300,000 1 1/8-mile event joined the Derby Trail courtesy of the coronavirus pandemic. It's Indiana's first significant sporting event held with spectators during the pandemic, offering 20-8-4-2 qualifying points to the top four finishers in the 10-horse field at Indiana Downs.
Points every horse in this field badly needs to make the Derby starting gate. Major Fed (7/2 on the morning line) comes in with 30, which puts him 17th on the points ladder with eight preps remaining before the Sept. 5 Run for the Roses.
---
Indiana Derby
Morning Line (Jockey)
No Getting Over Me, 12/1 (Miguel Mena)
Extraordinary, 10/1 (Luis Saez)
Taishan, 6/1 (Rafael Bejarano)
Earner, 8/1 (Stewart Elliott)
Shared Sense, 4/1 (Florent Geroux)
Background, 20/1 (Tyler Baze)
Juggernaut, 15/1 (Deshawn Parker)
Major Fed, 7/2 (James Graham)
Winning Impression, 3/1 (Julien Leparoux)
Necker Island, 20/1 (Mitchell Murrill)
---
Climbing the Derby Points Leaderboard
The big Derby points come Saturday in Kentucky, at Keeneland's Blue Grass Stakes. There, one state over, the third-place horse will get the same 20 points going to the winner Wednesday in Indiana. (The Blue Grass winner earns 100 points and a guaranteed Derby spot.)
Not looking away at the wrong time means focusing on a rare midweek Derby prep that is devoid of A-list Derby contenders. But with Major Fed and Winning Impression, a West Point Thoroughbred product who finished fourth in the weaker first division of the Arkansas Derby May 2, talent and some notoriety exist.
"It's a good race, it's a legitimate race. There are no superstars in there," West Point Thoroughbreds President Terry Finley said in a release. "But the horses who figure to run well in here are very, very similar to what we are at this point in their careers. If we run well, we'll have a little stronger circle around the first Saturday in September."
Major Fed's Form Going Backward
Based on his progression – or lack thereof — the circle around Major Fed won't be mistaken for a halo. He opened 2020 dominating his competition with a four-length, maiden special weight victory at Fair Grounds. Six weeks after that New Year's Day victory, Major Fed finished second behind Modernist in the second division of the Risen Star.
So far, so good. Then Major Fed's form took a major hit. At the Louisiana Derby, his wandering attention span left him in the gate. He was five lengths behind the next-to-last horse right out of the gate. The late rally and fourth-place finish gave Foley some solace. The pandemic meant Major Fed was still Derby eligible.
He won't be if Major Fed repeats what happened next at Churchill Downs in late May. At the Matt Winn Stakes, Major Fed got another poor start from the outside gate and never had a chance. He finished last in the 10-horse field, with a career-low 76 Equibase Speed Figure. That represented a 17-point drop from his Louisiana Derby number and a 20-point plunge from his career high set in that New Year's Day race.
Make-or-Break Race
Foley chalked that up to bad luck and put it behind him. But he understands the sense of urgency heading into the Indiana Derby. He's tapped James Graham to ride Major Fed, the fourth jockey in his five races.
"If the horse can't run good in this race, we don't need to think about the Kentucky Derby anymore," Foley told Bloodhorse. "Not saying we have to win, but we have to run really good. If he doesn't, our Derby hopes are probably at an end."
The pick: Shared Sense. Major Fed's form has him here instead of the Blue Grass Stakes, which tells you plenty. Shared Sense's speed numbers are trending upward, they're better than Winning Impression's, and the value (at 4/1) is there.