Patricio 'Pitbull' Freire will not only try to advance in the Bellator Featherweight World Grand Prix Tournament on Thursday night, but he'll also look to hold on to his title when he takes on Pedro Carvalho in the main event of Bellator 252 at Mohegan Sun Arena in Uncasville, Connecticut.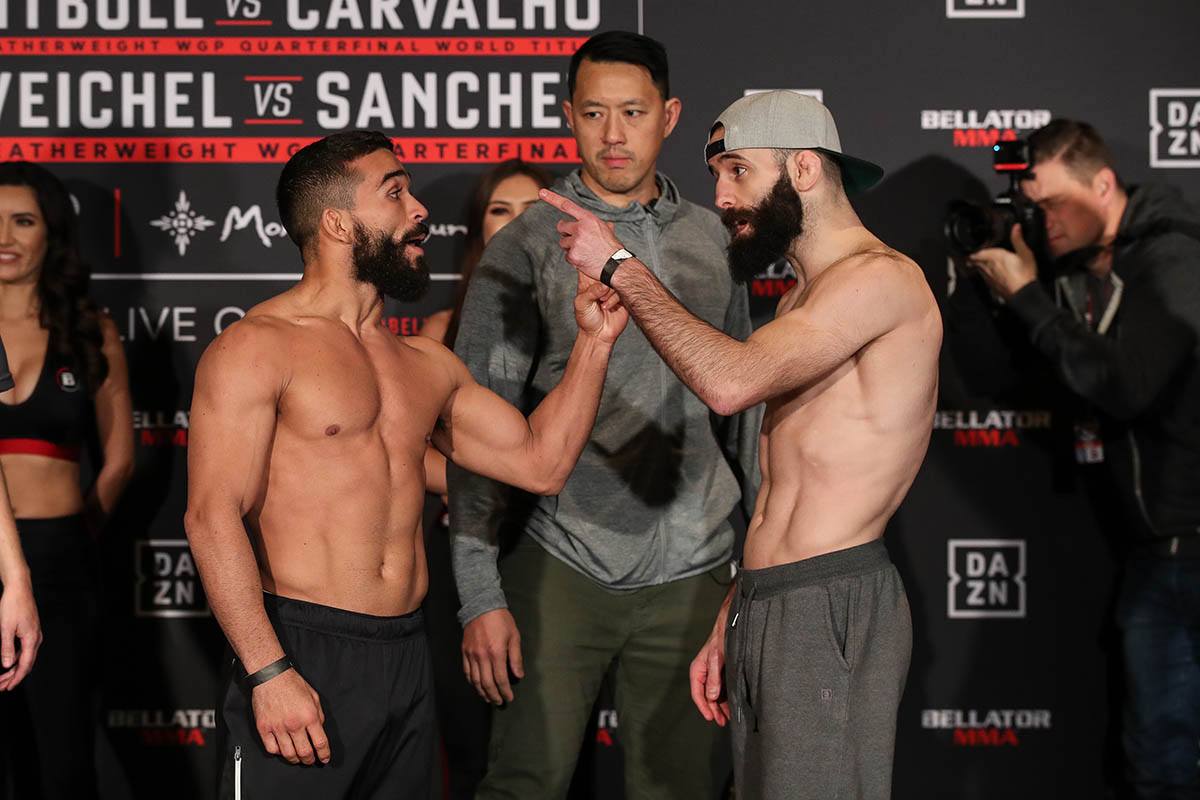 Freire and Carvalho will face off in a Grand Prix quarterfinal, as the 16-man tournament works its way down to a final four after Thursday's action.
Pitbull Still Chasing Bellator Goals
Earlier on the card, Daniel Weichel will battle Emmanuel Sanchez in another quarterfinal of the same Grand Prix. Sanchez comes in as a -225 favorite over Weichel (+167) in that bout, according to DraftKings Sportsbook. The winner will face the winner of the Freire vs. Carvalho bout in the semifinals.
Freire (31-4) reigned as the Bellator featherweight champion since 2017, when he beat Daniel Straus by second-round submission to take the belt. Since then, he's defended the title three times, all by decision. The closest call was a split-decision win over Weichel back in 2018. Freire also picked up the Bellator lightweight title by stopping Michael Chandler in the first round last May, making him a two-division champion.
---
Bellator 252 Odds (via DraftKings Sportsbook)
Patricio Freire: -670
Pedro Carvalho: +415
Yaroslav Amosov: -225
Logan Storley: +168
Daniel Weichel: +167
Emmanuel Sanchez: +225
---
In other words, Freire stands not only as the favorite to win the Grand Prix tournament, but is also one of Bellator's most decorated fighters. ESPN ranks him as the No. 4 featherweight in the world behind only Alexander Volkanovski, Max Holloway, and Brian Ortega, all of the UFC. Despite that success, Freire says he still has higher goals in the sport.
"I have a lot of objectives, a lot of more new records that I want to break for Bellator," Freire told reporters during the Bellator 252 media day. "Three-category champ, records like that, things that have never been done before … there's a lot more chapters and a lot more conquering to happen in the future."
Carvalho Sees Conditioning as Key to Upset Win
The 25-year-old Carvalho (11-3) may come in as a substantial underdog in the fight, but he's on a hot streak of his own. He's won his last six bouts, including all four of his fights in Bellator. He last fought in September 2019 when he submitted Sam Sicilia via face crank in the second round.
Like any promising fighter, Carvalho wants to be a world champion, and believes it could very well happen on Thursday night.
"I do believe what I'm going to have in my favor is with no doubt my conditioning, my pace," Carvalho told MMANews.com. "These guys, when they reach the third round they start to slow down. When I reach the third round, I'm warmed up. I do believe that's going to be the major thing in this fight is going to be me constantly in his face, make him work and then when I found the breaking point, I'm just going to pick my shots and put him away."
While Carvalho has plenty of talent, few expect him to get past Freire on Thursday. The current champion comes in as a -670 favorite over Carvalho (+415) in the bout.