In 1984, D. Wayne Lukas decided on a whim to bring back his filly Althea for the Grade 1 Arkansas Derby. That this was unconventional – even for those times of running horses far more often than happens now – can't be understated.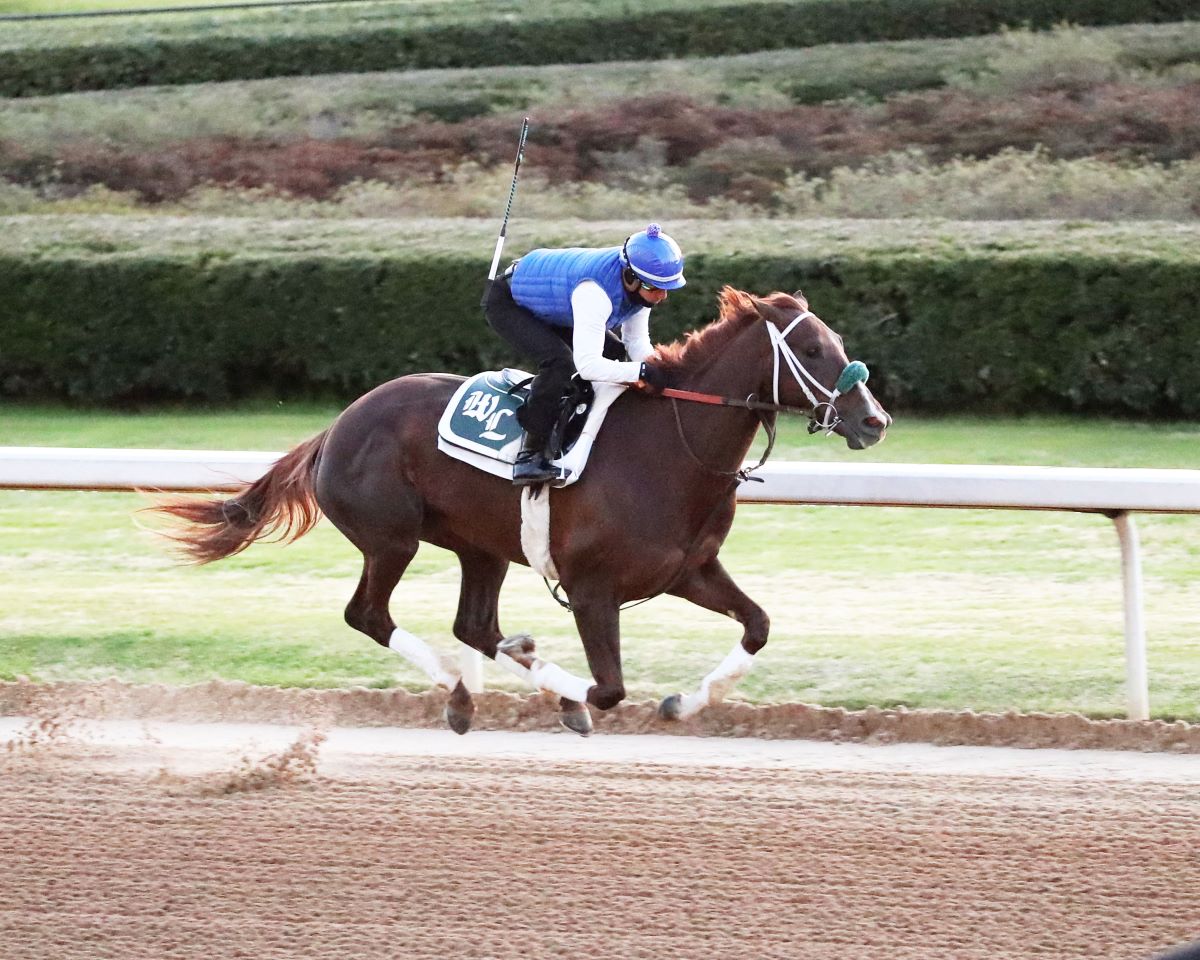 That's because Althea ran the week before, finishing second in Oaklawn Park's biggest race for fillies: the Fantasy Stakes. But Lukas saw something; you don't become one of the greatest conditioners in history without some ESP. He sent Althea out against the boys and watched her equal Oaklawn's track record for nine furlongs: 1:46.80.
Lukas also watched Althea become the only filly in Oaklawn's modern era (dating to 1934) to win the Arkansas Derby. He's now primed to watch a second go for her Arkansas Derby – Secret Oath.
She is the 5/2 morning line favorite to win Saturday's Arkansas Derby, the flagship race on Oaklawn's Saturday's card. Also on that card are the Grade 3 Oaklawn Mile and the Grade 3 Fantasy. This is the first year of graded status for the Oaklawn Mile.
Secret Oath left nothing to prove
Secret Oath already has a spot in the Kentucky Oaks, courtesy of her romping victories in the Martha Washington and Honeybee stakes, the preps for the Fantasy. Figuring she has nothing to prove on the distaff side, Lukas decided Secret Oath needed a better test. In this case, he decided two weeks after she destroyed the Honeybee by 7 ½ lengths.
Two years after Althea captured the Arkansas Derby, Lukas got audacious again. He wheeled Family Style into the Arkansas Derby, a week after she finished fourth in the Fantasy. She finished third.
"I don't know if I would have the (stones) to do that again, to lead Althea over there," Lukas told Oaklawn's Robert Yates. "But it worked. When I think back, 'Christ,' I think that we're fine-turning and taking a better horse that's set up for this race, whether it's good enough or not. Family Style, that was a pretty ambitious move. Althea, I thought could win it, but I think back in (seven) days, come on. This is a better-planned chance for her to maybe do something."
Don't expect to see her in the Derby
A top-two finish would secure a spot in the Kentucky Derby, something Lukas dismissed earlier. But plenty expect Secret Oath to do something in the Arkansas Derby. She is 4-for-6, with a third and her come-from-behind style has fit earlier Arkansas Derby champions. But not since Creator in 2016 has a horse come from farther back than 2 ¾ lengths to win.
The Arkansas Derby sent two horses this century to rose blankets at Churchill Downs: Smarty Jones (2004) and Triple Crown winner American Pharoah (2015). So if you're looking for one of the early-speed pace-setters to win this key Derby prep not named Secret Oath, where do you go?
Start with We the People (7/2), the fractious colt who showed searing front-end speed in his first two races. Those races produced victories by a combined 10 ¾ lengths where We the People was no further back than 2 ½ lengths in either race. He makes his stakes debut as the second morning line choice based on dismantling those fields.
'We have to be careful with his brain'
"When you're 2 for 2 at the beginning of April at 3 years old, of course, we think he could be the real deal," trainer Rodolphe Brisset said. "But we still have to show it. I think the talent is there. We definitely have to be very careful with his brain. We don't want to overthink, but we do have to be ahead of this with him and this is the reason why we just felt like the three weeks, turning back on three weeks here (was best). He knows the place. He knows the racetrack. He's 2 for 2 on it."
There's Doppelganger (3/1), who makes his first start for new trainer Tim Yakteen. The former Bob Baffert assistant inherits the colt in the wake of Baffert's suspension from Churchill Downs. He gets a colt coming off a runner-up finish to Forbidden Kingdom in the Grade 2 San Felipe. He was no threat to win that race, finishing 5 ¾ lengths back. But while the Into Mischief colt has the speed to factor, he needs to step up against quality to prove himself going forward.
It seems every Derby has a one-eyed gelding on the trail. This year's candidate is Un Ojo (6/1). Those odds are considerably lighter than the 75/1 odds he carried winning last month's Grade 2 Rebel Stakes. While that win and his second in the Grade 3 Withers showed a horse on the upswing, his career-best 91 Equibase Speed Figure needs a bump to make him a factor here. Few expect a repeat of his Rebel upset.
Grade 1 Arkansas Derby/Oaklawn Park
Morning Line (Jockey/Trainer)
Kavod, 15/1 (Mitchell Murrill/Chris Hartman)
Chasing Time, 12/1 (Jose Lezcano/Steve Asmussen)
Barber Road, 8/1 (Reylu Gutierrez/John Ortiz)
Doppelganger, 3/1 (John Velazquez/Tim Yakteen)
Un Ojo, 6/1 (Ramon Vazquez/Ricky Courville)
Secret Oath, 5/2 (Luis Contreras/D. Wayne Lukas)
Ben Diesel, 15/1 (Jon Court/Dallas Stewart)
Cyberknife, 8/1 (Florent Geroux/Brad Cox)
We the People, 7/2 (Flavien Prat/Rodolphe Brisset)
Perhaps the biggest value on the board comes from Cyberknife (8/1). The Gun Runner progeny won a Feb. 19 Fair Grounds allowance by three lengths one start after finishing a dismal sixth in the Grade 3 Lecomte. That was his second victory in three starts
"He's gotten better. He appears to be improving," trainer Brad Cox said. "I thought his last race was a step forward. Got a really good figure (100 Equibase) the last race. I think it's going to stack up and probably be one of the better ones in the Arkansas Derby and if he runs that race, I think he's a player."